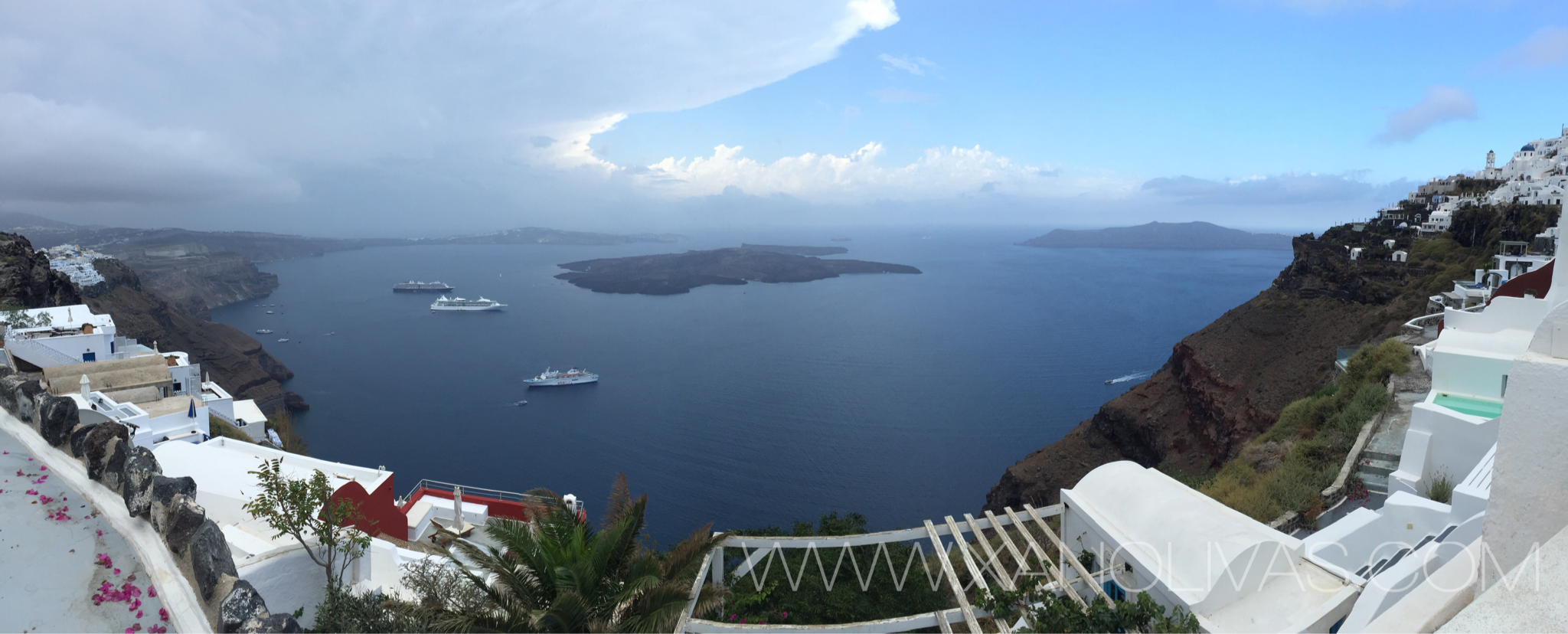 We had a fancy Michelin dinner that Monday night and the morning after, the 6 of us headed to Athens International Airport (ATH) to catch the first flight out to Santorini! Santorini was definitely the highlight of the trip (besides the wedding and baptismal) and came with all the travel shenanigans and mishaps possible.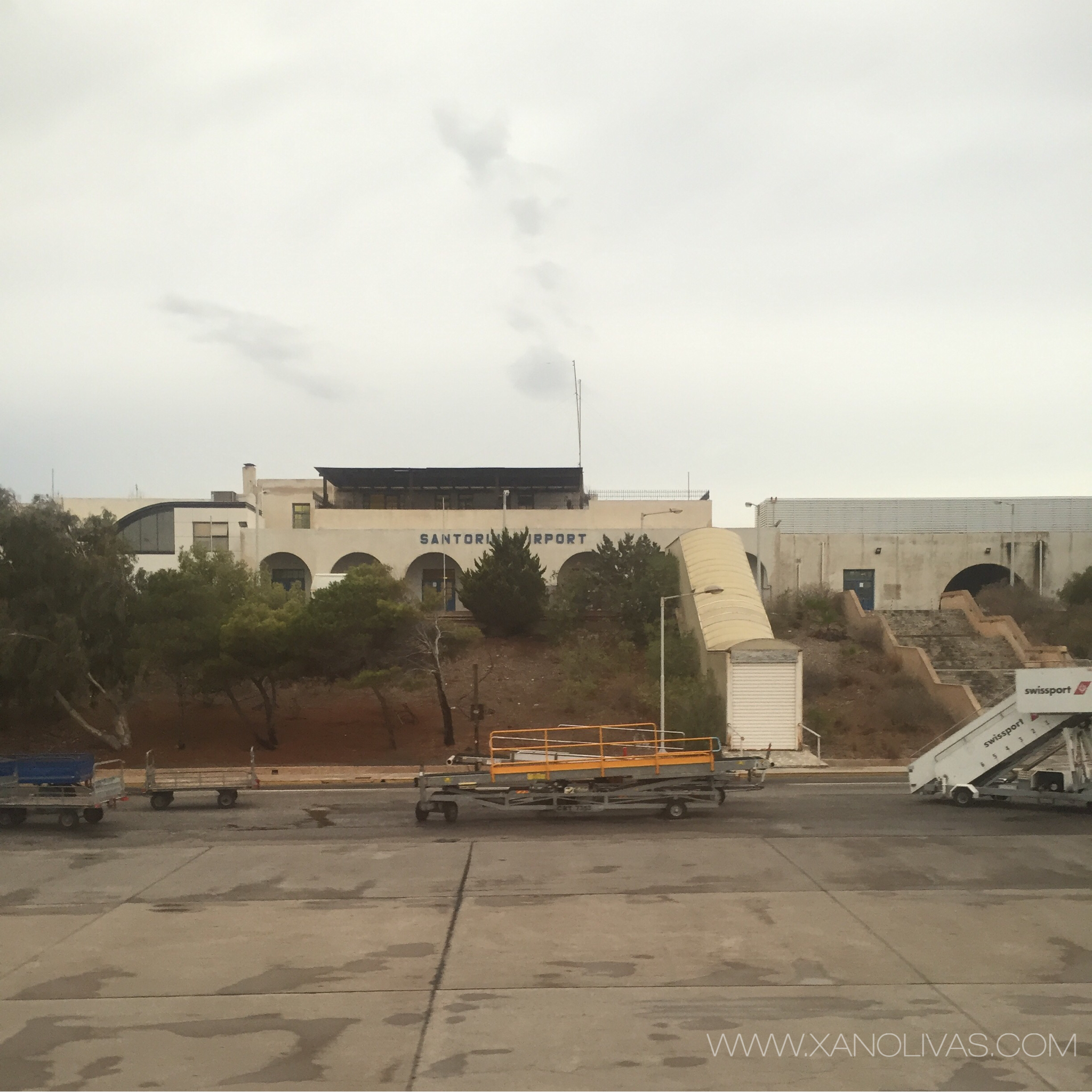 Santorini Airport
We flew RyanAir and refused to check a bag (check-in baggage cost [X] Euro!) but you know I stuffed my little roller bag as much as possible. The flight attendants called me out and told me if I couldn't shrink it a few more inches, I'd have to check it. We rearranged some stuff and made it work, got on the tram that took us out to our little plane and – surprise! – they made us check our bags anyway. It probably had something to do with us literally being the last ones to board, but I'm glad we didn't have to pay that check-in bag fee.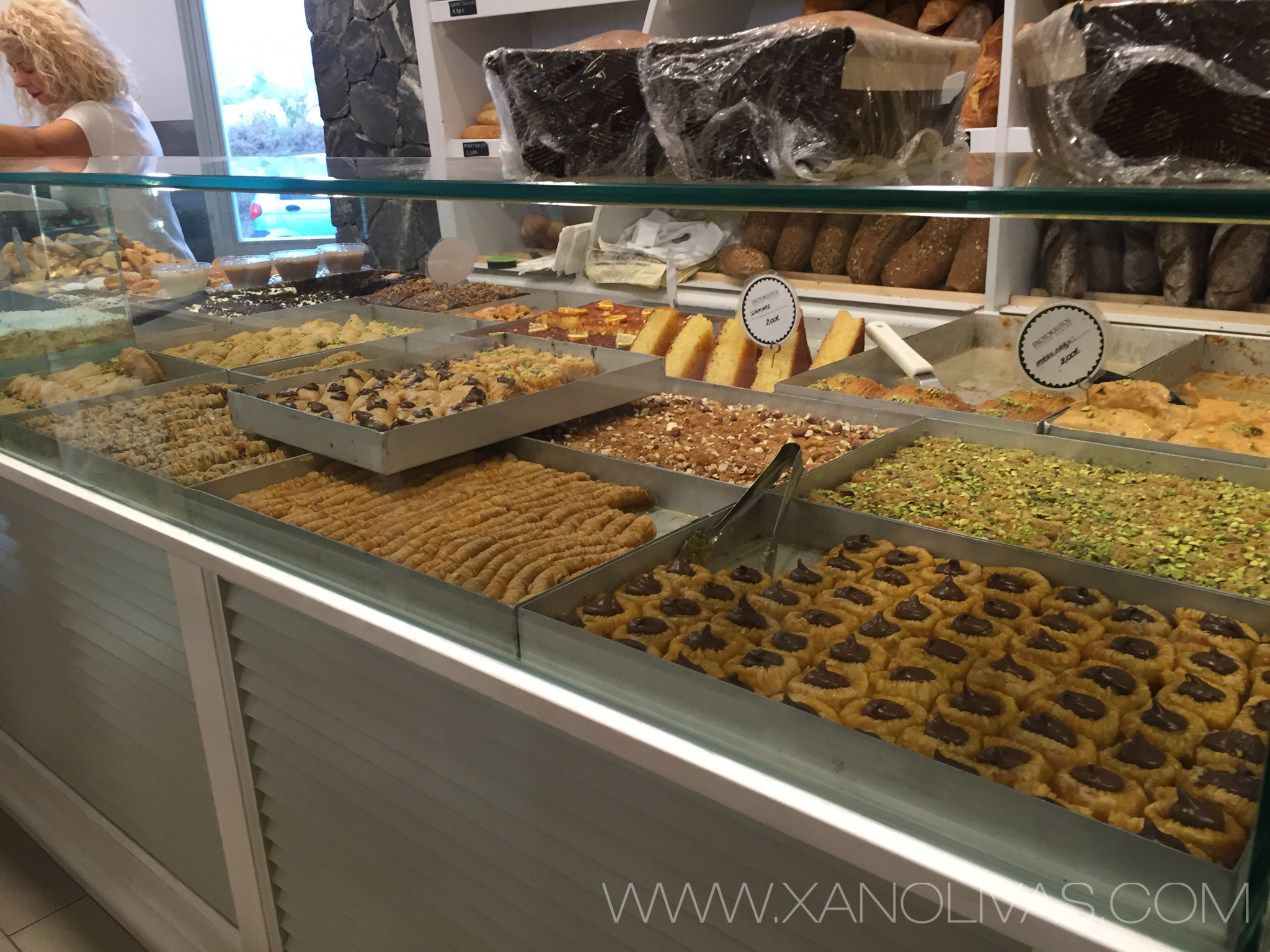 The bakery we grabbed breakfast from.
The weather was a little gloomy when we arrived but we got our rental cars, went out to grab breakfast and hung out until our Airb&b was ready.
Most people stay in the infamous town of Oia (pronounced ee-ya) but we booked the cutest Airb&b in Thira. While waiting for check-in time, we wandered around the nearby city. One of my friends is a beer enthusiast and we scoped out the local beers at every little shop and restaurant we went to. One of the ones we noticed were these "donkey beers" and throughout our time in Santorini, we kept running into it. So much that we made it a mission to try one – the beers were from a small local brewery called the Donkey Brewing Co. (but more on that later.)

We finally checked in and oh. my gosh. The view was absolutely amazing. The pictures don't even do it justice! We could see the active volcano, the tip of Oia, and the other side of the island. Sunsets and sunrises were beautiful. I swear I could've sat on that patio forever.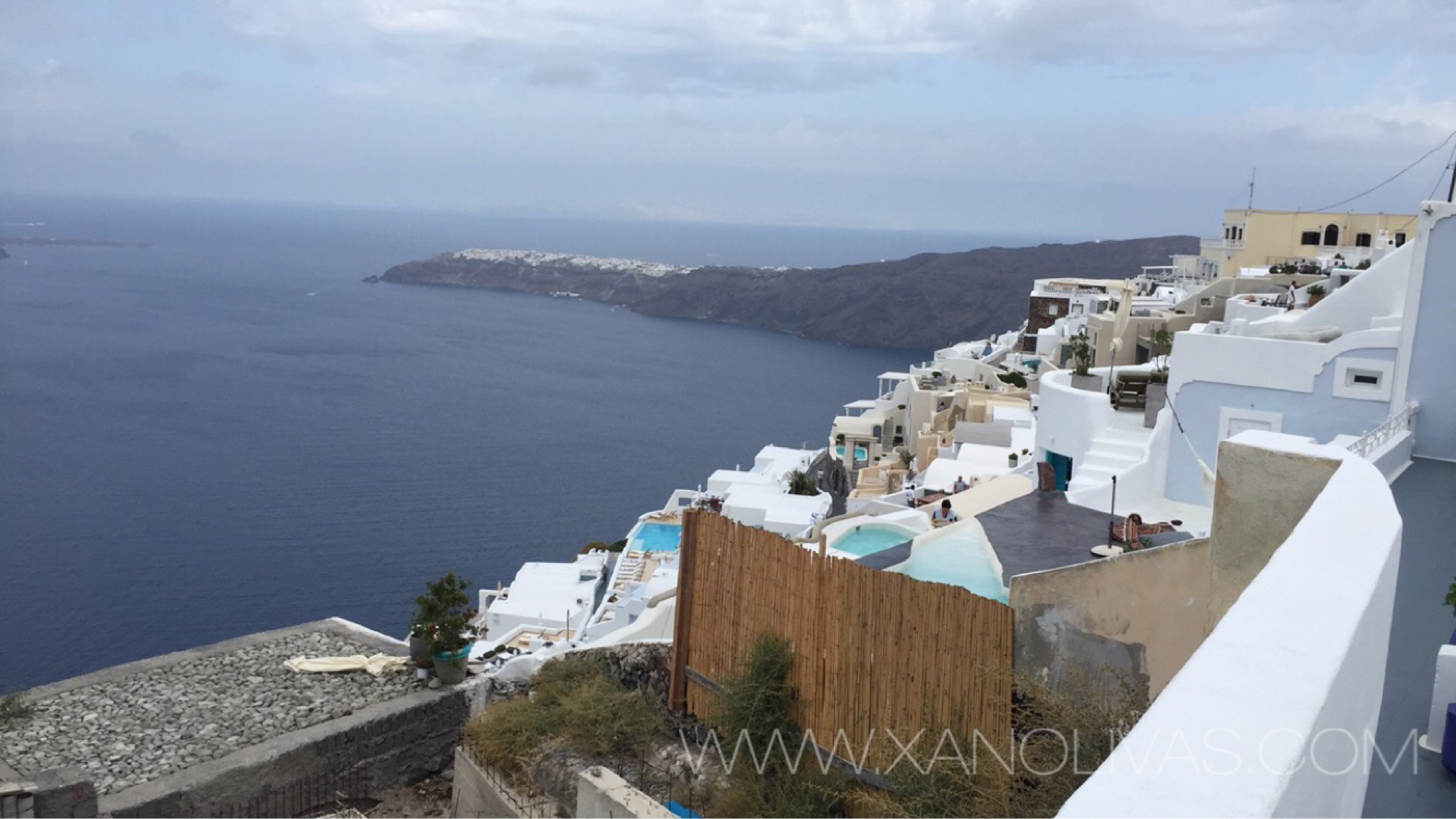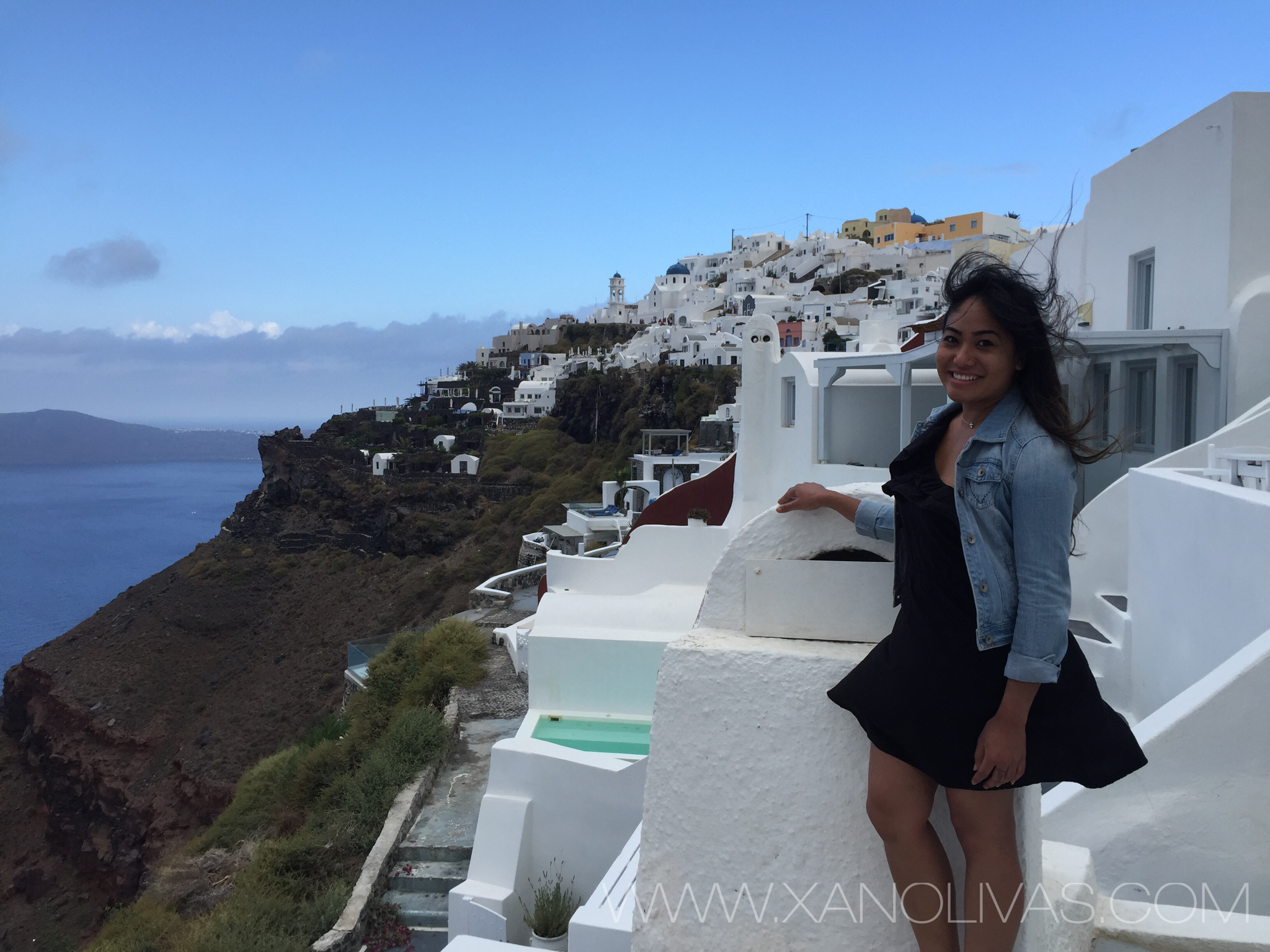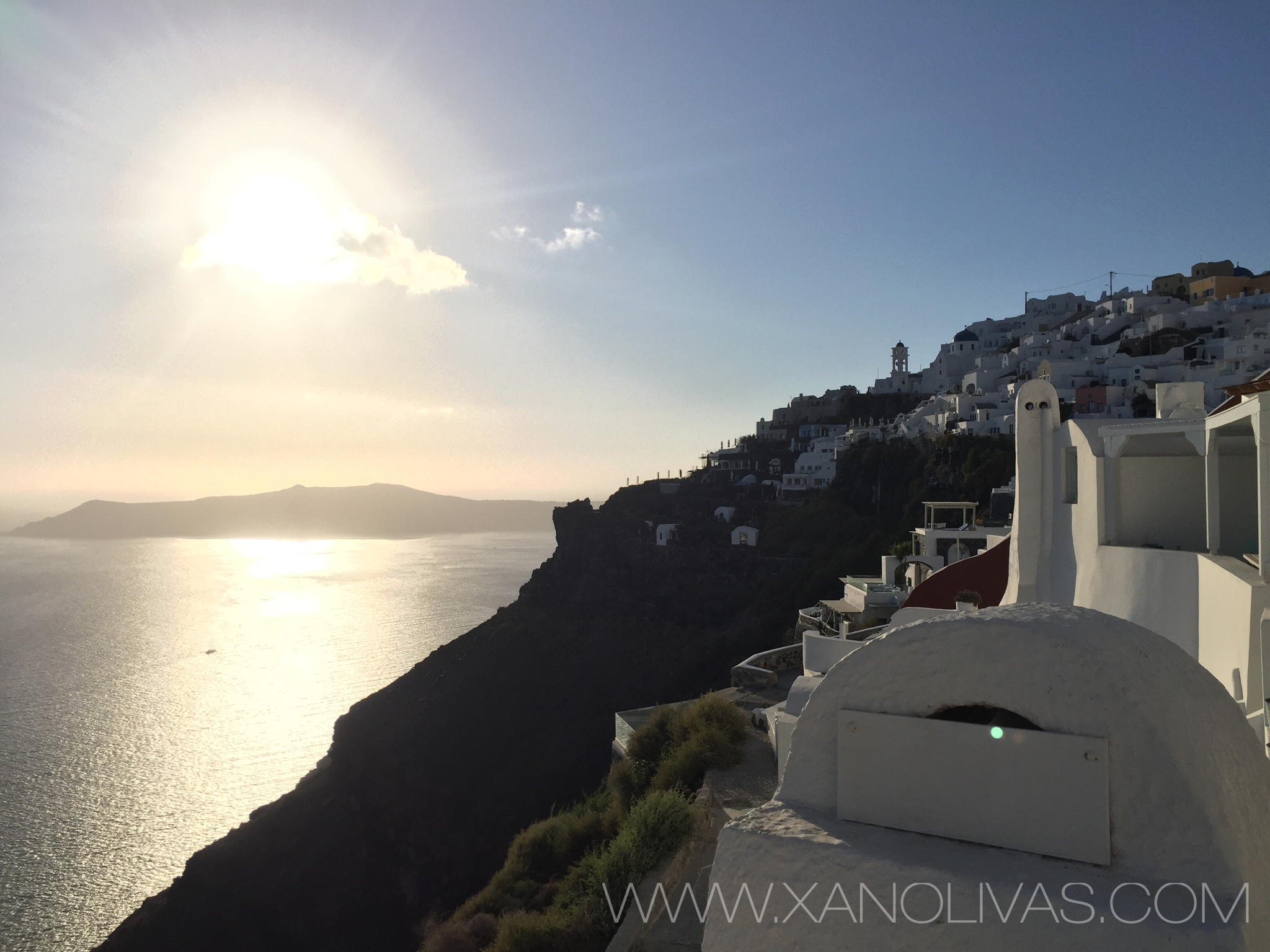 One of the things to do in Santorini is watch the sunset from Oia but instead of squishing amongst the crowd, we had reservations for dinner at Kastro's Restaurant. I'm glad we did because we had this gorgeous unobstructed view of the sunset.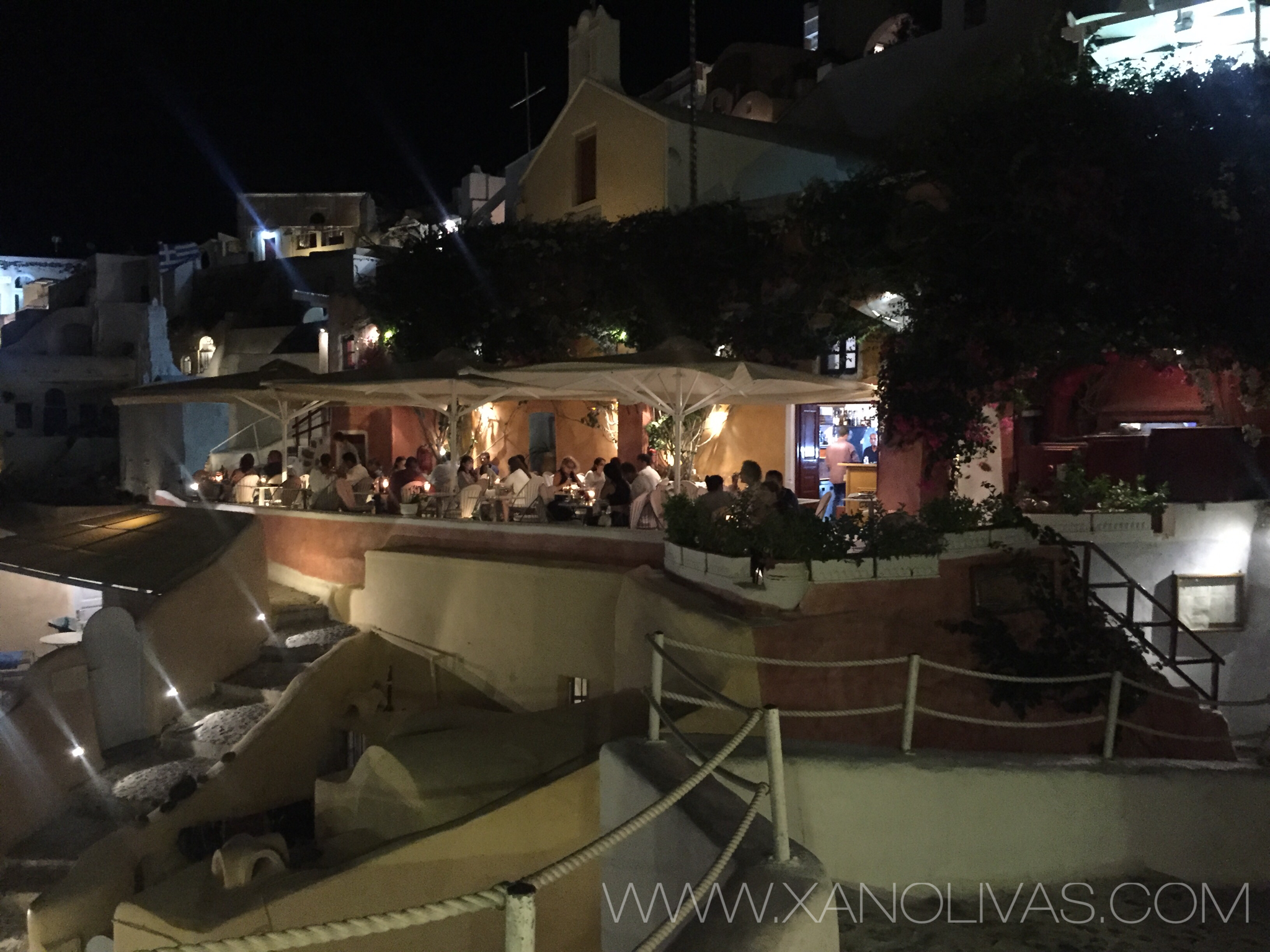 Kastro's after sunset.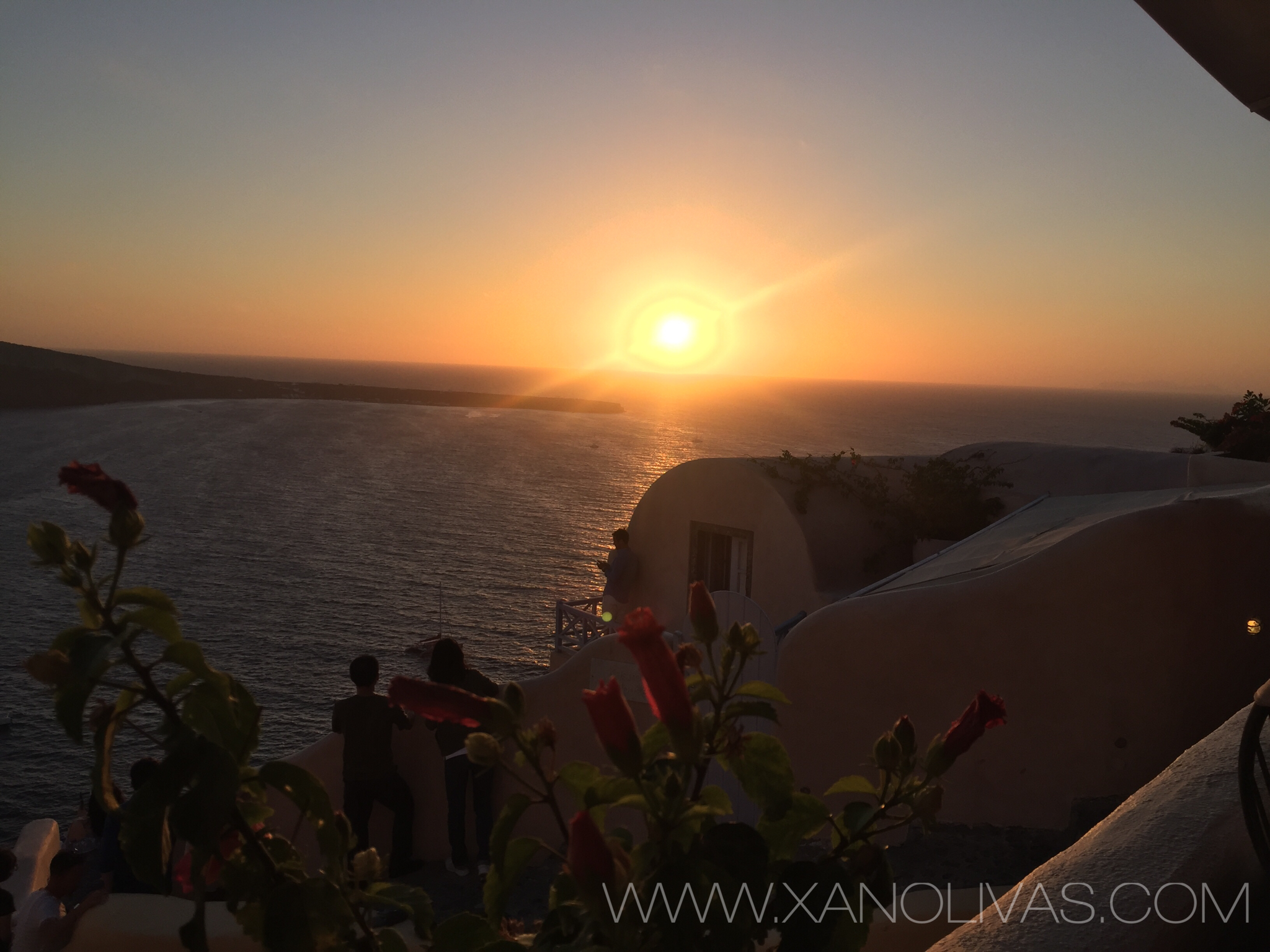 Sunset view from Kastro's.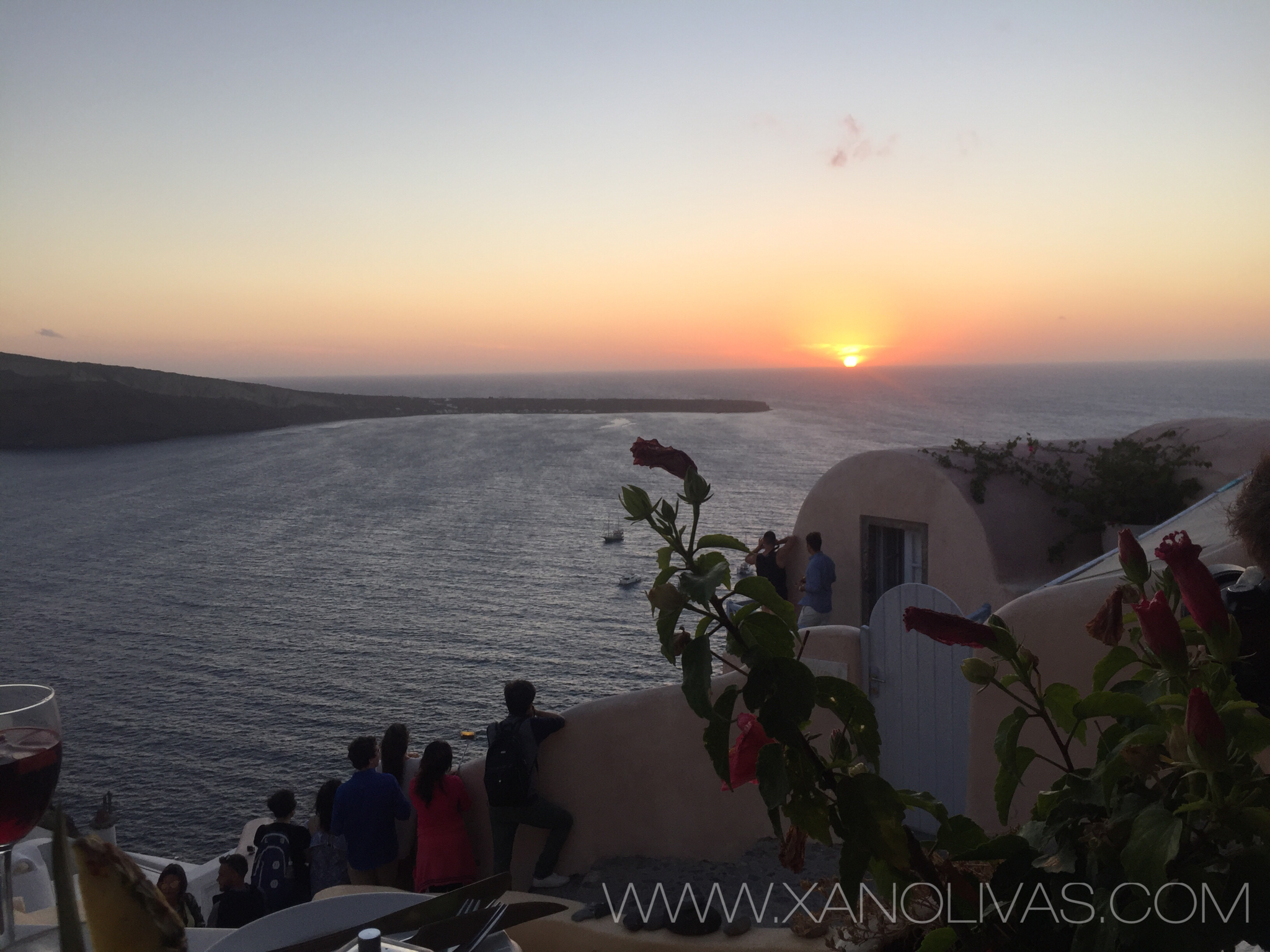 The crowd on the hillside was so thick we lost people heading to the restaurant. It was a little odd seeing so many people waiting for the sun to set, maybe it's no big deal for someone like me who's from Hawai'i, but as soon as the sun went down, everyone started clapping. You'd think there was a show going on! It was beautiful, nonetheless, but still, a little bit weird.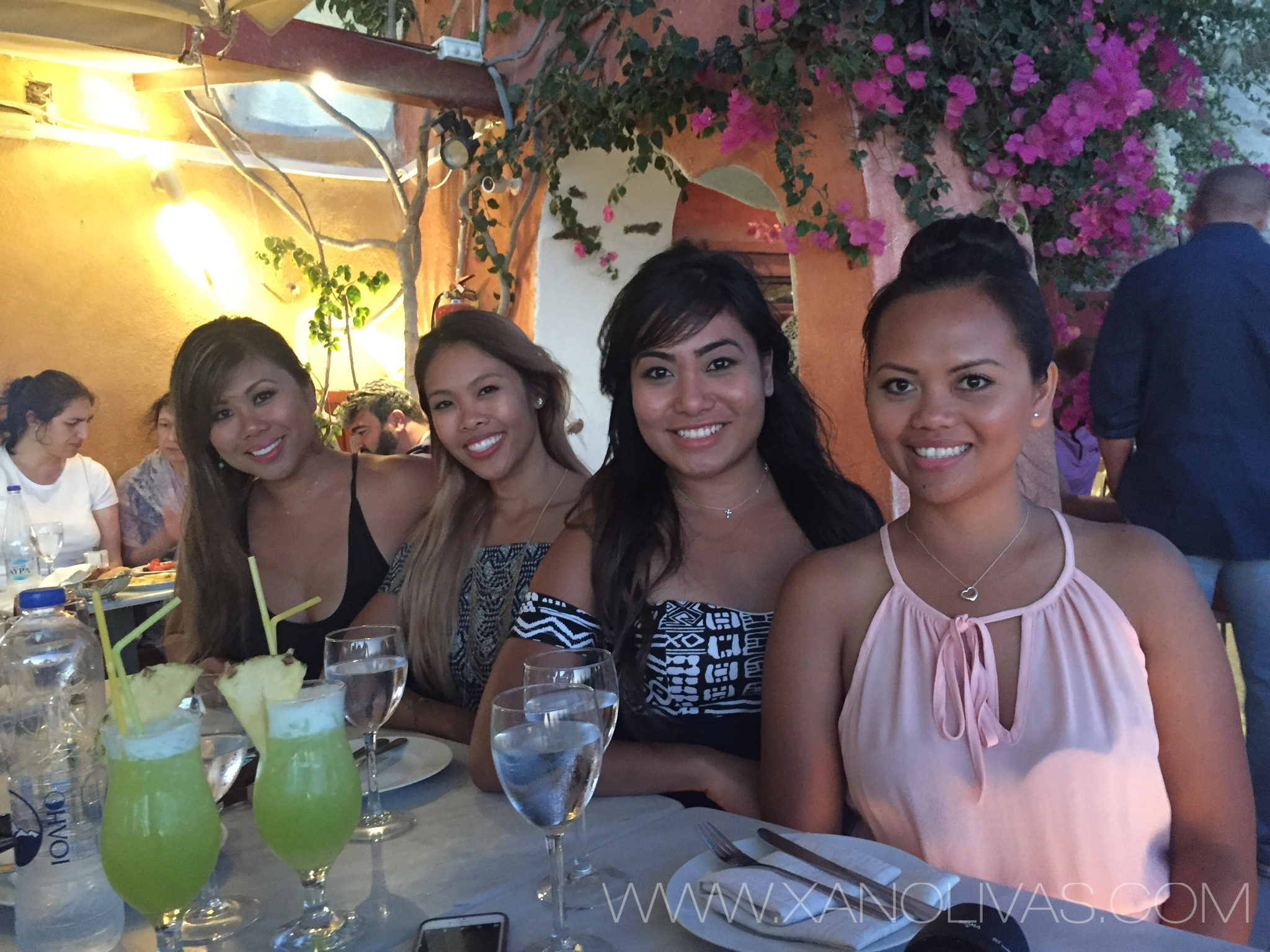 Obligatory group pic.
The restaurant was a small patio restaurant – I didn't plan it, but I definitely recommend getting reservations ahead of time going there. Dinner was delicious, I shared mussels and beef pasta with a friend. We went home for a bit after dinner to rest, then headed back to Oia to wander and hang out.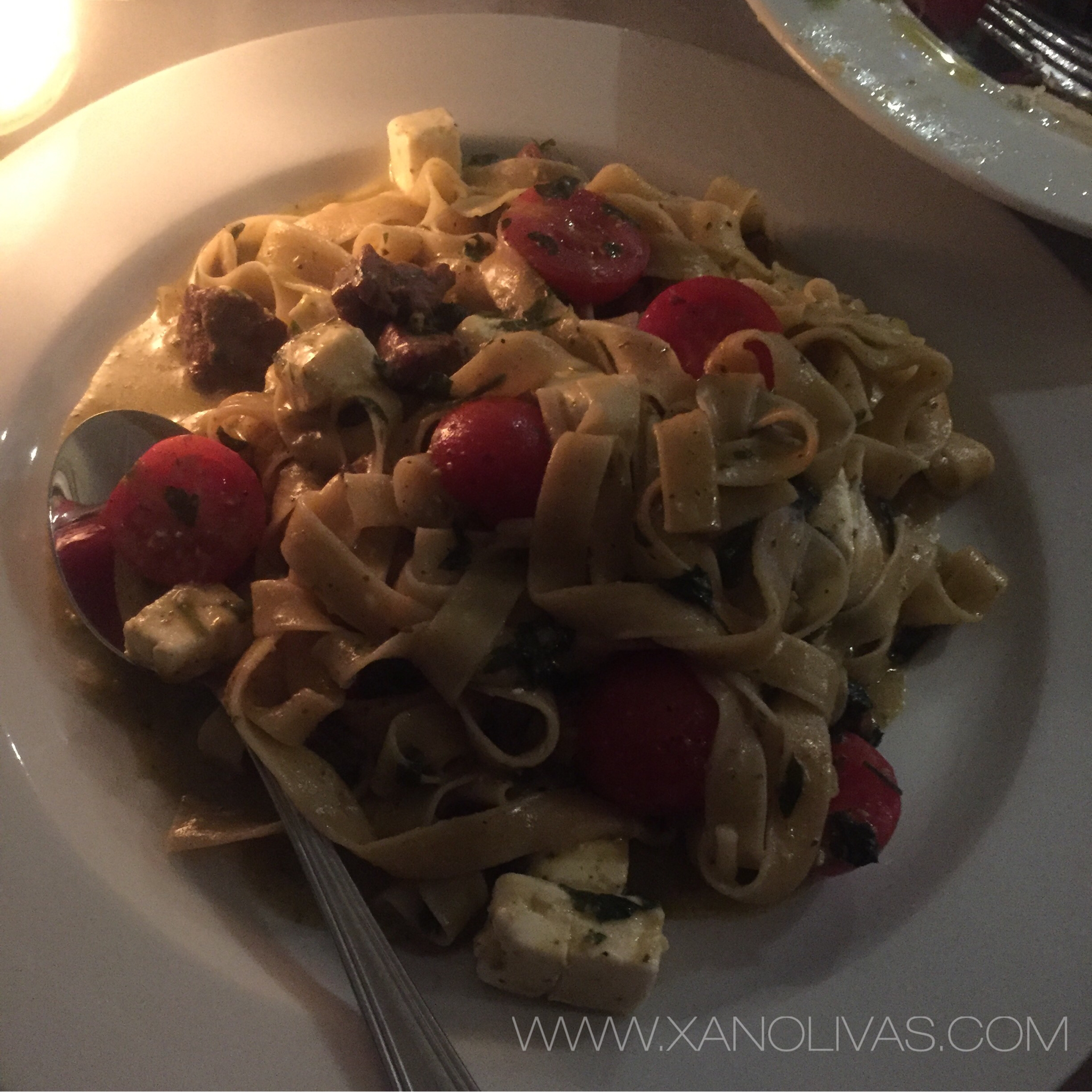 Beef Pasta (forgot a pic of the mussels!)
There's a winding cliffside pathway from Thira to Fira that takes you through the marketplace, which was really nice. To be honest, I probably wouldn't have found the way on my own, but yay for having a local tour guide!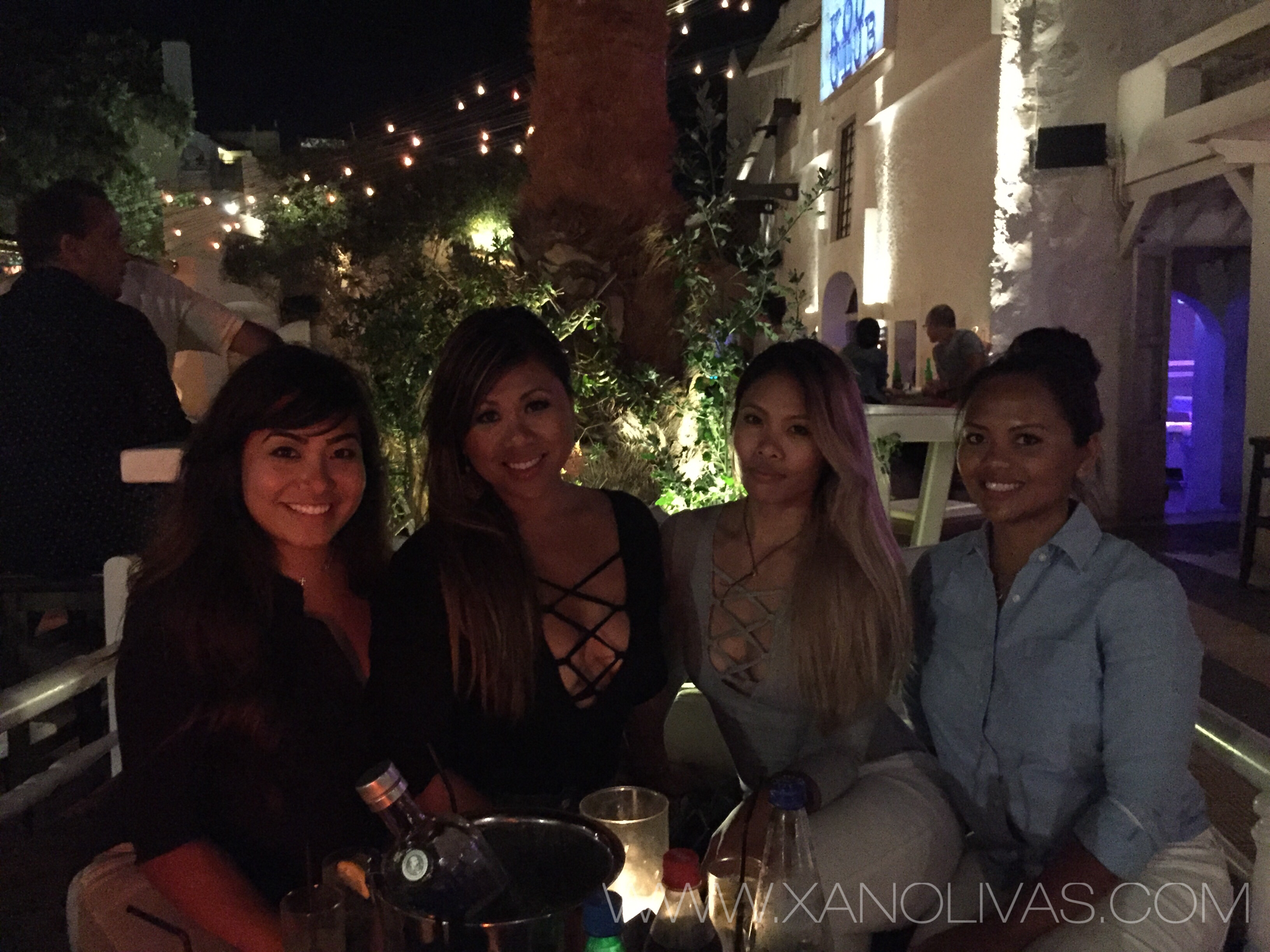 Hanging out in Fira.
The first day/night was great, mostly because I couldn't get over the fact that we were in Santorini! But more adventures, specifically beach-ventures, are on the way.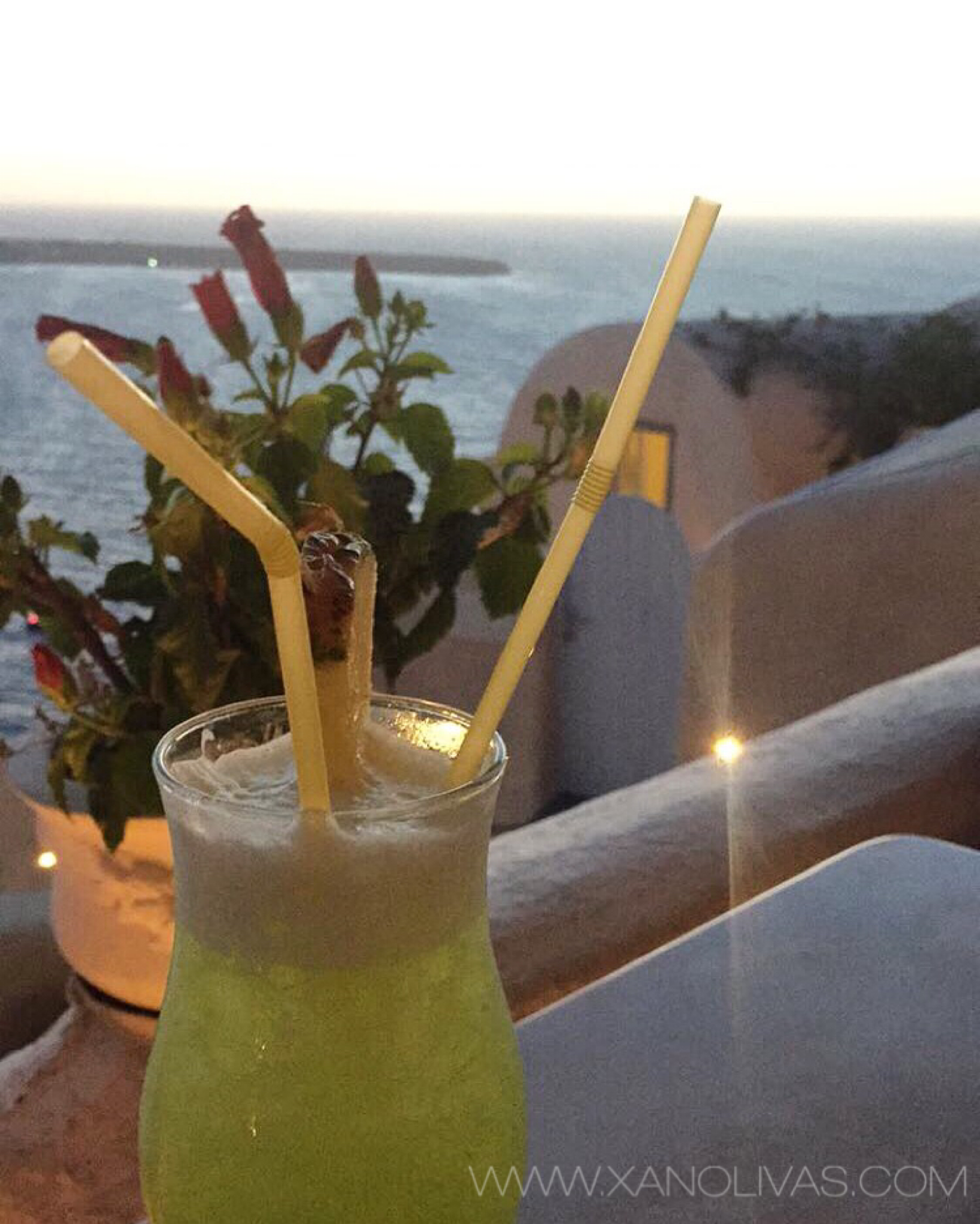 Definitely lived the life in Santorini!