This post is part 2 of our honeymoon/anniversary trip to Tahiti and Bora Bora. In my previous post, I wrote about our first day at the IHG Tahiti and why we stopped over for a day in Tahiti before moving on to Bora Bora. In this post, I'll talk about how we took a shuttle from the hotel to the capital of French Polynesia, Pape'ete (pronounced pah-peh-eh-tay), and explored the city.
TLDR;
During our 1 day stay at InterContinental Tahiti, we took a shuttle from the hotel to Pape'ete. We explored downtown, got my black pearl souvenir from one of the many pearl shops, had lunch by the pier, and sampled some McDonald's items only on the Tahiti menu. Pearls are much cheaper in Tahiti than other islands in French Polynesia and exploring another island before Bora Bora or Mo'orea is worth the stop.
Tips
Arrange a shuttle from the IHG hotel to downtown Pape'ete.
Buy black pearls from Tahiti instead of Bora Bora or Mo'orea to save some money.
Wear sunscreen and anti-perspirant deodorant – especially if you're not used to humidity!
If you need over the counter medicines, it's best to bring your own because pharmacies require prescriptions.
---
Saving on the hotel room was the main reason for our pit stop in Tahiti, but the second was to get a Tahitian black pearl! The only souvenir I really wanted was a black pearl necklace. When I found out there were a ton of pearl shops in the commercial district of Pape'ete selling pearls for cheaper than in Bora Bora, I had to go!
I made a reservation with the IHG concierge to take the 11 AM shuttle to Pape'ete that would return at 2:30 PM. The shuttle cost 1000 XPF ($10) a person so the total came out to 2000 XPF ($20). Our shuttle driver dropped us off close to the Pape'ete market, gave us a map of the city, and some recommendations. She recommended Tahiti Pearl Market so we made it our first stop. (I'll do a separate post on my amazing experience with Tahiti Pearl Market!)
The shop was a block or two away and was hidden among a bunch of other shops. There were two people outside the shop who greeted us as we walked in. It's a two story shop – the bottom floor had diffeernt kinds of pearl jewelry displayed and the top store had much more selection along with all the loose pearls you could choose from. I showed them the type of necklace I was looking for and the saleswoman led me upstairs where I got to pick the exact pearl and chain I wanted! We did a bunch of paperwork and they told me to come back before our shuttle left at 2:30 PM to pick up my finished piece.
One thing you will immediately notice is how hot and humid it is out there. Even though I grew up in Hawai'i, the first few day back on an island are always rough for me because of the humidity. Be sure to wear sunscreen even if you're just walking around outside! After purchasing my necklace, we walked over another block to the Pape'ete market and wandered around.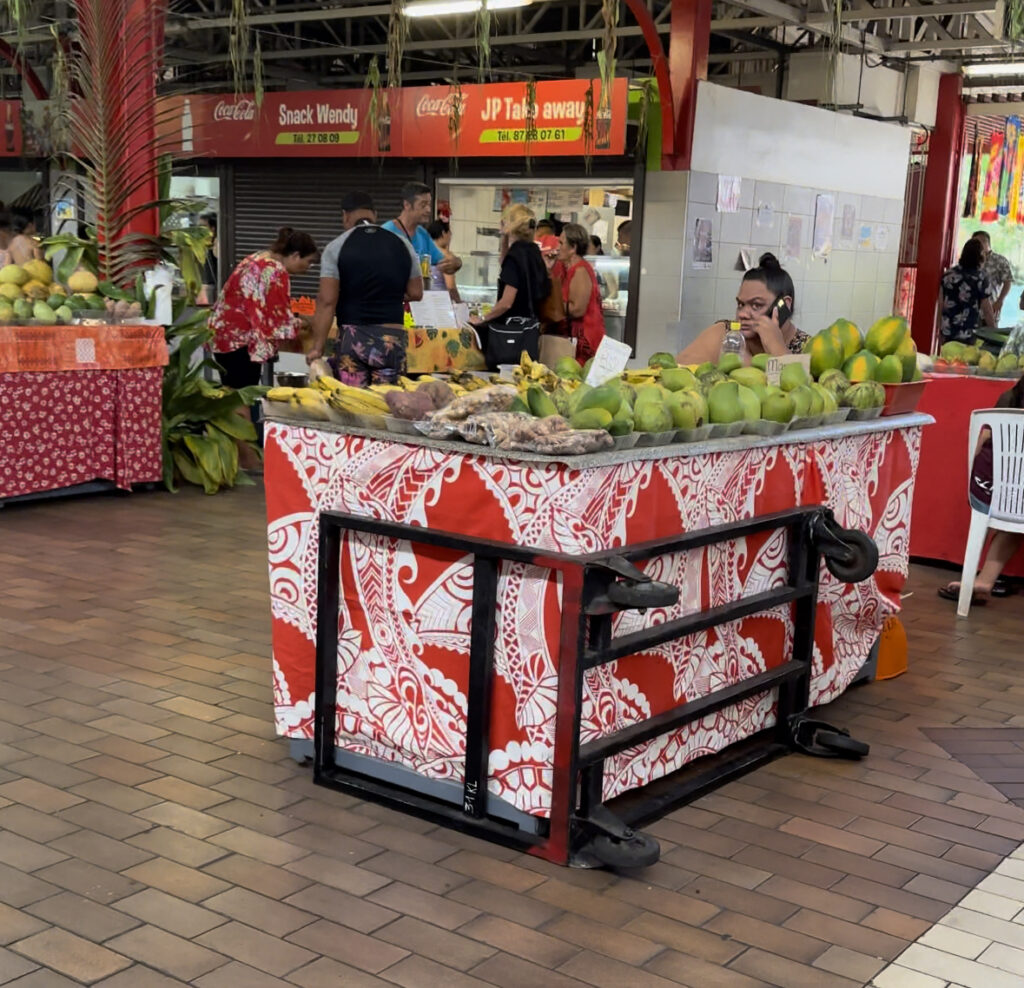 The Pape'ete market is a local outdoor market where you can buy fresh fruits, fish, oils, and all kinds of souvenirs. They do have a few pearl shops and local vendors selling pearls, but I do think the Tahiti Pearl Market had much higher quality pearls so I'm still very happy with my decision. If you don't care too much about the quality and just want a Tahitian pearl or maybe you have a smaller budget, then I would go for it!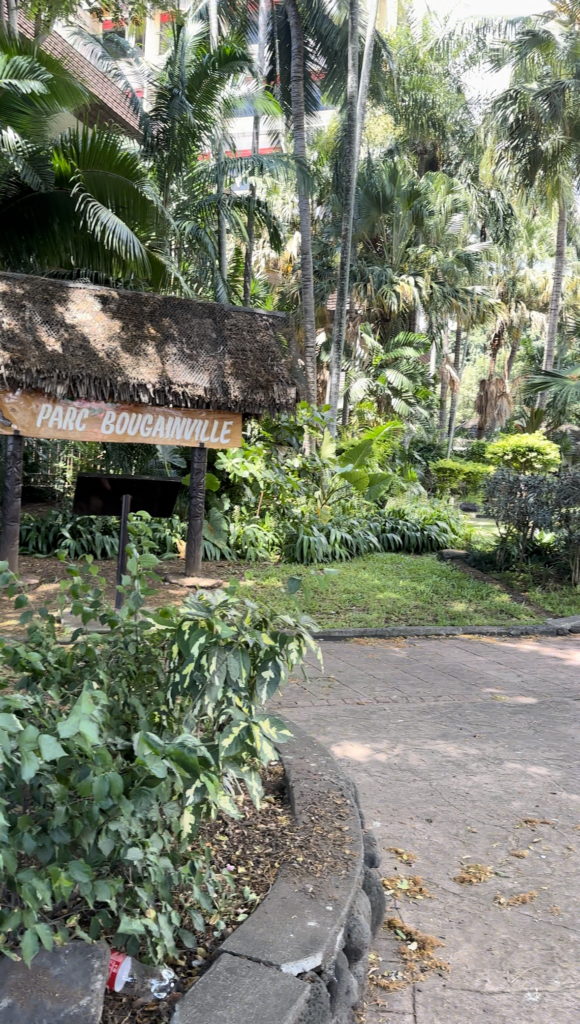 After the market, we wandered around past the Parc Bougainville where the foliage reminded me so much of Hawai'i! The concierge recommended having lunch at one of the restaurants near the pier so we walked across the main road to Le Moana. We asked to be seated inside instead of outside because of the heat but all the doors were open in the restaurant so it was still pretty hot.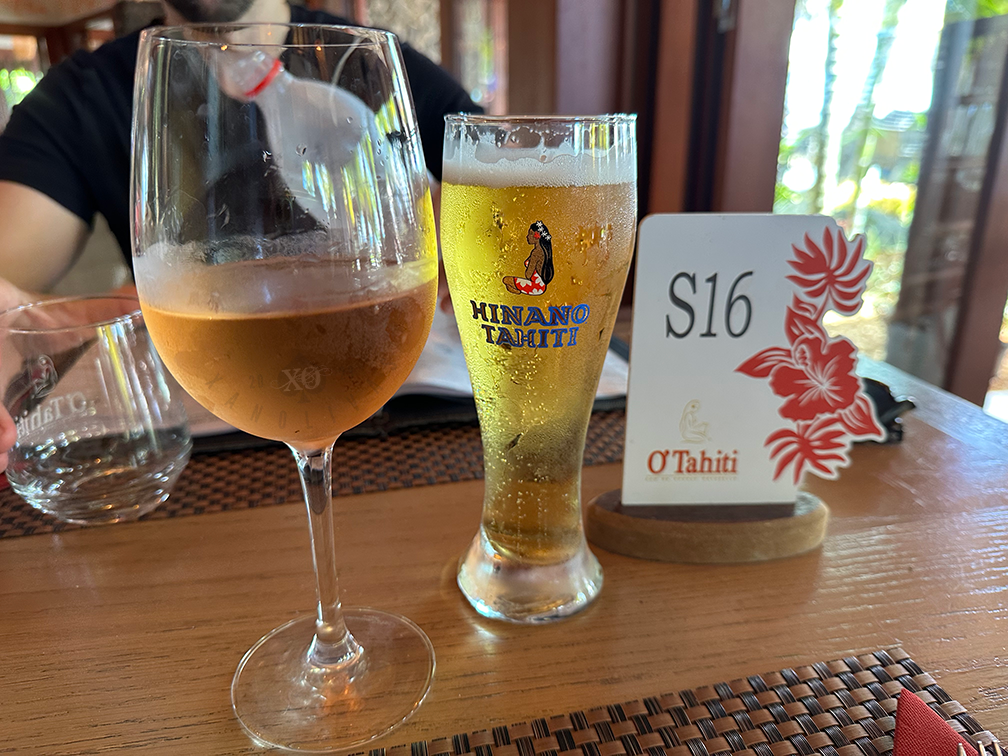 At Le Moana, I ordered the tuna sashimi with a side of rice and had a couple glasses of rosé. Adam ordered a steak and fries with a couple of beers. Food prices were definitely marked up, but they were what I would expect in a touristy area – my sashimi was 2400 XPF (~$24) and Adam's steak was about the same. Alcohol prices, except for the local Hinano beer and the wine I chose, were expensive (around $20 a cocktail). The Hinano beer was 900 XPF ($9) and my rosé was 870 XPF (~$9) a glass.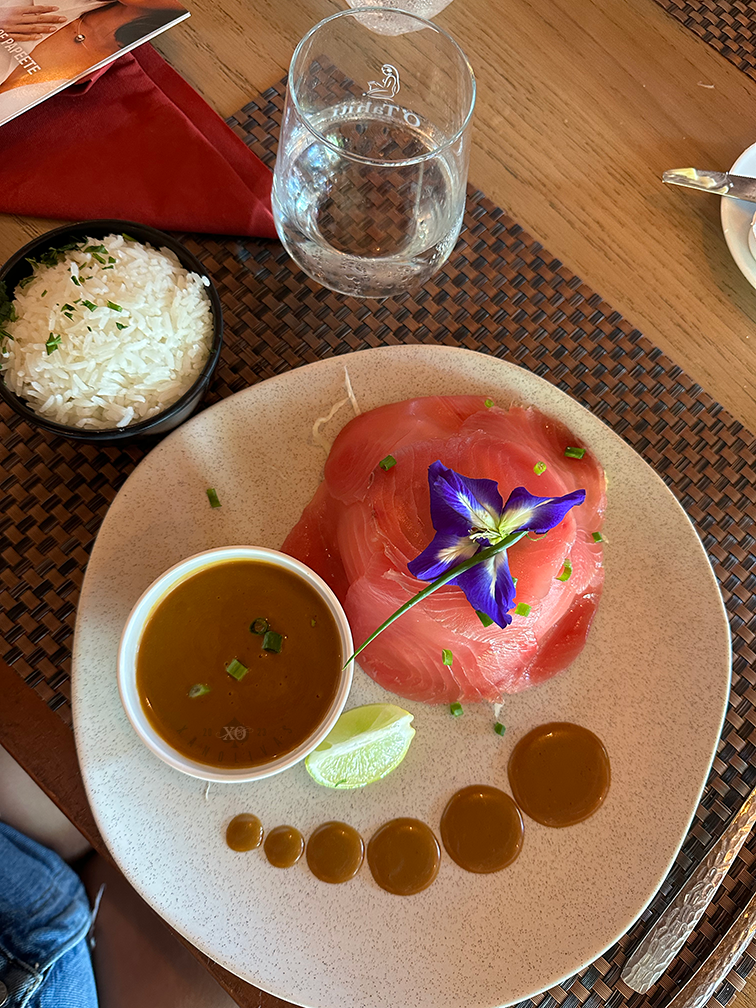 After lunch we still had some time before pick up so we took a different route back. Along the way we found a McDonald's! I wasn't really hungry but I love going to international McDonald's because of the different menus so I dragged Adam into it. The first thing I noticed on the menu was the chicken wings! I had to try them! They also had different burger and chicken sandwiches, chicken wraps, salads, donuts, croissants, and a Daim McFlurry. I ended up ordering the wings, fries, and the Daim McFlurry. I was pleasantly surprised with how good the wings were. For fast food wings, they were 10/10, I would definitely eat again. The McFlurry had little bits of Daim, a crunchy almond caramel chocolate bar, and honestly, I don't think you could go wrong with any flavor of McFlurry. The ice cream did melt really fast since it was so hot!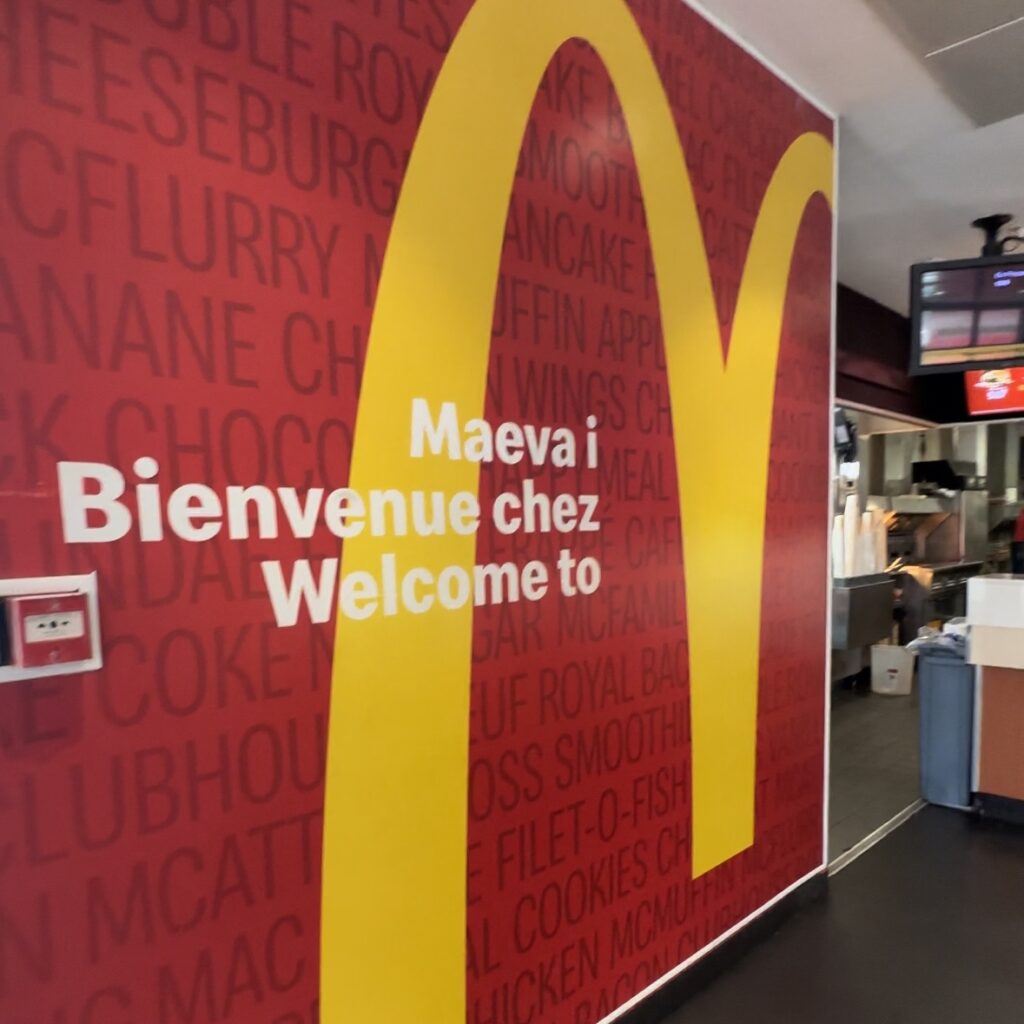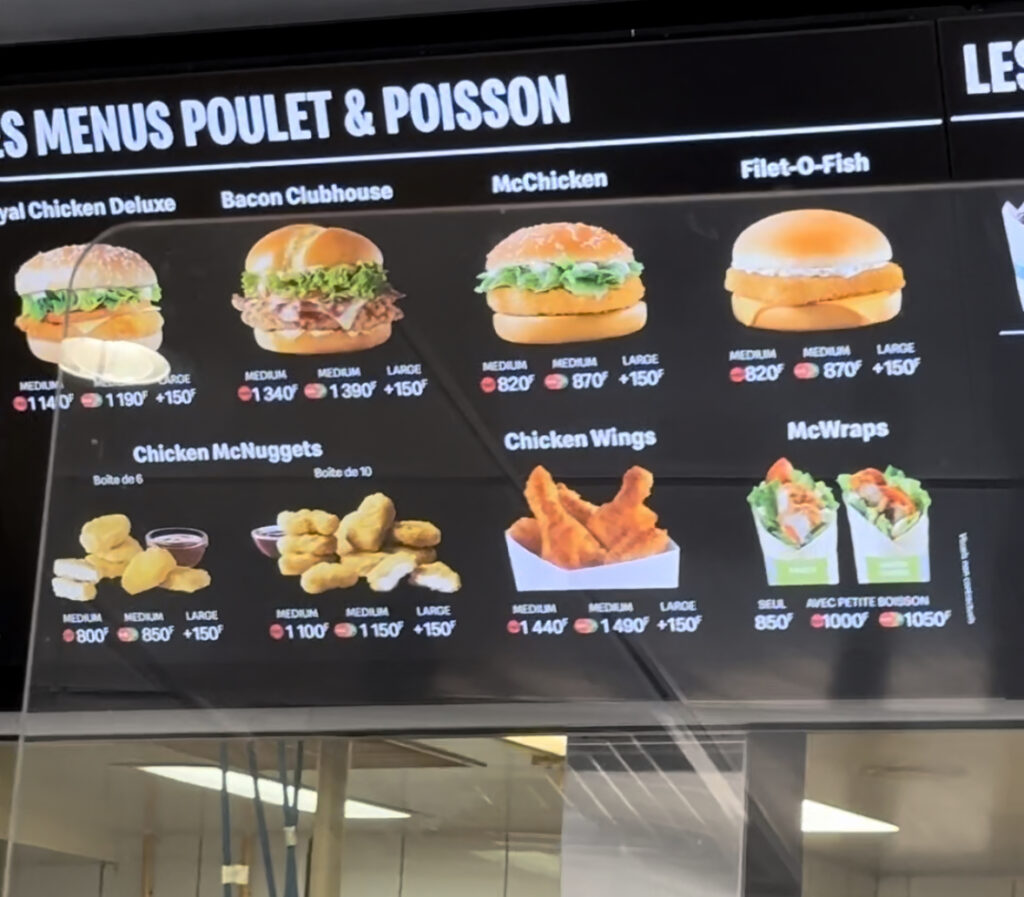 After I got my McDonald's fix, we continued on to the pick up We passed by the Pape'ete Catholic Cathedral, found our way back near the market, then finally the Pearl Market for my necklace! Checkout was super quick since I filled out all the paperwork, then we walked back to the pick up stop. When I say we weren't used to the weather, I mean it! The humidity and heat was really oppressive – we were sweating like crazy and most of the places did not have air conditioning, so if you sweat a lot be sure to bring deodorant!
We arrived at the pickup stop a little early so we walked into a pharmacy nearby to check it out. One thing I noticed was their over the counter medicines were all behind the counter and you needed to ask the pharmacist to purchase. I found out that a lot of medicine that we'd normally buy OTC in the US, requires a prescription! Good thing I had bought a travel pill case off Amazon and packed some essentials like tylenol, antacid, and pepto bismol.
Our driver came back a little before 2:30 PM and everyone was already waiting so we got to head back to the hotel a little early. By the time we got back to the hotel, our room was ready for check-in. I thought it was really cool seeing what downtown Pape'ete was like and I got the perfect pearl necklace as a souvenir! If you have a pit stop in Tahiti, I would definitely recommend checking it out.