We spent almost a year planning our honeymoon/anniversary trip to Tahiti and we did an extensive amount of research and travel hacking to make this dream trip come true! We joined Facebook groups, read blogs, did a lot of our own research, and we planned everything on our own without a travel planner.There are a lot of travel bloggers (people who travel full time or pretty extensively) but without the Facebook groups, it was hard to find normal people planning these trips and more realistic itineraries so I've tried to document the process as much as possible. I'm starting a blog series fully detailing our trip along with a series of TikToks to hopefully help other average people plan the Bora Bora trip of their dreams.
TLDR;
Polynesian night at St. Regis Bora Bora is more expensive than other nights so we opted to stay at the InterContinetal Tahiti for one night. We still saw a Polynesian show and saved ~ $2000+. The resort is gorgeous and has a lot of amenities and options for things to do. I enjoyed our stay here and wouldn't have minded staying longer but it's a great pit stop before heading out to Bora Bora, Mo'orea, or another island.
Tips
Take a taxi instead of getting a private transfer from the airport, but be aware that drivers only accept the local currency (XPF).
Take a shuttle from the hotel to Pape'ete to explore the city and visit the famous market.
Reach out to the concierge ahead of time to get reservations, book a shuttle, and set up airport transfers.
Bring a power converter for your electronics.
Alcohol is expensive, so pack your own if you plan to drink a lot.
---
I've always wanted to do an overwater bungalow in Bora Bora but I was also open to a bungalow in the Maldives. When we looked at the flight times from Dallas, it was actually quicker to travel to Bora Bora (~12 – 15 hours) than the Maldives (~30+ hours) so we chose Bora Bora. Another factor for us was that my husband, Adam, has Marriott Bonvoy Gold status through his credit card so we knew we wanted a Marriott property. Bora Bora only has 2 Marriott properties, the Le Meridian and St. Regis. The Le Meridian was closed for renovation for our target dates. (As of this writing, they're scheduled to open in Q4 of 2023.) Since that left the St. Regis as our only option, we looked at April 2023 dates and tried to find the best deal.
We noticed that on Wednesdays the nightly rate was significantly more and after doing some research, this is because Wednesday is Polynesian night. Polynesian night is where they have a luau type buffet with a Polynesian dance show. Since I grew up in Hawai'i, I would've loved to see authentic Tahitian dancing but looking at the numbers, the nightly rate increase was just so much that I couldn't justify it. The room night on a Wednesday, cost $2,000+ USD where the other nights were $1,000 – $1,400 USD a night. Since I've seen so many Polynesian shows in Hawai'i, I sacrificed that to save money and we opted to stay the first night in Tahiti.
There were no Marriott properties on Tahiti and I have Platinum status with IHG so we searched for IHG hotels on Tahiti. Our only option ended up being the InterContinental Tahiti. I booked the King Bed Premium Ocean And Moorea View and we paid $468.62 USD (51,192.05 XPF) for the room. There was a cheaper option, but I wanted the upgrade to an ocean view room since it was kicking off our big trip. Pre-booking gave us a slightly 'cheaper' rate on the upgrade. If we had stayed the additional night at St. Regis it would've been $2,000 USD which would have been a difference of ~$1,500 USD! The choice was easy and it gave us a day to explore Tahiti before moving on to Bora Bora.
+ room charges $468.82
TOTAL: $468.82
I'll do a separate detailed post on our flights (we got our US to PPT flights mostly on points!) but we did the red eye from LAX to PPT that arrived in Pape'ete at 5:05 AM. From my research, customs can take anywhere from 5 min to over an hour but in our experience, it took us maybe 30 min to get from customs to the IHG Tahiti even with a checked bag each, but we were probably the first flight that arrived.
I reached out to the IHG concierge beforehand to find out what options we had to get from the airport to the hotel. We could've arranged a private transfer where a driver would meet and greet us at the airport with a fresh flower lei. It would've cost 6000 XPF ($60 USD) + 100 XPF ($1 USD) per piece of luggage. The other option was to get a taxi from the airport for 1500 XPF ($15) + $100 XPF ($1), but the taxi drivers only accept the local currency. We, of course, went with the latter option.
+ taxi from airport $20
TOTAL: $488.82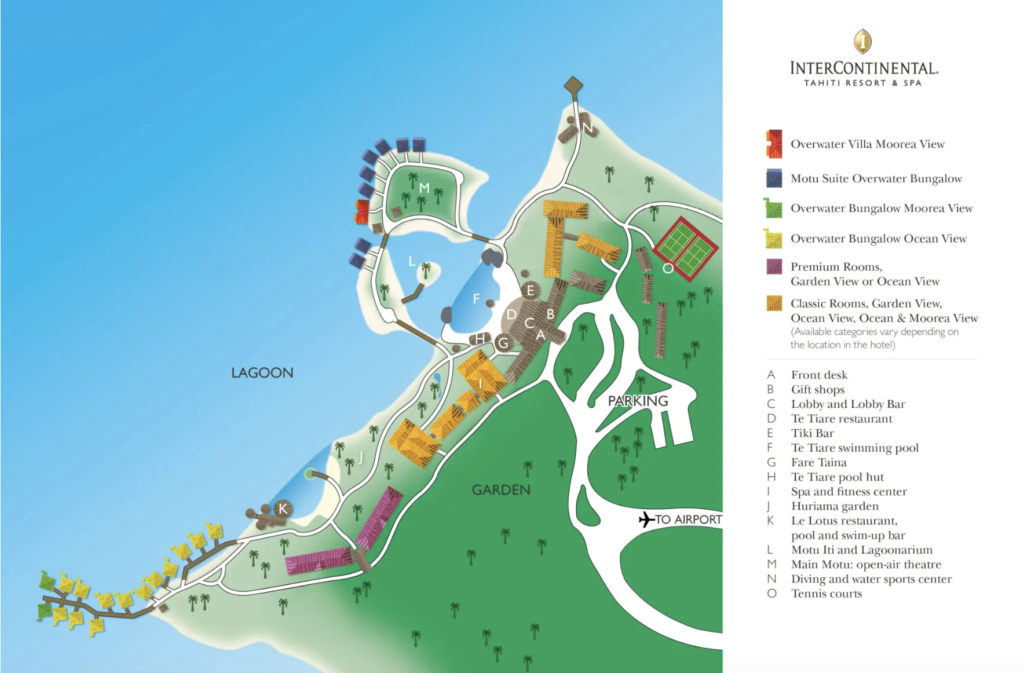 We ended up getting to the hotel around 6:30 AM and check-in time wasn't until 3 PM! The hotel did allow us to use a 'transition room' to change and freshen up, we had full access to all amenities, and they would notify us by email if our room was ready earlier. The transition room is an empty room where you can shower or change in, there was no bed but it did have a desk and chair. They allow you to use it for 30 minutes max. I've never heard of something like this at hotels, usually you're SOL until your check-in time, but I think our situation is pretty common with the international flight schedule so it was nice. We decided to change in the transition room to more weather appropriate outfits (it was 80 degrees when we landed) and leave our bags with the bellhop.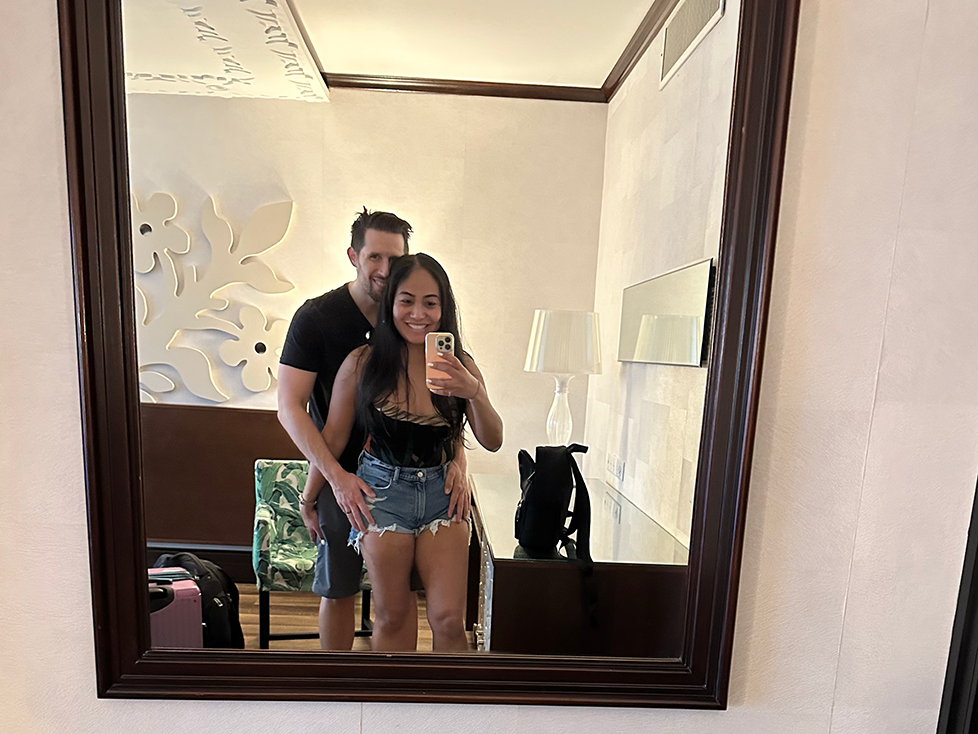 With the research I did, I found out that there was a shuttle that took guests from the hotel to the downtown Pape'ete multiple times a day. I made a reservation beforehand to take the 11 AM shuttle to Pape'ete and return at 2:30 PM. The shuttle cost 1000 XPF ($10) a person so the total came out to 2000 XPF ($20). Since we had so much time to kill, we had coffee and drinks at the Tiki Bar to watch the sunrise before exploring the resort.
+ round of drinks $30
+ roundtrip shuttle to Pape'ete $20
TOTAL: $538.82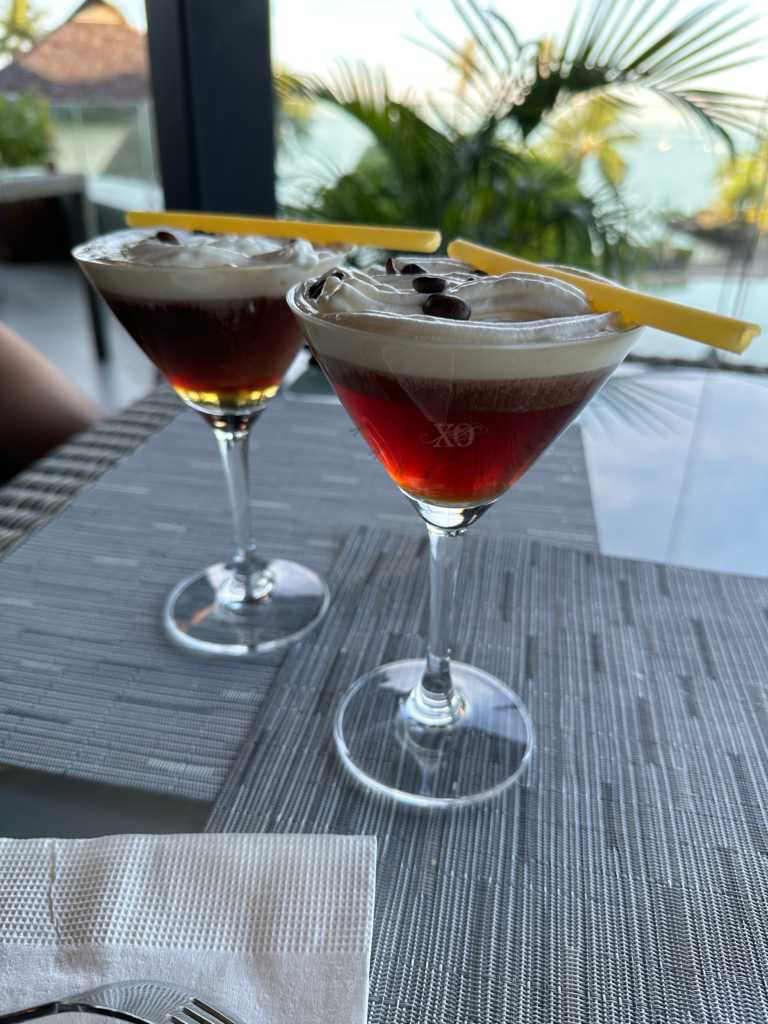 The Tiki Bar overlooks the main pool with a view of their overwater bungalows and Mo'orea in the distance so it was the perfect vantage point to watch the sunrise. The first image in this post is the view from the Tiki Bar! One thing I noticed about the resort is that they used a lot of sustainable things. For example, I ordered an Irish coffee and when I asked for a straw, the straw was an uncooked pasta! One thing you will notice very quickly is that alcoholic drinks are very expensive – to the tune of $20 a pop! From what I read, this is because everything has to be imported. The cheapest drink on the menu is usually the local beer, Hinano, which is usually $8-10 each.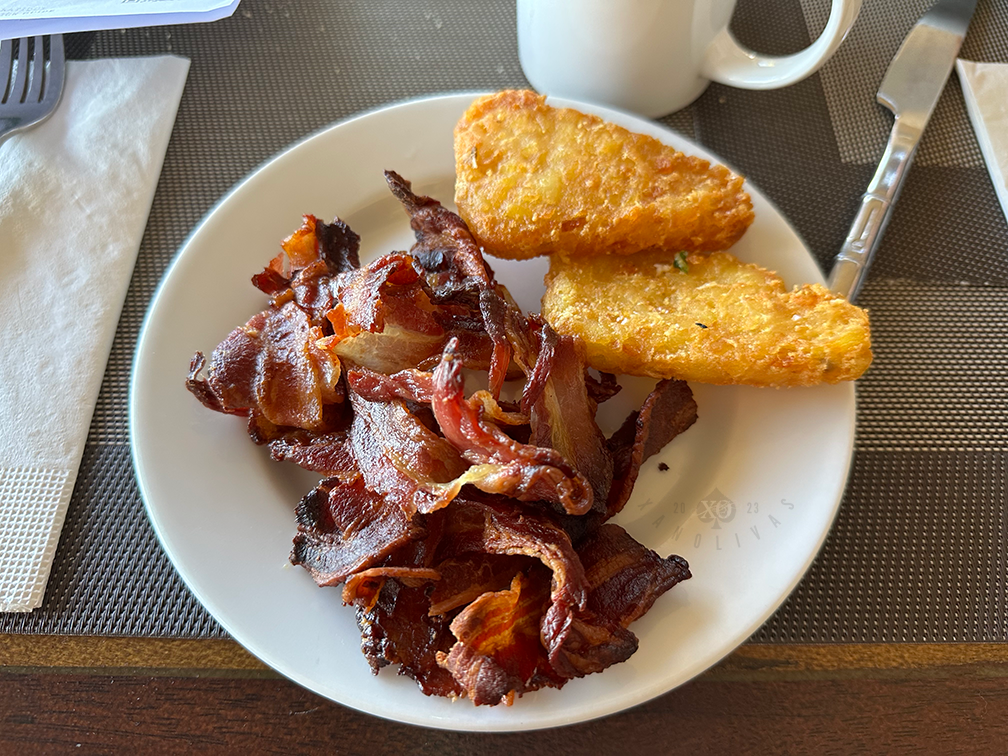 After the first drink, we went downstairs to have breakfast. We had the option to do the breakfast buffet or a la carte and went with a la carte since we weren't that hungry. We ordered an omelette, plus two sides of bacon, and two sides of hash browns, plus coffees for a total of 3000 XPF ($30). For reference, the buffet cost around $50-60 per person. Afterwards we walked around the resort to see the main pool, overwater bungalows, and snorkeling pool with fish. There are a ton of grassy areas with loungers and chairs to layout in the shade or sun. There's a second pool that's an infinity pool with a whirlpool and a swim up bar that's connected to one of their restaurants.
+ drinks at the bar $30
+ breakfast $30
TOTAL: $598.82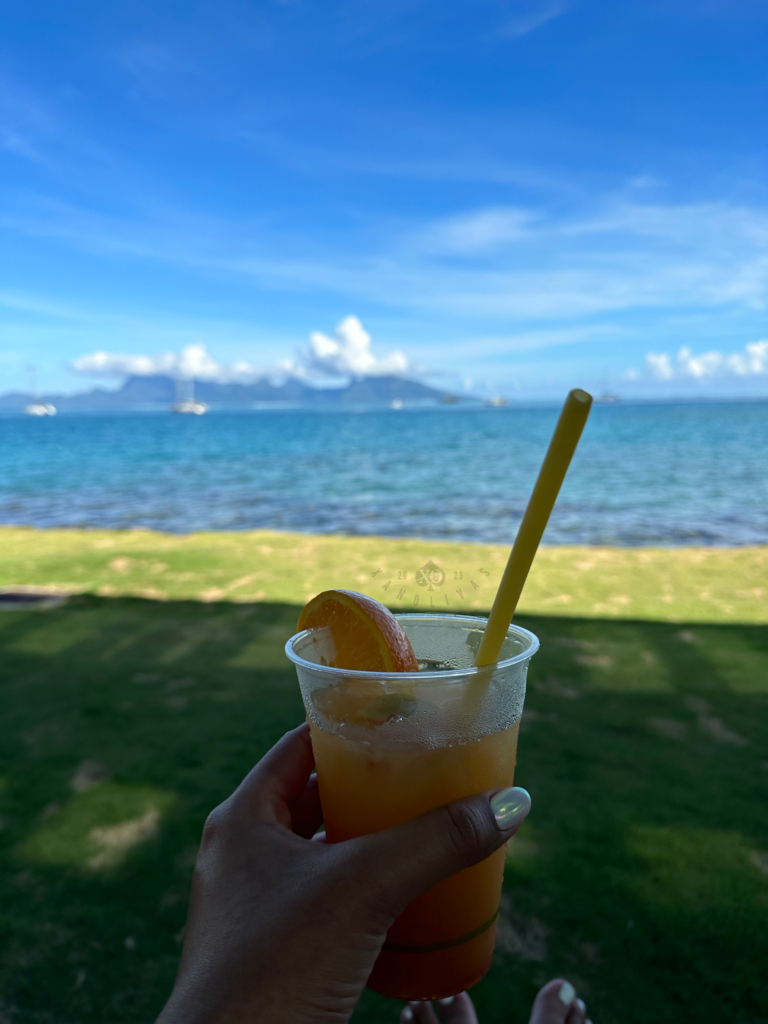 The ground are really well kept – we saw workers either cleaning sidewalks or manicuring the plants/bushes a lot – and I would say the resort is laid out pretty well. I didn't get to see inside a bungalow, but from what we saw, if you want the overwater bungalow experience but can't shell out for Bora Bora prices, this is a great option. It's still pretty expensive but it would save you the extra plane ticket. Personally, I say if you're already there, you might as well make the trip to Bora Bora!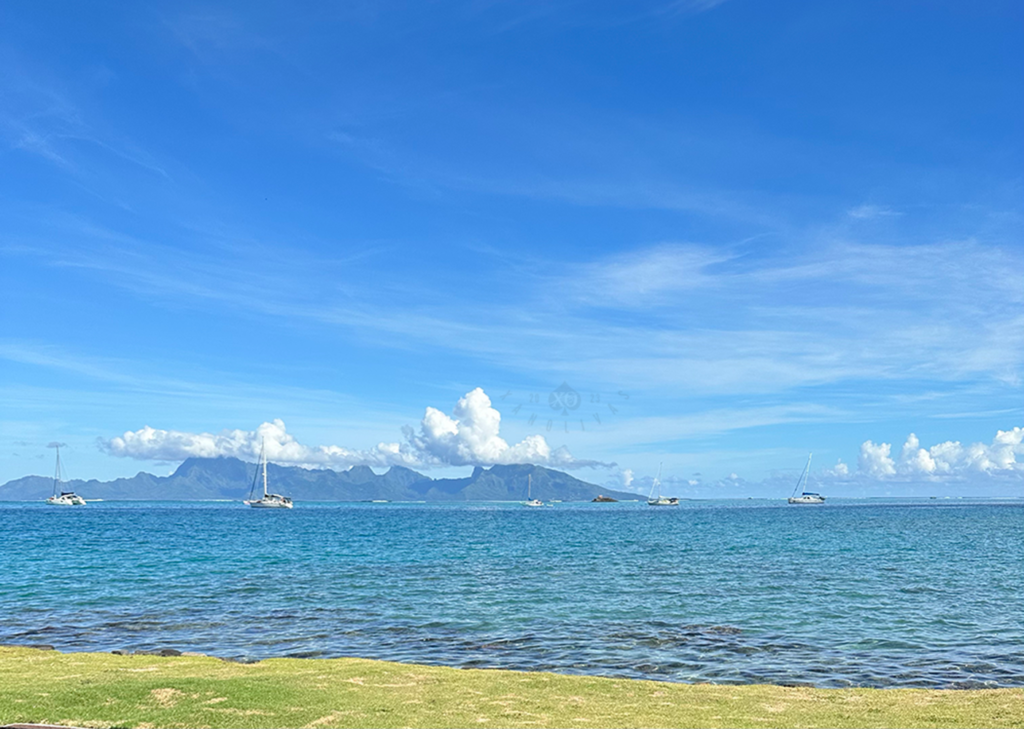 After we finished exploring, we were pretty tired from the red eye flight so we decided to take a nap on one of the loungers oceanside. If you've never taken a beach/oceanside nap, you are missing out because ocean/beach naps are elite! I set my alarm a little early so we'd have time to charge our phones before heading to town. (P.S. if you don't have an international adapter, I highly recommend getting one!) We got our shuttle receipt from the concierge and waited at the front of the hotel for pick up. The shuttle was a large shuttle van that we shared with 8 other people. The drive was about 10 km from the hotel and our driver dropped us off somewhere in downtown Pape'ete, not too far from the Pape'ete market. I'll do a separate post on that little excursion, but 3.5 hours is more than enough time to go shopping, explore, and get lunch.
+ lunch for two incl. drinks $80
TOTAL: $678.82
By the time we got back to the hotel, our room was ready for check-in. Since I opted for the upgraded ocean/Mo'orea view room, I was expecting a king sized room, but we were both surprised at how big the room was! It was a large corner room with a giant patio overlooking the second pool with a view of Mo'orea. Even the bathroom was extra large with a huge tub, double sinks, and a stand up shower. They provided complimentary toiletries and had a welcome gift of macarons waiting on the bed. I mentioned sustainability – the complimentary toothbrush was made of bamboo! I think one of the plugs in the room had an American plug but the rest were European so I highly recommend bringing your own power converter.
After checking in, we hung out for a bit at the second pool before going back to the room to relax before dinner. We brought several bottles of alcohol in our checked bags and ended up drinking a bottle of champagne we brought to save on our bar tab. The swim up bar opens at 12 PM and it's also connected to a whirlpool. We initially thought it was a jacuzzi, but the water wasn't hot so we thought it was broken. When I looked into other resorts, there's no jacuzzis, only whirlpools. It kind of makes sense when you think about it because it's warm all year round.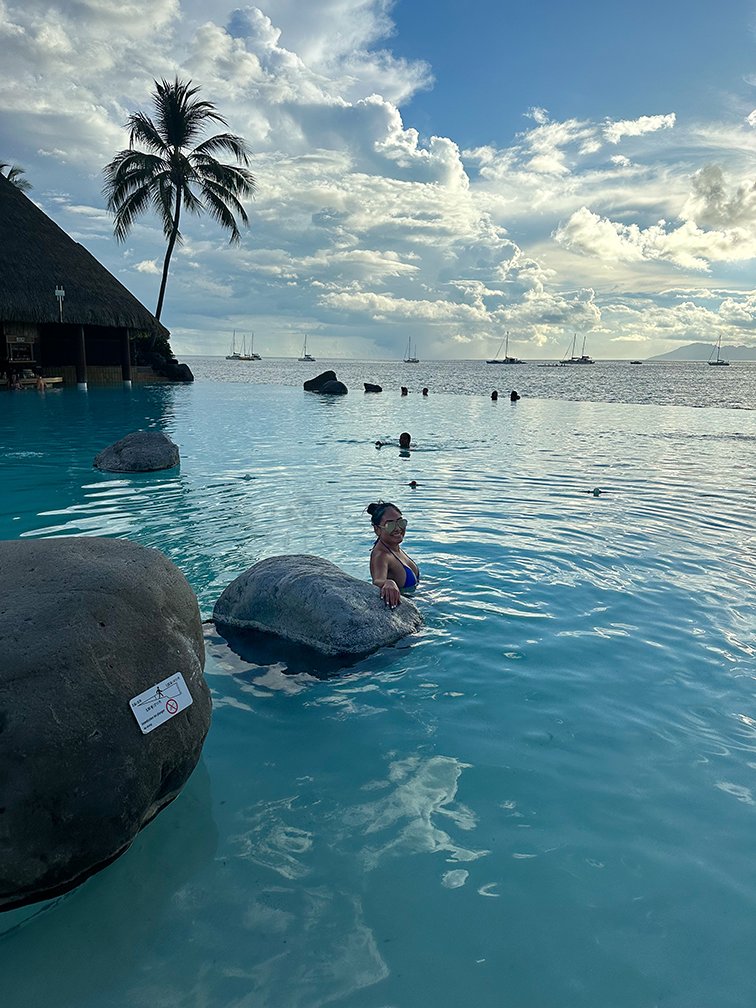 One thing I noticed about all the resorts we looked into in French Polynesia is that at least once a week they have some kind of Polynesian show. Most times it's Tahitian, but Wednesday night at the InterContinental Tahiti is Marquesas night. If you're not familiar with Polynesia, Marquesas is another group of islands in French Polynesia. There are many different island groups throughout Polynesia and there are a lot of similarities between them, but they have their own distinct culture.
I mentioned earlier that I gave up the Polynesian show in Bora Bora to save some money so I was excited when I found out IHG Tahiti had theme nights and Marquesas night on Wednesday! Their theme nights are held at the open air restaurant next to their pool, Te Tiare, and requires a reservation. The reservation cost 8900 XPF ($89) a person and includes a buffet dinner, but does not include drinks. The buffet dinner included a good amount of sashimi, seafood dishes, roast, chicken, and desserts.
+ $200 – Marquesas dinner
TOTAL: $878.82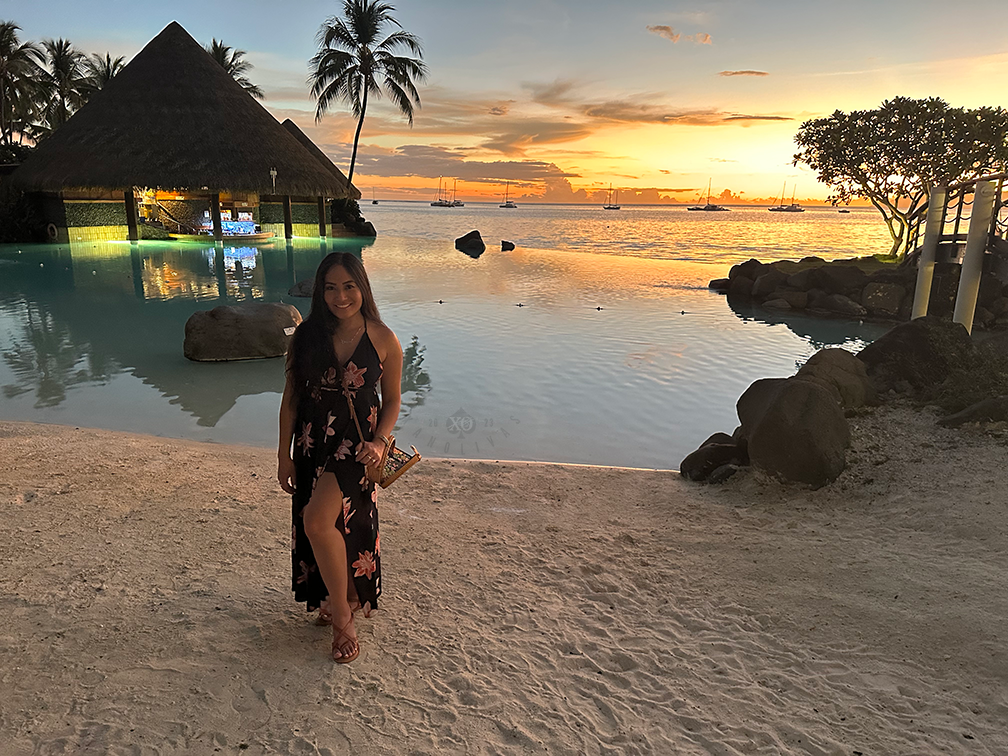 We made reservations for 6:30 PM even though the show starts at 8:00 PM. I opted for an earlier reservation thinking that it would give us the best seats but that wasn't the case. We sat closer to the buffet and ended up waiting a while for the show to start. If I could've redone it, I would've made the reservation for 7 or 7:30 PM instead to give us more time to rest.
The show was about an hour long and they give you time to get a photo op with some of the dancers afterwards. I convinced Adam to take a few pics of me but since we were exhausted by the time the show was done and had the early flight out to Bora Bora in the morning, we went straight to bed after!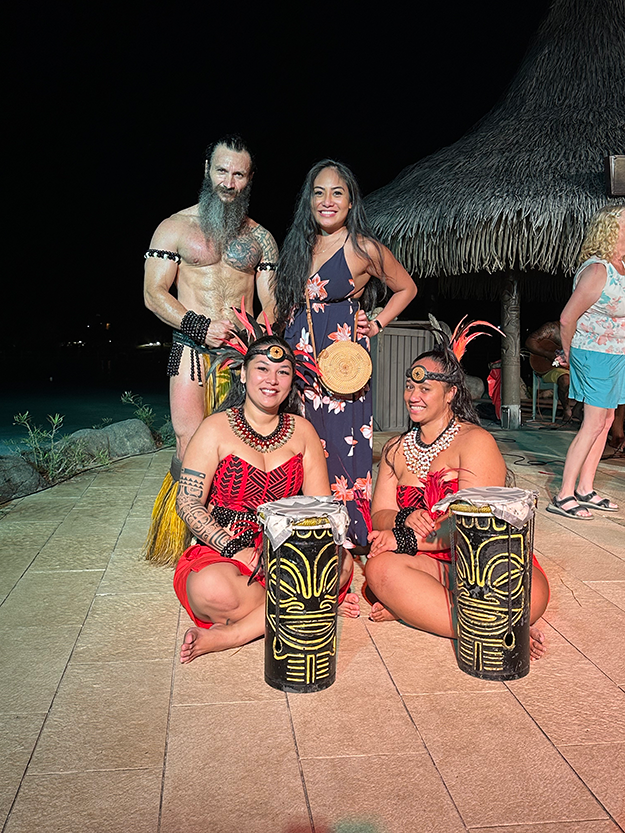 Our flight from Pape'ete to Bora Bora left at 7 AM the next morning so we arranged a private transfer from the hotel. The cost for 2 people was 3500 XPF ($35) plus 100 XPF ($1) per piece of luggage. Our total came out to 3900 XPF ($39) and was added to our hotel bill.
+ private transfer to airport $39
TOTAL: $917.82
Overall, I thought the InterContinental Tahiti was a great hotel, especially considering the price compared to the St. Regis Bora Bora. The resort is pretty well laid out, the rooms are decorated more modern, and our room was huge. It's 5 min from the airport and a great pit stop before traveling to another island. I would definitely come back if we wanted a stop before traveling to another island! Our grand total for the day came out to ~$918. If we had stayed that additional night in Bora Bora, it would've easily cost us $3000 (upcharge in room rate + another buffet dinner) and we wouldn't have had the chance to explore Pape'ete so I think we made the right decision.
GRAND TOTAL: $917.82
Stay tuned for more posts on our trip!