We're engaged! I thought I was going on a girls birthday trip last month, but Adam totally blindsided me and proposed instead! We've been together for 2 1/2 years, we started building a house together last summer, and we're closing in a few weeks so I honestly did not think a proposal was coming until after we were moved into the house.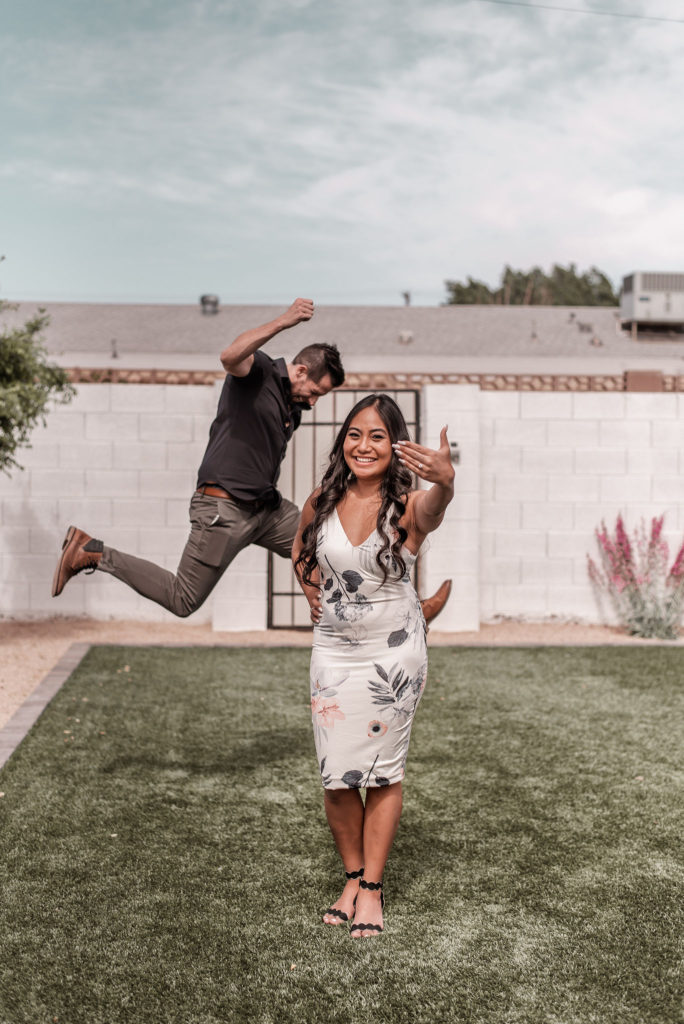 How He Asked
Last Summer, one of my best friends, Nona, found The Pink Cactus Airbnb in Scottsdale. It was so cute, we thought it'd be the perfect place for my birthday next March! We booked the place for 4 days in March but we didn't really start planning until we got closer. The place sleeps 12, but there were only 4 or 5 of us that were confirmed. We expected everyone to quarantine and take a COVID test before, if anyone was uncomfortable being around so many people, I wouldn't be offended if they turned it down. As we got closer to my birthday, it ended up being 7 girls total, I started extending the invite to more people, because I was worried about the cost would be for everyone, but Nona told me we would be okay with just us. I tried to make an itinerary for the whole week, but my sister convinced me not to because she "didn't want to go out". The only thing I ended up planning was my birthday dinner at Maple & Ash for my actual birthday on the 8th and Nona planned a 'girls photoshoot' the next day around lunch.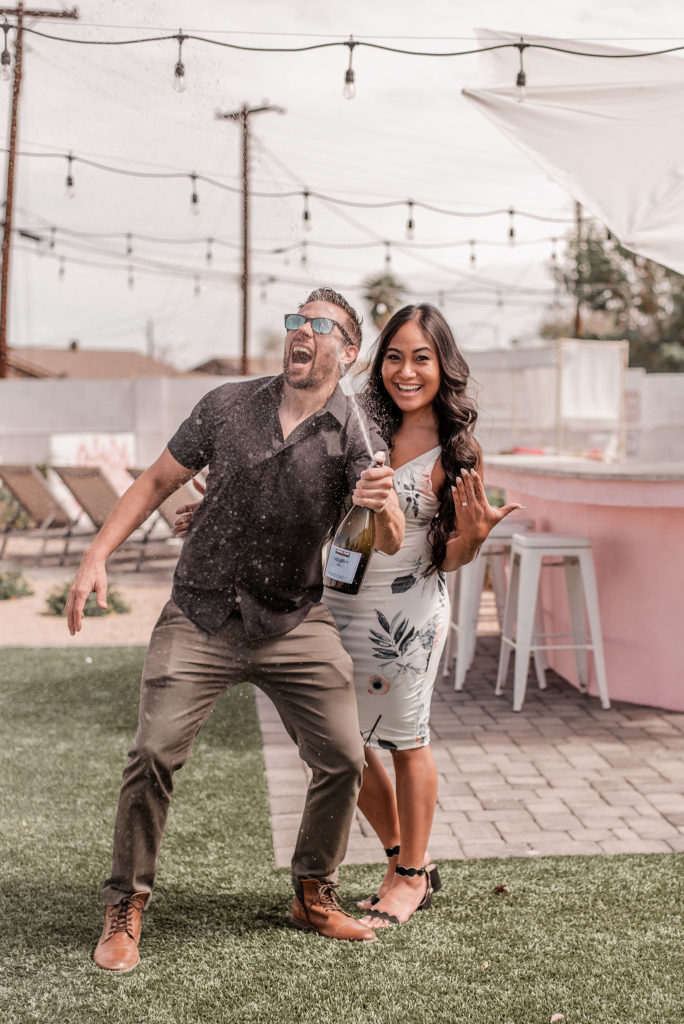 After dinner we went back to the Airbnb and had a few drinks, but I went to bed fairly early since I knew we would be doing the photoshoot. Nona mentioned that she had booked a hair appointment at Dry Bar at 11 AM, I thought everyone was going, but she said it was just for me and hair since it was my birthday. She told me I had to be ready for the photoshoot as soon as we got back. I'm a little sluggish the morning after but I get my makeup done, get dressed and we head over to Dry Bar. I remember sitting in the chair getting my hair washed thinking, I'm totally going to take a nap after the photoshoot – boy, was I wrong.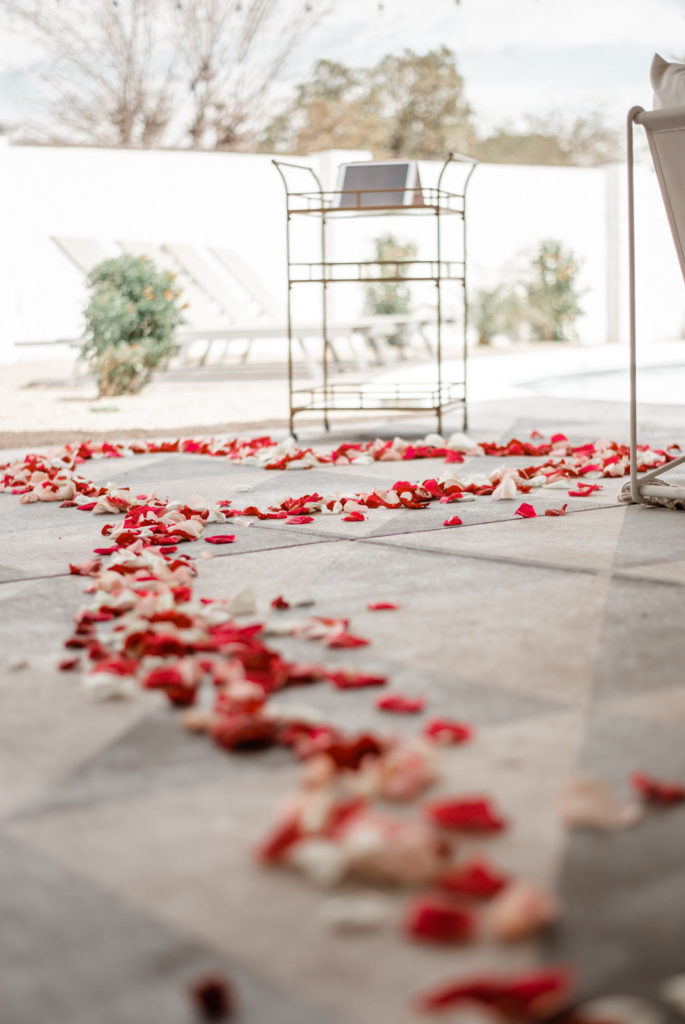 We get back from Dry Bar and Nona is rushing me back into the house, she says everyone is in the back and the photographer's ready! I walk in the house and she tells me to put down my bag and when I look out the window, I was so confused that I saw my brother in law and a few of my guy friends. I walk out and realize there are flowers on the ground in the shape of a heart, my sister and my closest friends all standing in a circle around a table with an iPad on it. I start freaking out, all I could say was, "WHAT'S HAPPENING?! WHAT'S HAPPENING!" – it is so funny when I think about it. I looked all around for Adam, but I couldn't see him anywhere! My sister signals for me to come closer and she starts a video on the iPad.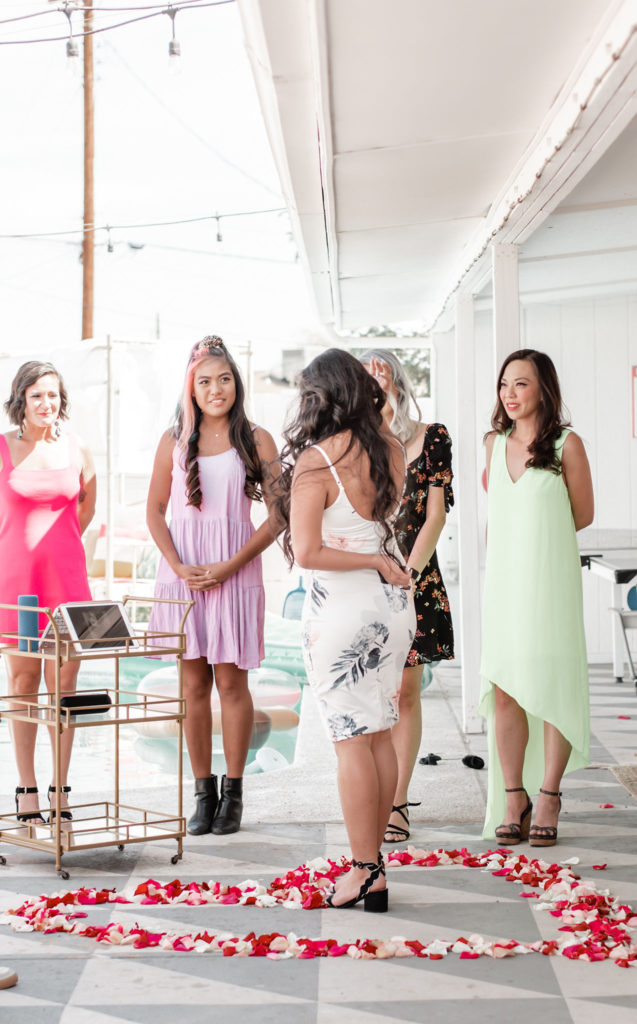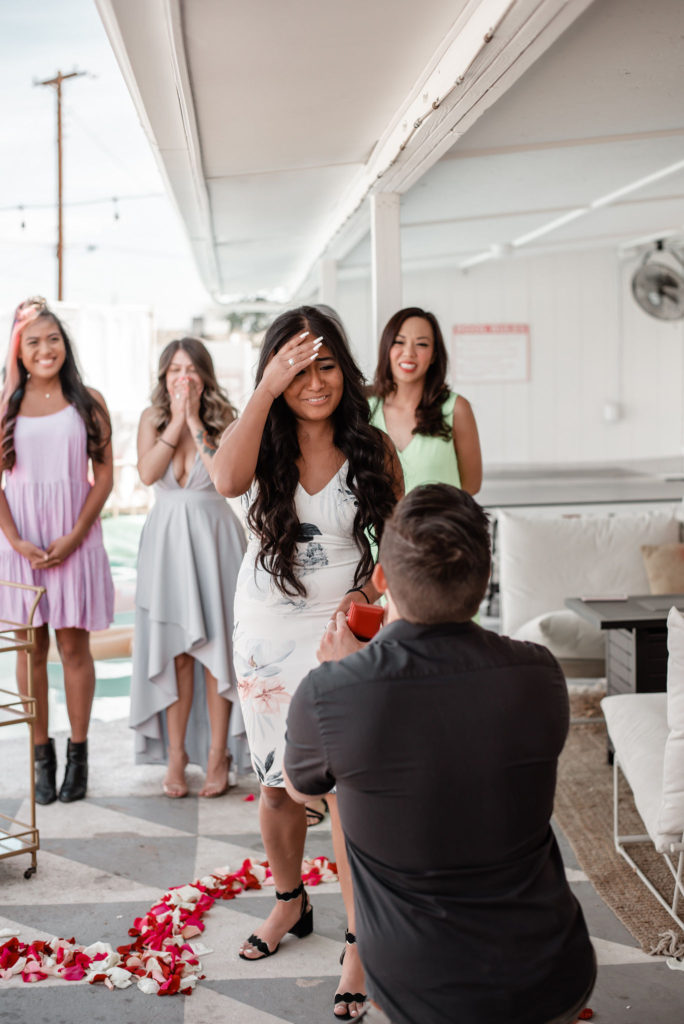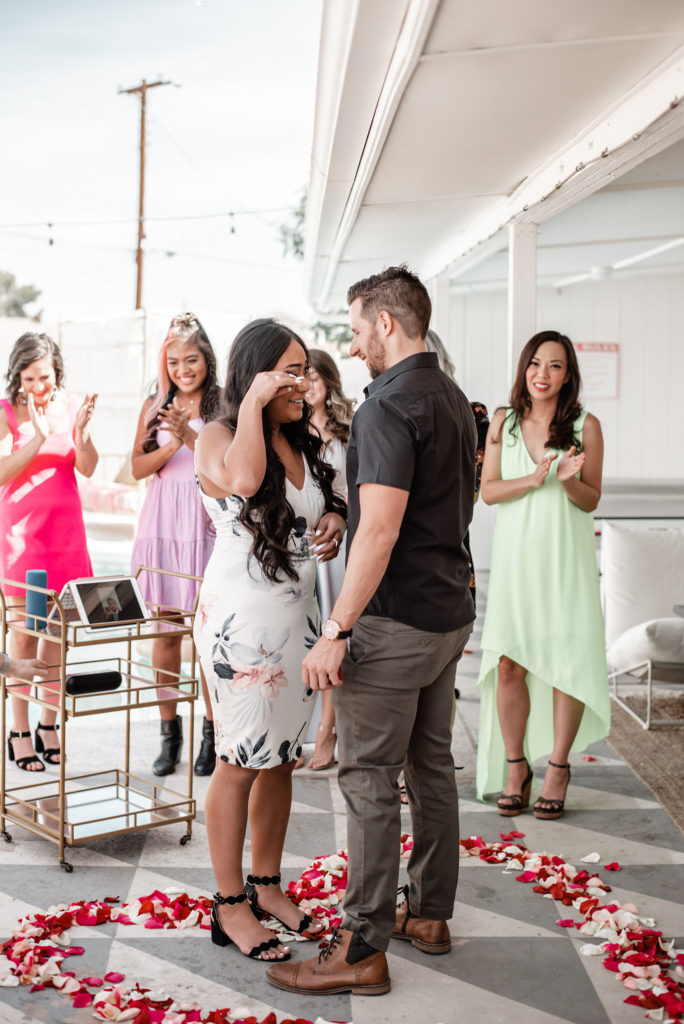 The video plays a slideshow of all the things Adam and I have done together while playing our song, GoldFish, No One Has To Know. At the end of the slideshow Adam comes on the video wearing a suit, holding a single rose, and asked me bachelor style, if I "would accept this rose?" I made a face because we both hate the bachelor and for a split second, I thought Adam was going to ask me to marry him over zoom! That's when he came up from behind me, knelt down, and asked me to marry him.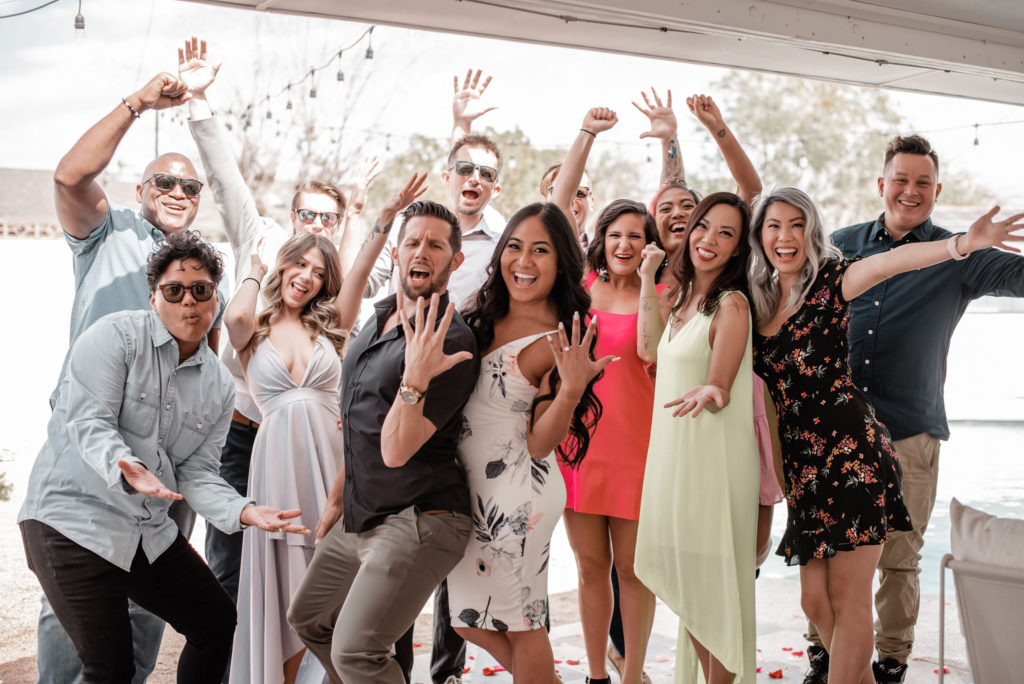 I had absolutely no clue, which everyone thinks is hilarious because they accidentally dropped hints SO many times! Like my sister says, it's because I trust them all so much I didn't think they would lie to me. Everything was perfect and I LOVE so much that my closest friends and my sister were all there to celebrate!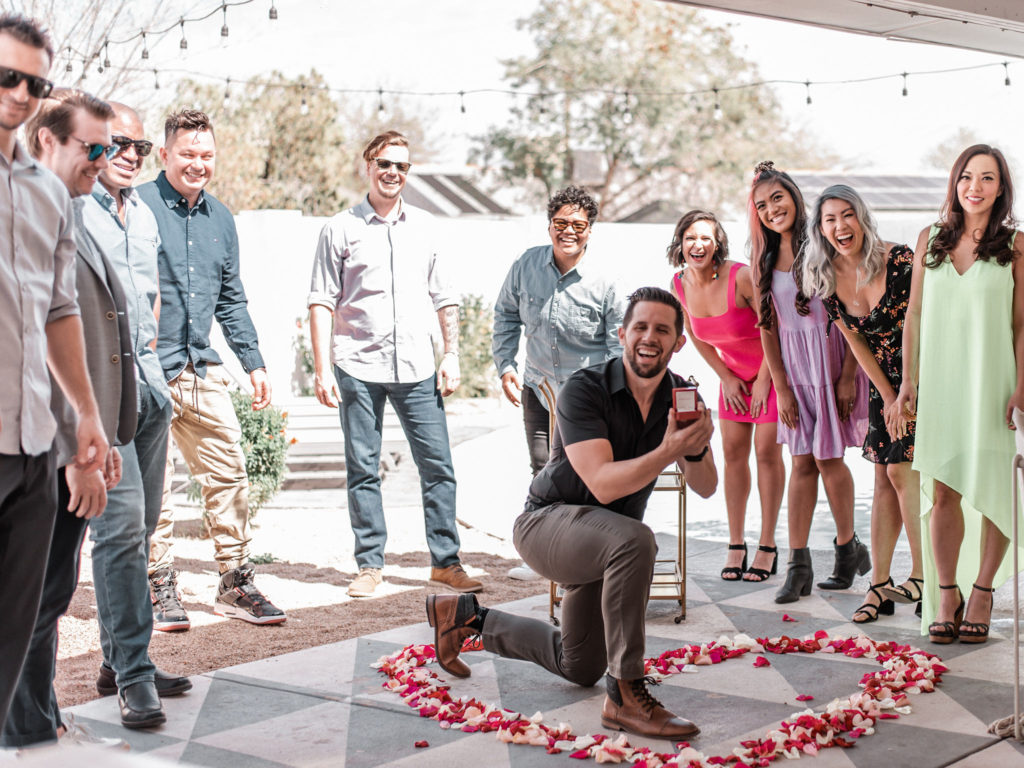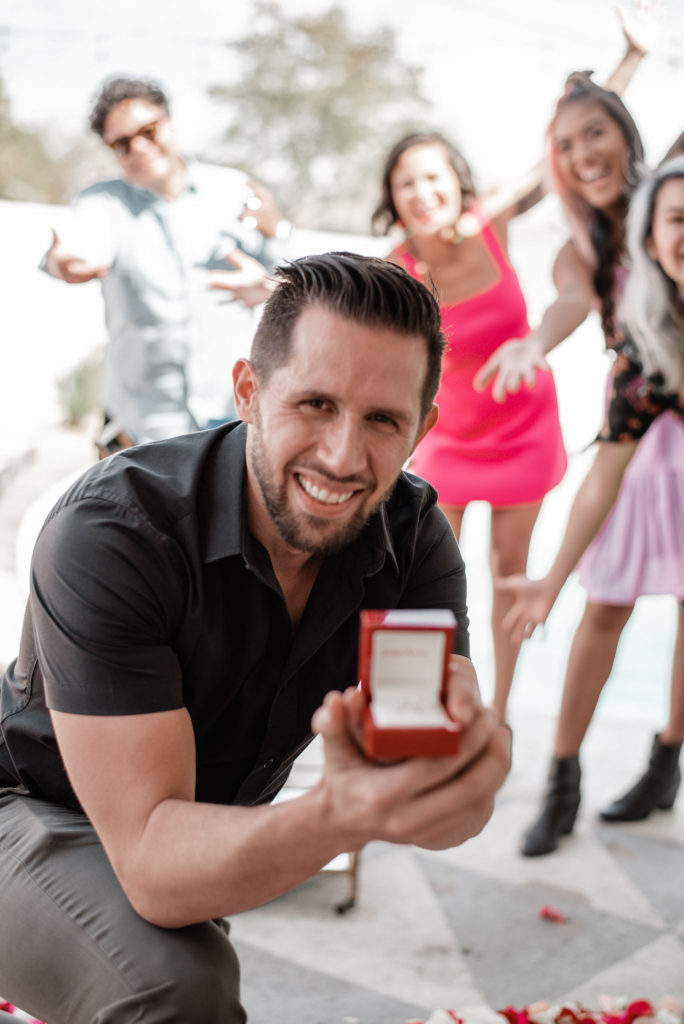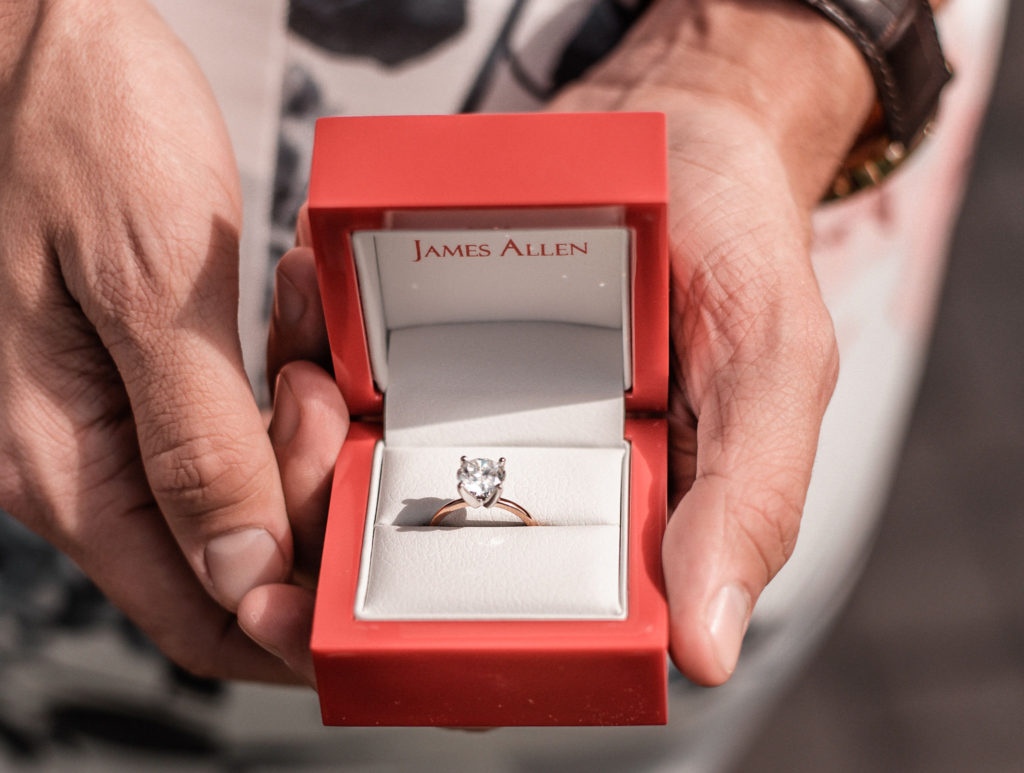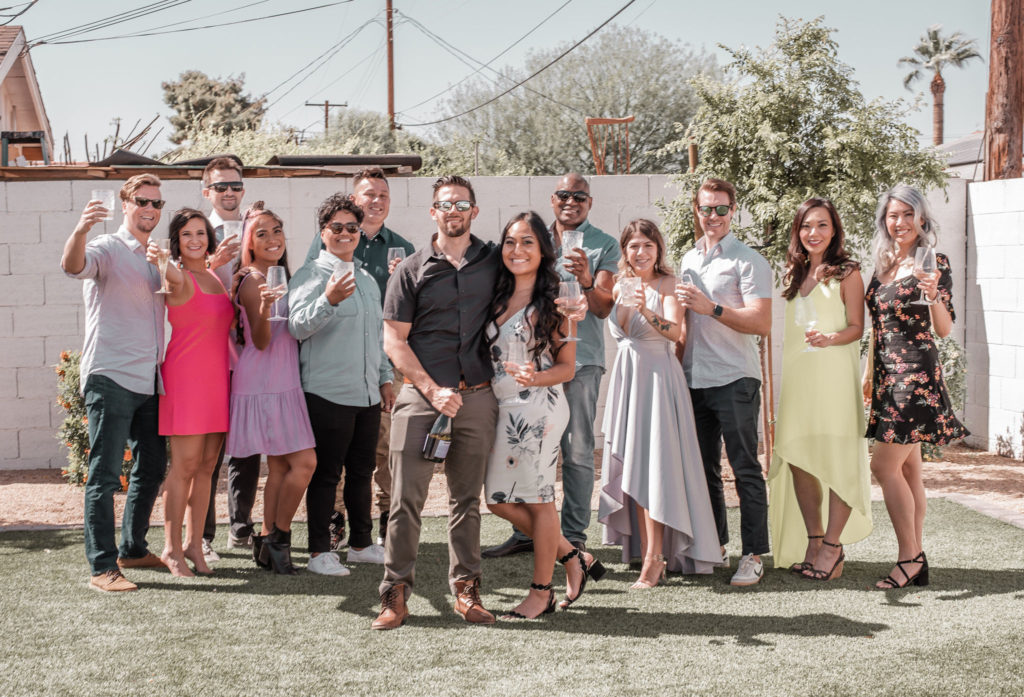 Photos were done by Justine Wallstrom Photography. She was absolutely amazing to work with, was super patient and let us do all the poses we wanted to! Highly recommend if you need a photographer in the Phoenix area.