The latest update on Da Baum Shelter: We broke ground last weekend! We got calls from our super a few days before letting us know that our permits have been approved and they were ready to break ground last Friday! We've been driving by the lot when we're in the are just to see the neighborhood and our neighbor's home has been coming up quick so we're excited to see the progress on ours! Since all the upgrades we picked are totally final now, I decided to do a post on upgrades we did and didn't do.
The great thing about building a new house is that you get to pick exactly what you want and how you want it. The bad thing about building a house is, everything costs money and things add up really quickly! I talked about all the things we wanted in a house in a previous post, but I wanted to go more into what upgrades we chose, which ones we didn't, and how much they cost. (Costs are rough estimates).
I'll start off with all the upgrades we did do so you can understand why we opted out of the others:
Waterfall kitchen island ($5400) – The only reason we got this upgrade was because this something I just really wanted for aesthetic reasons. (See the inspo pic above.) We weren't sure if we could do it at all until we went to the design center and Adam so graciously let me have it! I can't wait to see how it turns out!
Soft close drawers in the kitchen ($1200) – I had soft close drawers in my old apartment and there's just something so satisfying about pushing them closed. Not to mention, you prevent slamming the drawers and causing wear and tear! I would've loved to put these everywhere, but they charge you per drawer so we settled on only the drawers in kitchen since they would see the most wear.
Built in refrigerator cabinets ($600) – I could've done without this upgrade but Adam thought we should do it and looking at the pictures, I agreed. The picture below left shows the standard cabinets around the fridge and the right is the built in. It's flushed to the fridge and just looks so much better.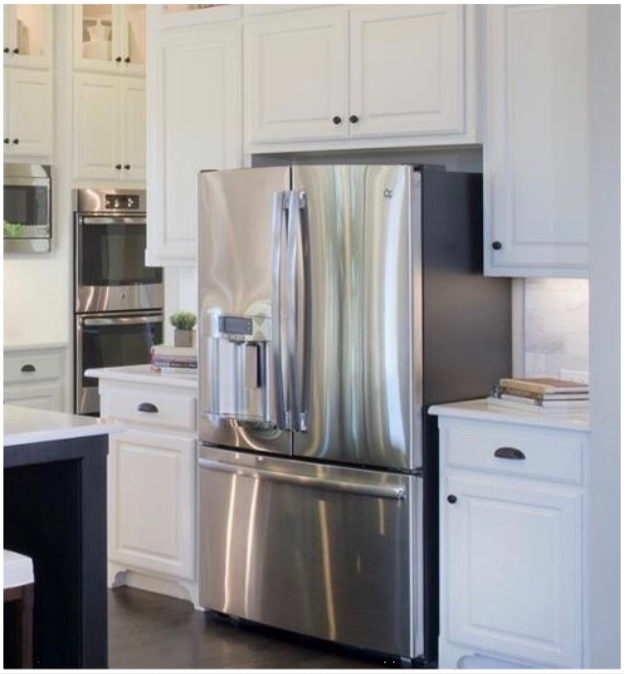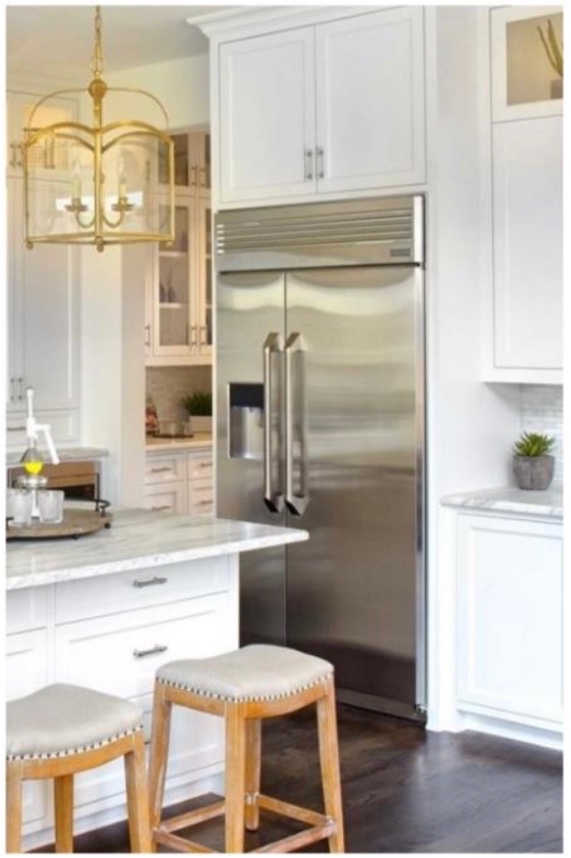 Trash can drawer in island & wetbar ($150/ea) – We have one of these in our current house and I love having the trash can hidden instead of out in the open. We opted to add one in the wetbar area too to save space! One thing a friend warned me about is making sure they have the trash drawer goes from floor to counter instead of having a smaller drawer on top of it to match the look of the other cabinets. The smaller trash drawer limits the size of the trash can you put in there.
Baja shower ($3200) – This upgrade was purely Adam, I could've done with a regular glass door but when we saw the large baja shower in the model, he was completely sold. I actually do love that the shower is so large, it doesn't need a door – I leave our current shower door open because I'm paranoid mold will start forming when we leave it shut!
Gameroom with a wetbar ($7400) – This was something we both wanted and loved from seeing the model pictures. We love having people over and hosting so this room was perfect to put the pool table in! Plus having the wetbar at the back of the room makes it a perfect hangout spot.
Bay window in master bedroom ($2600) – This was another upgrade we weren't planning on doing, but seeing it in the model we loved. It makes the master feel bigger and the windows bring it so much natural light.
Atrium doors for the outside patio ($1700) – We originally wanted sliding doors to the backyard patio but they were almost 10x more expensive! We have an entry from the living room and in the dining room and we couldn't put in sliding doors in one place and not in the other without it looking unbalanced. Atrium doors were a much cheaper middle ground since it still lets more light in the house than a regular door. Plus, when I thought about it, it's probably better to have the doors because the sliding doors will let in more flies and bugs in the summer!
Fan over the outside patio ($600) – It probably would've been cheaper to get these done post-build but we both just wanted it out there. Texas is hot almost all year round so we'd make pretty good use out of this fan.
Lockers near double garage ($2400) – One thing I wanted was a place to put my purse down when I get home so we opted to get the lockers near the double garage. I could've done without this one, too, but if we didn't put it in it would've just been a big white wall. There's hooks for coats/purses and drawers on the bottom.
Dedicated 220V plug in double garage ($800) – This is definitely all for Adam! He has a Tesla that he prefers to charge at one of the super chargers but it would be nice to have a plug at home when he needs it.
If you're counting, that's over $26,000 in upgrades! And that doesn't include all the design options we chose! Here are the upgrades we opted not to do:
Mediterranean Elevation (~$43,000) – Adam and I were both set on having a Mediterranean style exterior until we saw the price! We both love the stucco and tile roofs but for $43k we said no thanks.
Fireplaces / Hearth Rooms ($3900) – We had the option to add a fireplace in the dining room but we opted not to. It looked nice in the model home but it's strictly for aesthetics since we've never used the fireplace that's in Adam's current house.The house even came with a fireplace on the side/middle of the living room but we chose to delete it from the floor plan and replace it with an atrium door. Apparently fireplaces are a Texas thing, but I'm a Hawai'i girl and don't know anything about that!
Media Room ($12,000) – Like I mentioned in the announcement post, Adam hates Media Rooms so the $12k price tag made it easy to say no. I would've been okay with it, but doing the media room upgrade would've taken the space of the game room/wet bar and the game room would've been much smaller. By not doing the media room, we have the option to finish the 'attic space' later if we want to.
Sliding Glass Doors ($13,000) – Instead of the atrium doors to the backyard patio, we really wanted double sliding glass doors. The huge glass doors let in so much light and looked so good in the model, but one door was $6k and the other was $7k. Compared to the $1700 for both atrium doors it was an easy decision.
Extended Patio ($3900) – We liked the idea of the extended patio but in reality it was only 3 feet longer and the hearth room was mandatory. This was also an easy no.
Standup Showers ($2,000/ea) – We opted for the baja shower in the master and I think would've been nice to have a stand up shower in the guest room downstairs but for $2k, it wasn't that important to us.
Utility Sink in Laundry Room ($2,700) – This was another nice to have but not important to us.
Freestanding Tub ($5,000) I LOVE the way freestanding tubs look, they're so luxe and stylish but for $5k, we couldn't justify the price. Plus I already got my waterfall counter so I couldn't fight for this one!
Stainless Steel Hood Bent ($2,000) – We both loved the modern look of a stainless steel hood vent, but this upgrade cost $2k. The cost of the cabinets included the cabinets around the vent at no extra cost and upgrading the vent wouldn't cut any costs around the cabinets so we opted not to do this.
Extended Upper Cabinet ($5,000) – Another aesthetic thing I would've loved to do but we couldn't justify the cost and it wasn't practical. I'm only 5'2″ so I couldn't reach those cabinets unless I had a ladder and if we wanted to put in glass cabinets for decor, those would've been an extra $700. They also recommended doing puck lights for another few hundred so the price just kept driving up for something I wasn't completely sold on.
Pot Filler ($2,000) – I really wanted a pot filler over the stove but Adam thought it was unnecessary. I do all the cooking and I love the way it looks, but after researching it more I decide it wasn't worth it. If it starts leaking, it'll cause all kinds of problems over the stove and I don't really need to fill up pots with water all that much. This was just another nice to have.
I know that was a pretty length post, but when we were deciding on upgrades it was hard for us to decide what we wanted! Hopefully that helps other new builders out there.