I'd definitely say I'm a foodie – I love eating out and trying new restaurants – but I secretly like playing chef at home. The kitchen is everything at home and I've actually picked my last three apartments because of the kitchen! It's funny because I'm actually really self conscious about my cooking so you know I really care about you if I cook for you. I get the majority of my recipes from Pinterest but I do have a few cookbooks at home – like the Greek cookbook I pulled this tzatziki recipe from.
My latest experiment were these Spinach & Feta Turkey Burgers and Feta Fries. I made enough with this recipe to have lunch at work for a few days! Next time I redo these, I'd definitely add more salt to the burgers and less garlic to the tzatziki. The brioche buns I just got from my local Whole Foods.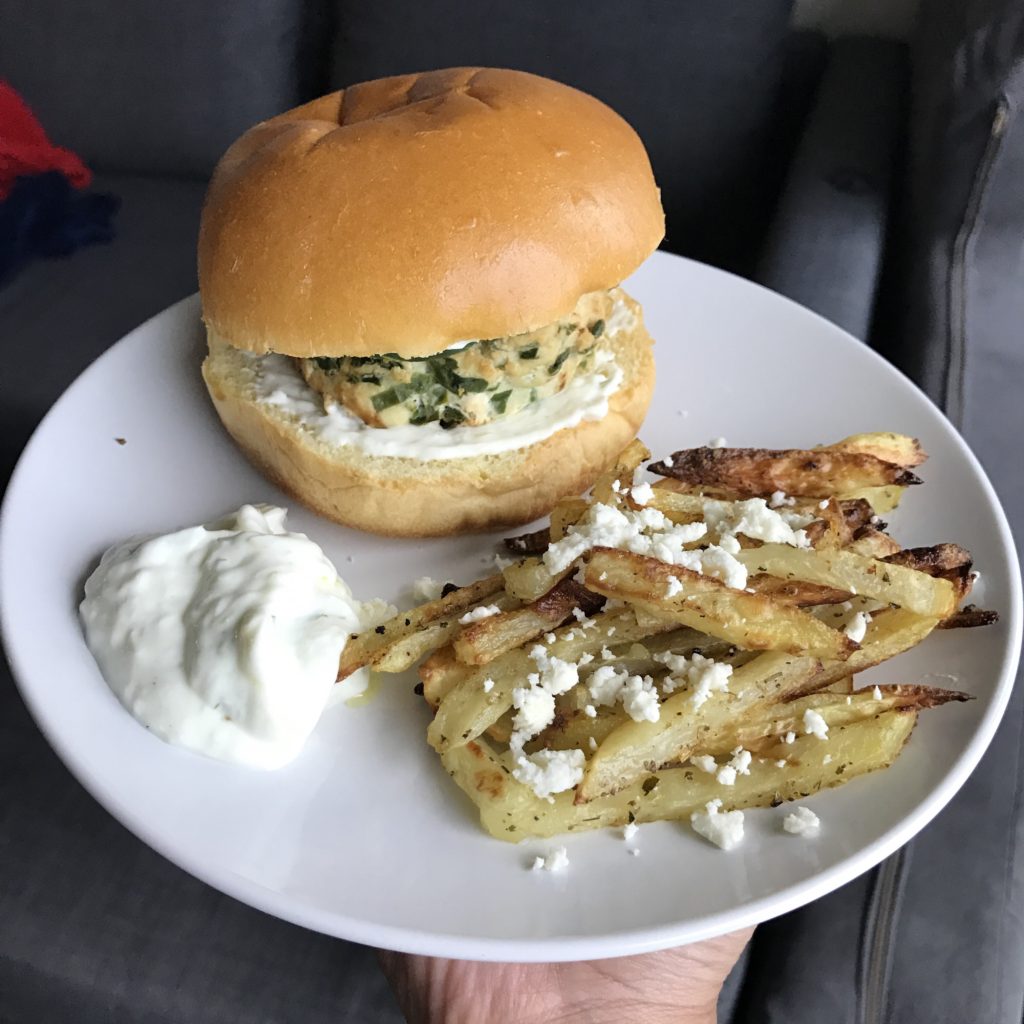 Spinach & Feta Turkey Burger
1 egg, beaten
1 clove garlic, minced
2 oz feta cheese
1/4 C chopped spinach
1 lb ground turkey
Mix eggs, garlic, feta cheese,k spinach, and turkey until well combined; form into 5 patties
Pan fry until cooked or grill 15 – 20 min
I might have cut the fries a little thin because I like my fries crispy, but I kind of wished that I cut them thicker. That or just deep fried them like a fatty!
Feta Fries
1/2 tsp garlic salt
1/2 tsp oregano
1 tsp parsley
1 potato
black pepper
1/8 C olive oil
1/8 C feta
Preheat oven to 400F
Peel potatoes and cut into fries
Add potatoes, olive oil, garlic powder, and oregano
Mix until fries are well coated
Lay evenly on baking sheet and bake for 25 minutes
Flip fries, place back in oven and bake for 10 min
Remove and sprinkle with feta
The recipe I used for Tzatziki I got from this recipe book I bought at a bookstore in Santorini. I thought Tzatziki was a sauce, but it's actually listed under "Salads"! Either way, I love me some tzatziki!
Tzatziki
8 oz greek yogurt
2-3 cloves garlic minced
1/2 cucumber
2 tbsp olive old
1 T vinegar
salt and pepper
Grate and drain cucumber well
Mix yogurt and cucumber in a bowl, add garlic
Pour in olive oil and vinegar alternating mixing with a mixer
Season to taste and serve