It never hurts to have a few extra dollars in your wallet and when you have financial goals like me, every penny counts. There are tons of websites and apps out there that claim to make you cash, but it's hard to tell up front which ones are actually worth it. I don't sign up for these sites/apps thinking I'm going to make a ton of cash, but I am all for passive income – where I'm getting paid back for doing things I was going to do anyway. Here's a list of 4 websites/apps that I use on a regular basis because I've actually gotten payouts from them.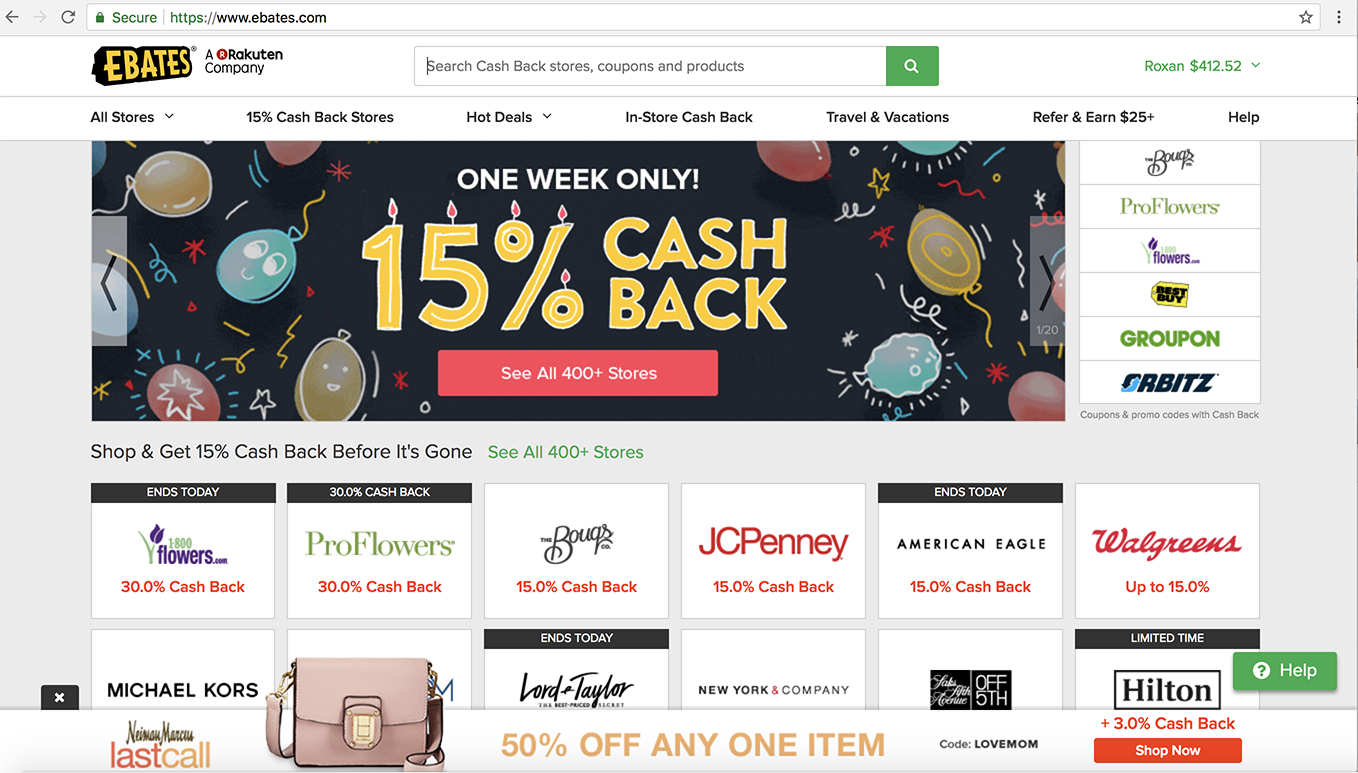 TLDR;
Earn cash back for shopping online by clicking affiliate links on the ebates site.
Payout is quarterly when you meet the $5 threshold; payout through PayPal or actual check.
My favorite website to earn extra cash passively
#shamelessplug Get a $10 bonus when you sign up using my link my Ebates link
Ebates is a cash back website that gives you (r)ebates for shopping their partners' websites. The way it works is, you login to your ebates account, search for the website you want to shop at, click through the link on their site, and purchase your items. Ebates makes a commission when you make a purchase through their link and they give back a portion of that commission to you. The website tells you exactly what percent of your total you'll get back on your purchase. The percentage varies anywhere from 1 – 42% and the cash back credit to your account is almost instantaneous. They have a pretty extensive list of partners – some of my favorites are Orbitz, Best Buy, Sephora, and Target. I don't buy anything online without checking if they're affiliated with Ebates.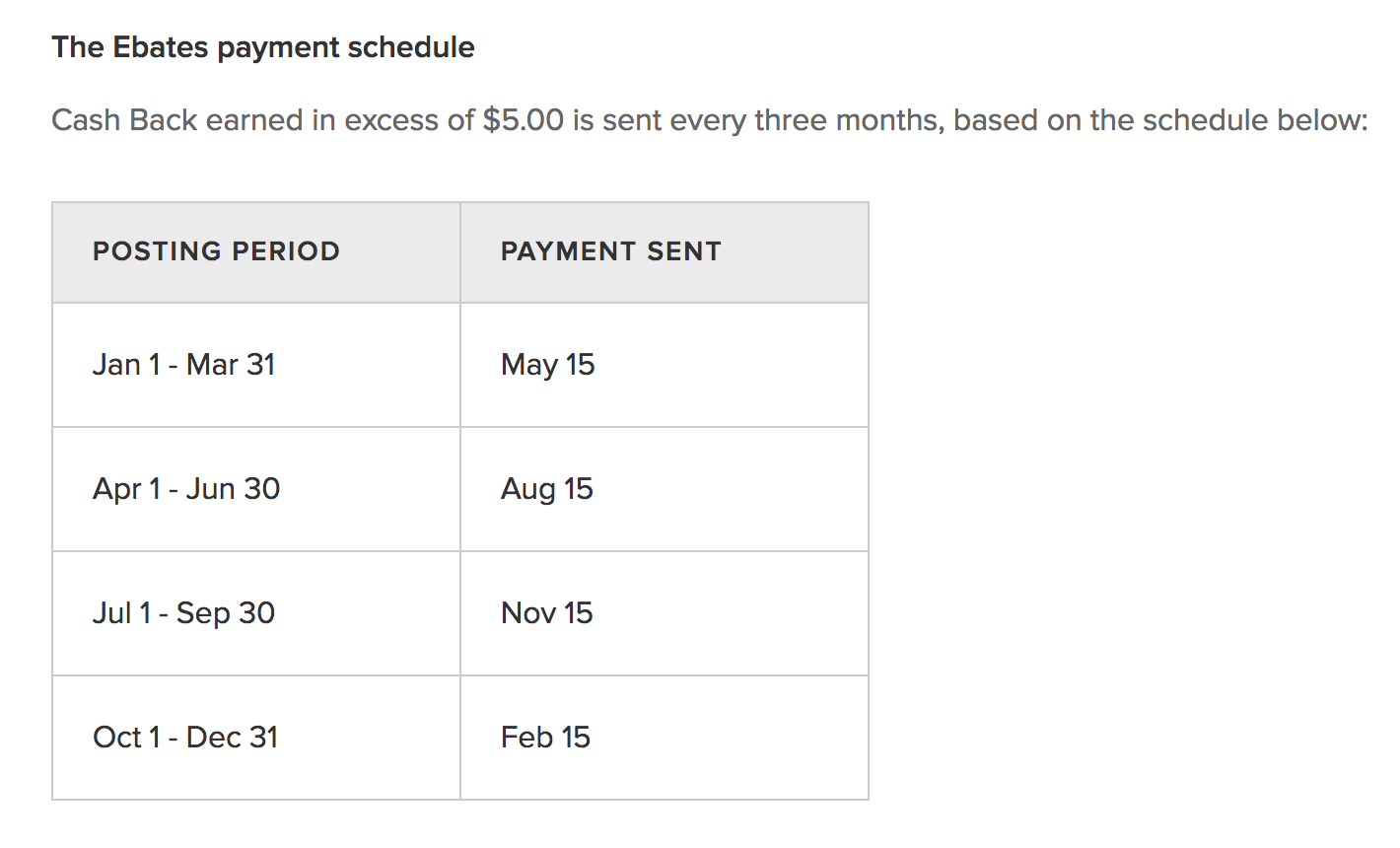 The way the payout works is by quarters. At the end of the quarter, if you've reached the minimum threshold of $5, you get what they call a 'Big Fat Check'. You can get payment either through PayPal (my preferred method) or an actual mailed check. My last 'Big Fat Check' was for $14.39 for activity from January – March of this year. Since I joined in November 2016, I've gotten over $400 in rebates. Ebates is definitely my favorite website to make a few extra bucks on because the $5 threshold is pretty low and if I'm doing a lot of purchasing online, I hit it pretty quickly.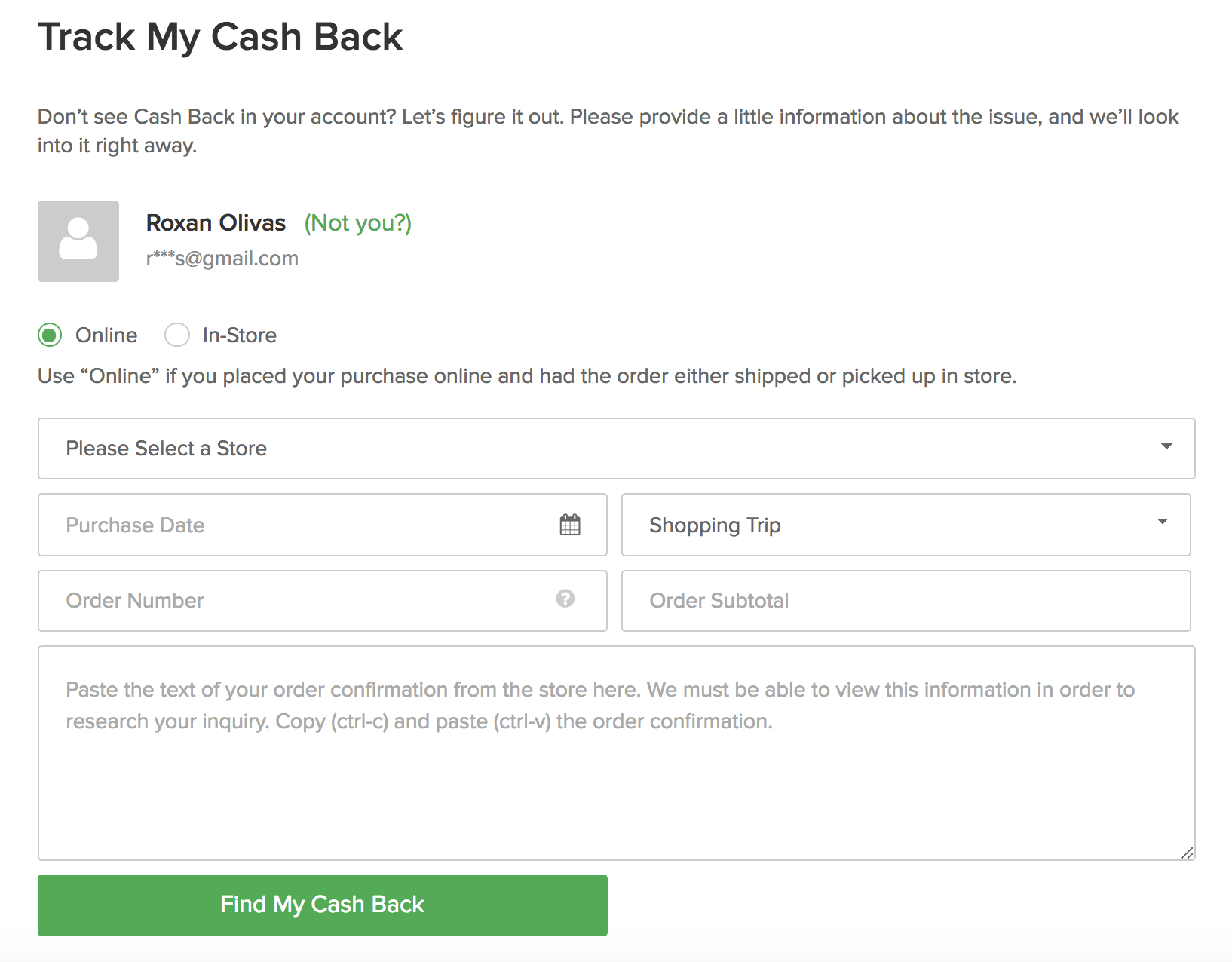 They're customer service is also great. If you're not seeing cash back in your account, you can go through their Help link and submit a claim. You select the store, date of purchase, and shopping trip (they record your click throughs on the site). You also have to enter your Order Number, Subtotal, and copy and paste your order confirmation email. I've submitted a few claims and they always added it to my account instantaneously. I think they've also added in store shopping features, but I haven't really looked into those.
If you sign up using my Ebates link, you'll get a $10 bonus when you spend at least $25 – quick way to get your first big fat check!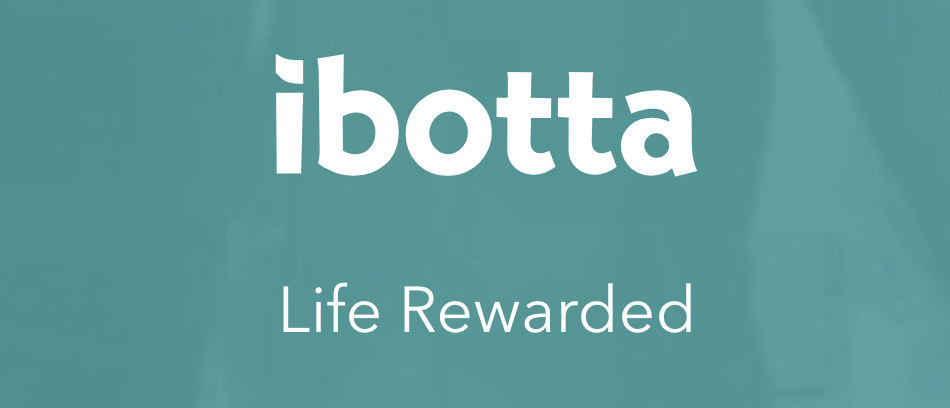 TLDR;
Earn cash back by sending in proof of purchases from shopping in store. (Mainly for groceries.)
Payout any time you meet the minimum $20 threshold; Payout via PayPal or venmo.
#shamelessplug Get a $10 welcome bonus when you signup using my referral link.
ibotta works really similar to Ebates, but the difference is it's for in-store shopping. I believe they also have some online shopping features, but I stick to Ebates for that. You can either search for the items you purchased or start with the store you purchased it at, add the cash back, then submit a picture of the receipt. If the item is specific, like 'Coca Cola 12 pack', it'll ask for a scan of the barcode as part of the proof of purchase.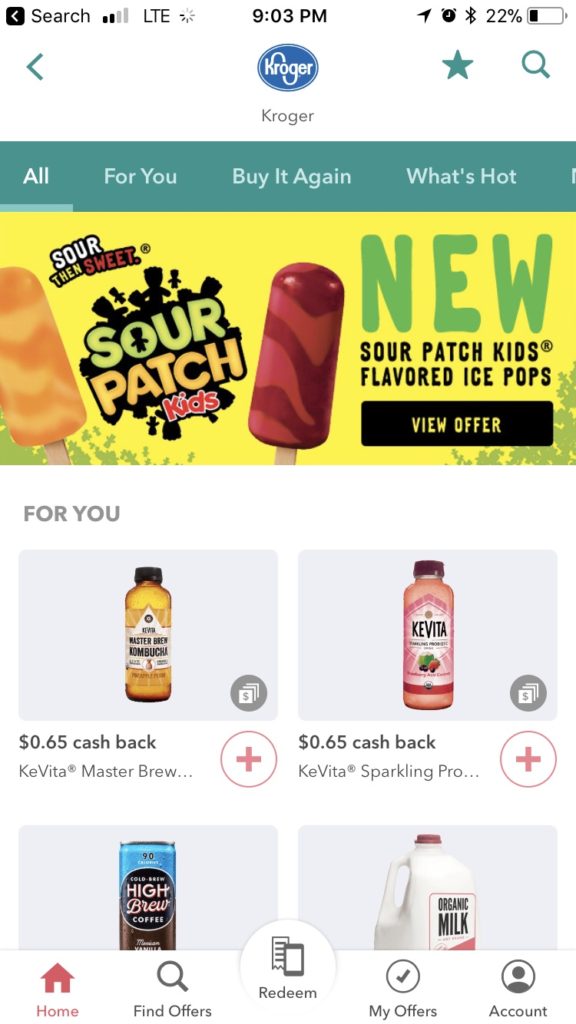 The downside to ibotta is the minimum threshold is much higher – you have to hit $20 to get a payout. I've personally only gotten paid once because the cash back per items that I usually purchase is really minimal ($0.25 – $1). I have seen them give more cash back, but it's for items I don't buy. Their offers do change often and they have opportunities for bonuses.
The way it works is, you search for the item you purchased, the store you purchased it at, add an image of the receipt and sometimes a scan of the barcode for the item, and they add the cash to your account. The threshold to get paid is $20 so it's a lot higher and I've personally only been paid once off ibotta but their offer list isn't as extensive. The offers change often, but they're more like coupons instead of a total percentage off. Payment is through PayPal or Venmo. Get a $10 welcome bonus when you sign up using my referral link!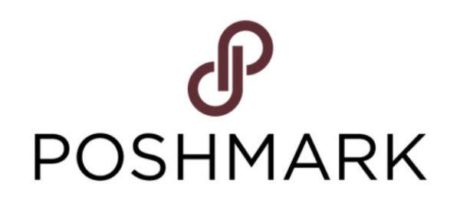 TLDR;
Buy/sell new or gently used clothing and accessories that are sitting in your closet.
Payout whenever your item is accepted by the buyer, no mininum threshold; Payout directly to your bank account.
Selling items can be hit or miss.
#shamelessplug Sign up using my code SHER0XX (zero not an o) to get a $5 bonus.
Poshmark is a website/app used to buy and sell clothing. It's kind of like a Buffalo Exchange or Plato's Closet for the internet. I wrote a post last year on how I made $1700+ selling stuff on Poshmark, so if you want a detailed walk through of the app, you can check it out. I checked my total earnings today and to date I've made over $2300.
It's super easy to post items on the app and they take the worry out of shipping by providing the labels. The downside is you don't know what is going to sell and when it's going to. If you sign up using my code 'SHER0XX' (that's a zero) you get a $5 bonus!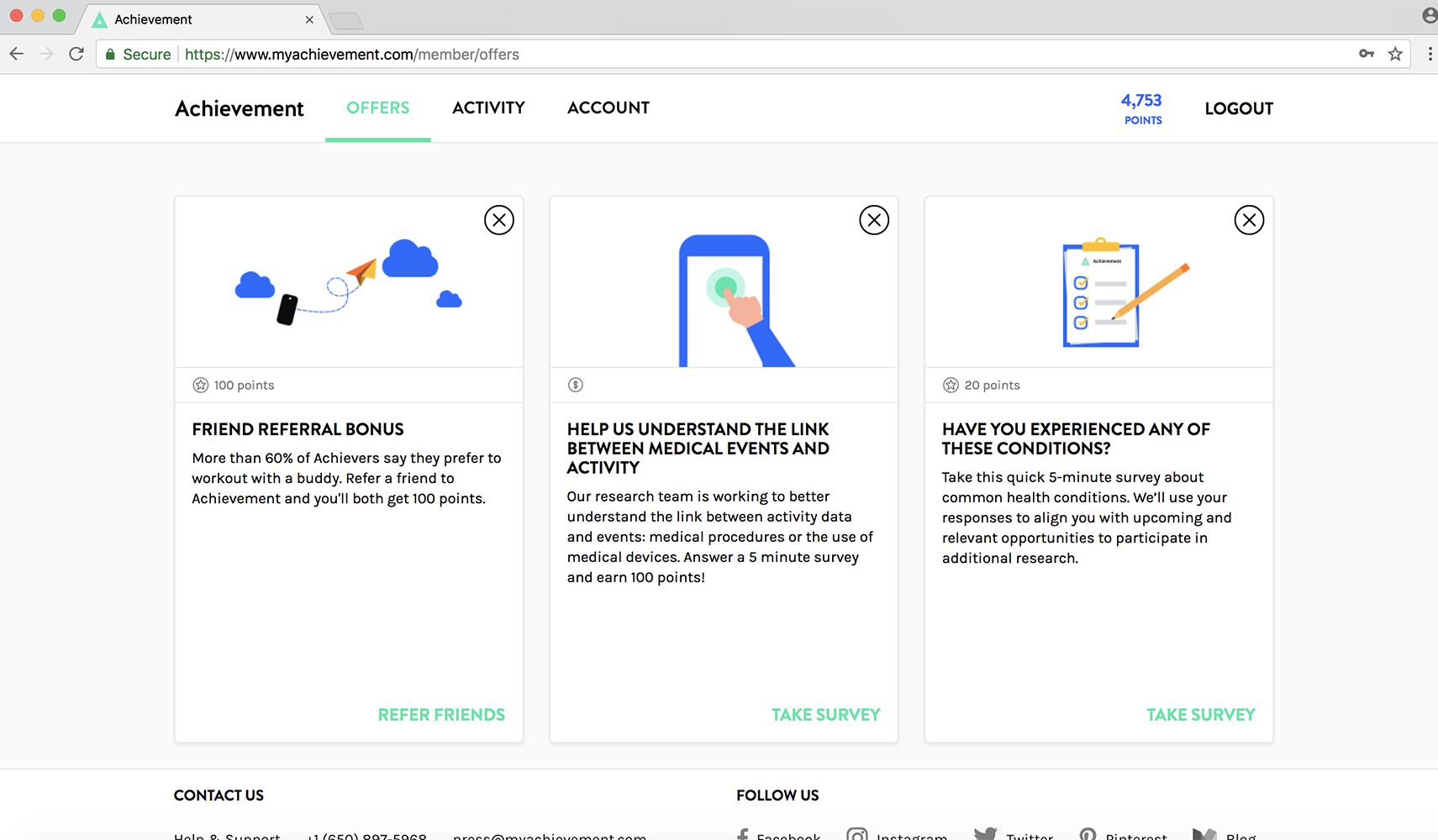 TLDR;
Earn points for doing healthy activities.
Payout of $10 when you reach 10,000 points; Payout via PayPal
Point threshold is kind of high, but earning points is passive.
#shamelessplug Sign up using my referral link to get a 100 points.
Achievement is a free website / app where you can earn points for doing healthy things. You can connect healthy apps to your Achievement account and it automatically gives you credit for activities that you do. For example, I have a Fitbit Alta HR and I log my weight daily in the Fitbit app. The app automatically syncs with Achievement and credits me points weekly based on how many steps I take and how many times I logged my weight. Achievement can connect to Apple Health, myFitnessPal, Jawbone, Run Keeper, and a few others. You can also get points by doing their surveys, but I'm not really active on that account.
The threshold for Achievement is really high – you need to hit 10,000 points to get a $10 payoff. Of the 4 apps I mentioned, this one is the most passive for me because I'd use my Fitbit whether I was getting points or not, but I'm not going to say no to $10 if they're going to give it to me for free! If you sign up using my referral link, you can get 100 points credited to your account.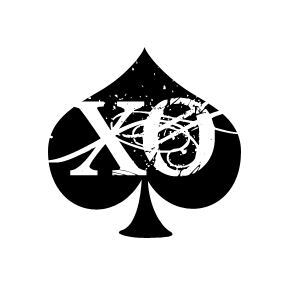 Do you use any apps to make extra cash? Which ones do you use?
Let me know in the comments below!