When we decided to build a new home it was a little overwhelming since we neither of this had done this before. I tried to search for other people's experiences/reviews on all the builders we considered and found a few older blogs, but every builder is different and it seemed like the best way to learn was to walk through the fire. I want to be as transparent as I can be on this whole process (without giving up our privacy) in the hopes that it'll help someone else.
The first step was finding a community and a builder. First we picked the community – location was very important to us. We went through all the available builders and all the floor plans and picked the builder based on costs and floor plan. We ultimately decided on Darling Homes as our builder.
These were our lists of things we wanted in a house.
Master bedroom on the first floor (this is a Texas thing apparently)
Wood floors in main living areas
Huge kitchen, since I do a lot of cooking
Waterfall kitchen island, something I really wanted
Two story ceilings in the living room, something Adam really wanted
Three car garage
Gameroom / wetbar area
We didn't want a formal dining room or a media room. I would have been okay having a media room, but Adam also absolutely refused to have one and he also refused to have what we called a "wood room" – this is where the study/office is completely made out of wood and seemed to be common in a lot of older houses. (See below).
I got him to compromise and allow the study room to be my office but the media room was out. Either way, we had a pretty hefty list so you can imagine why we decided to build! We also wanted something turnkey and did not want to have to renovate anything.
With COVID-19 affecting everything, we had to make an appointment to check out the Darling home model. But once we saw it, we were completely sold! It looked so much better in person than it did online! We followed up with the community's sales person and we were given a ton of information and documents to look through. It was a little overwhelming and I'm not sure if every builder gives out that much information up front (it may have been the initial salesperson we were working with), but they broke it down into 6 major steps before we officially break ground and start building a house. I for one appreciated getting as much information as possible! I made this handy infographic below that kind of outlines our process: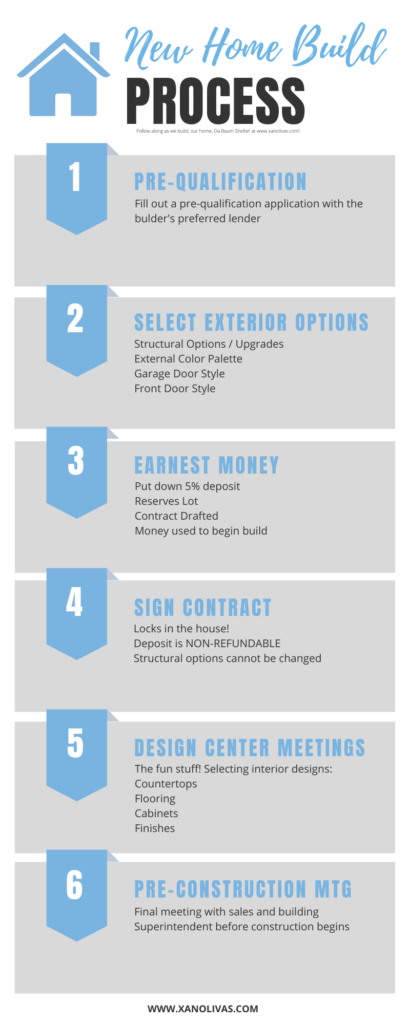 As a disclaimer, this was the process we had to go through with our builder and the details of what is done when may be different, but from what I understand, overall is generally the same. After choosing the builder and exact floor plan, we had these next 6 steps before we can say the building is in progress.
PRE-QUALIFICATION – First we had to fill out an application to pre-qualify us with their preferred lender. Most builders will require you to be pre-qualified with their lender, but you don't have to mortgage with them. However, if you do end up choosing their lender, there are usually some incentives they offer that will go to your design costs or even closing.
SELECT EXTERIOR OPTIONS – Next we had to decide on exterior options – this includes the exterior color palette, structural options / upgrades, garage door style, and front door style/stain. Structural options are things that need to be included in the floor plan, like adding or deleting fireplaces, media rooms, etc. Basically, you need to choose what your house looks like from the outside and make sure the floor plan includes everything you want.
EARNEST MONEY – For our builder, the earnest money was a 5% deposit that was calculated off the base price of the house plus structural options. This did not include interior design options. They also said this earnest money would be used to start the house build. At this point, we got a draft of our contract.
SIGN CONTRACT – After reviewing the contract by ourselves, with our realtor, with the salesperson, and making sure all the structural options we wanted were included and all our questions were answered, we signed the contract. At the time of the contract signing, the 5% deposit is non-refundable and the structural options that were chosen cannot be changed. The deposit is now NON-REFUNDABLE. You're locked into the contract now!
DESIGN CENTER MEETINGS – This is the fun part, you get to choose all your interior options! There are several different people that we had to meet with to get the interior designs/upgrades. We met with the Cabinet people prior to our first Design Center meeting and at the actual Design Center we saw tons of samples and picked out finishes. We picked out things like countertops, sinks, flooring, and interior wall paint. We also met with a separate person to meet with for lighting / electrical. All of these need to be picked out before they start building the house! Don't worry, I plan on doing separate posts on these, too!
PRE-CONSTRUCTION MEETING – After all the design stuff has been signed off, we'll have one final meeting with the superintendent and sales to confirm everything before they start the build. We're still getting final sign-offs on everything, but I'll update this page when we make it there.
We're currently in between 5 and 6 of the process but it's definitely a lot of things up front. The design part is definitely the most fun part (aside from watching it actually come together) but it's definitely stressful because things started adding up really quickly! Hopefully that helps anyone looking into the new build process, if you have any questions, leave a comment below or email me directly and I'll be glad to answer! Be sure to follow along on Instagram #DaBaumShelter or check back on the blog for regular updates!