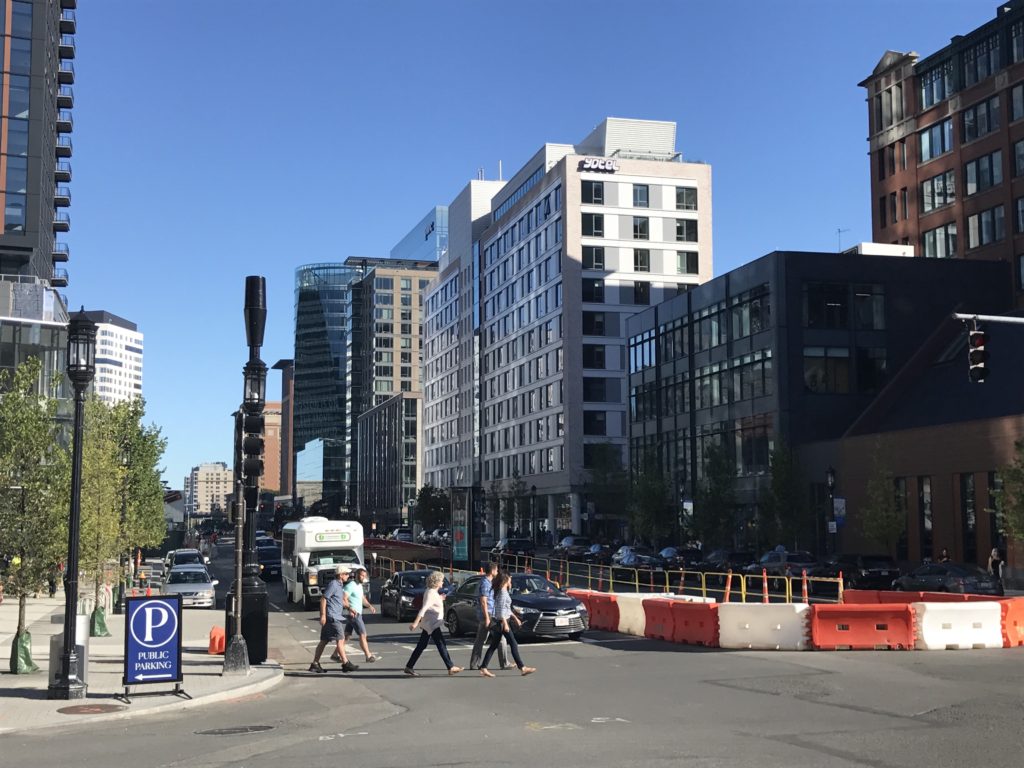 The YOTEL Boston
I did my first solo trip and had my first visit to Boston for the first time last September and before going, I really had no idea where to stay. A few friends have told me that I'd be fine almost anywhere since the city is so walkable. Before settling on two hotels, I checked Airbnb but didn't see anything in my budget that I liked or felt like I would be safe in. My first night there, I used my Chase Sapphire Reserve points to stay at the Club Quarters Hotel in the Financial District but while googling for the cheapest, nicest hotel I liked, I found the YOTEL Boston and loved the pictures! It definitely helped that it just opened this past Summer and if you know me, I love new and shiny things.

Before I get into the nitty gritty, I know there's some of you who are too lazy to read so here's the TL;DR verison:
PROS
Great location
Nice amenities – full sized shampoo & conditioner, heated towel rack, bluetooth connection to TV
Rooftop bar with a view
Friendly and helpful staff
CONS
Regular rooms are smaller than average
Can be pricey, but average priced for Boston Seaport
Located in the Seaport District, YOTEL Boston is a "micro hotel" and the second U.S. location of the London based chain – the first is in New York. The YOTEL logo is kind of cartoon-y to me and there's definitely a purple color scheme throughout, but I loved the modern / futuristic look. When you first walk in, there's a concierge desk, but you check-in using the kiosk to the left of the desk. Check-in is similar to check-in kiosks they have at airports – you just pull up the reservation, follow the screens and get your room key programmed.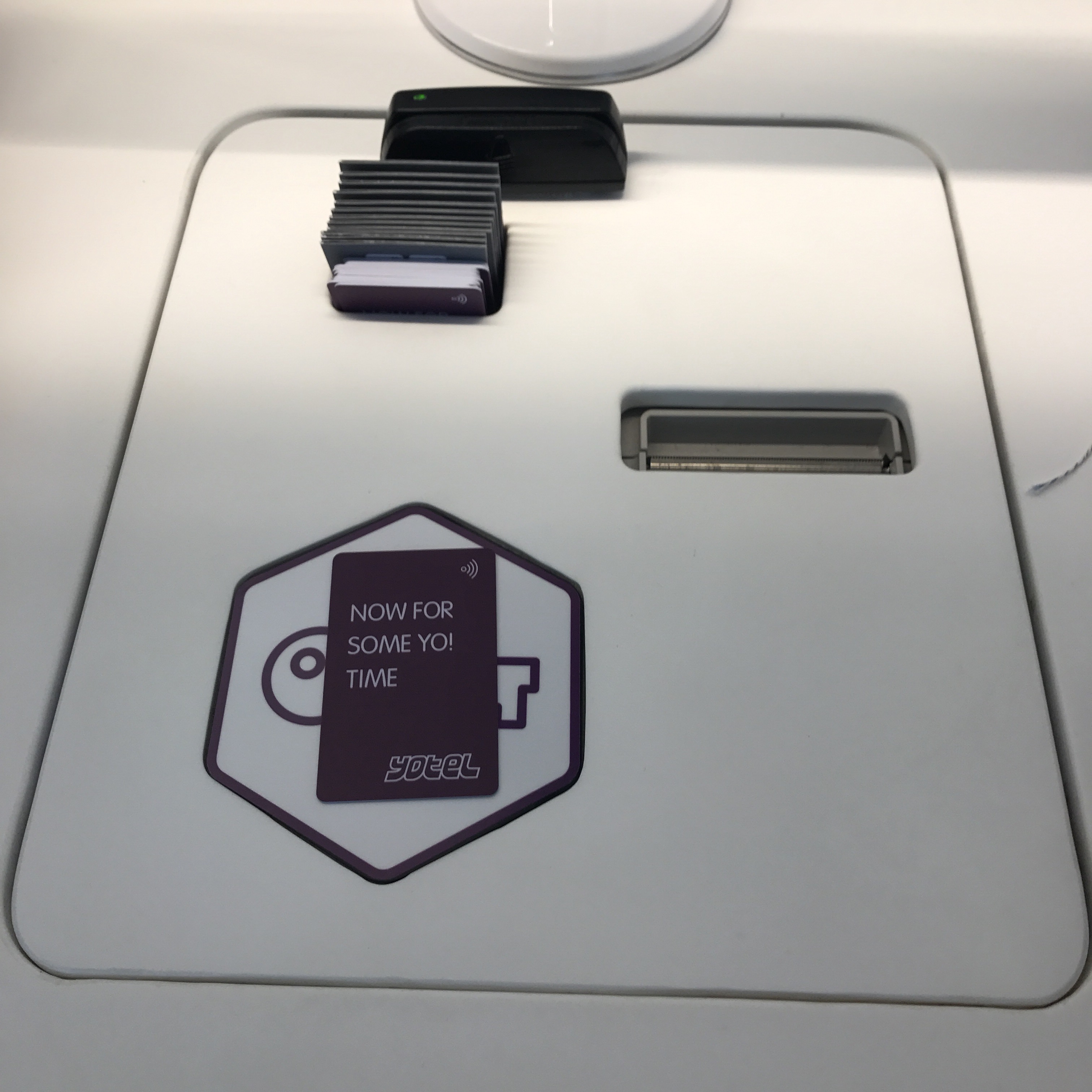 Programming my key.
Even the elevators were an experience – I was legitimately amused that the elevators were playing elevator music! The room was relatively easy to find and I was really satisfied with the floor plan I picked. When I said it was a "micro hotel", I meant the rooms are smaller compared to the average hotel. When I travel, I enjoy being comfortable but I also know I'm probably not going to spend most of my time there. I didn't completely mind staying in a smaller room, but I was worried about it a little so I ended up booking the Premium Queen Accessible Room. Not gonna lie, it was kind of nice having all that room!
I loved the design and amenities in the room – there's a rain shower, full sized shampoo, conditioner, and body wash in the shower, a heated towel rack, bluetooth connection to the TV, an aux connection, a bottle opener built into the TV frame, plugs everywhere, and even a reclining bed! I think it had a reclining bed because it was the accessible room, but I can't be completely sure. There isn't a closet and the door to the bathroom has a clear sliding door – though there is a curtain, it doesn't feel as private.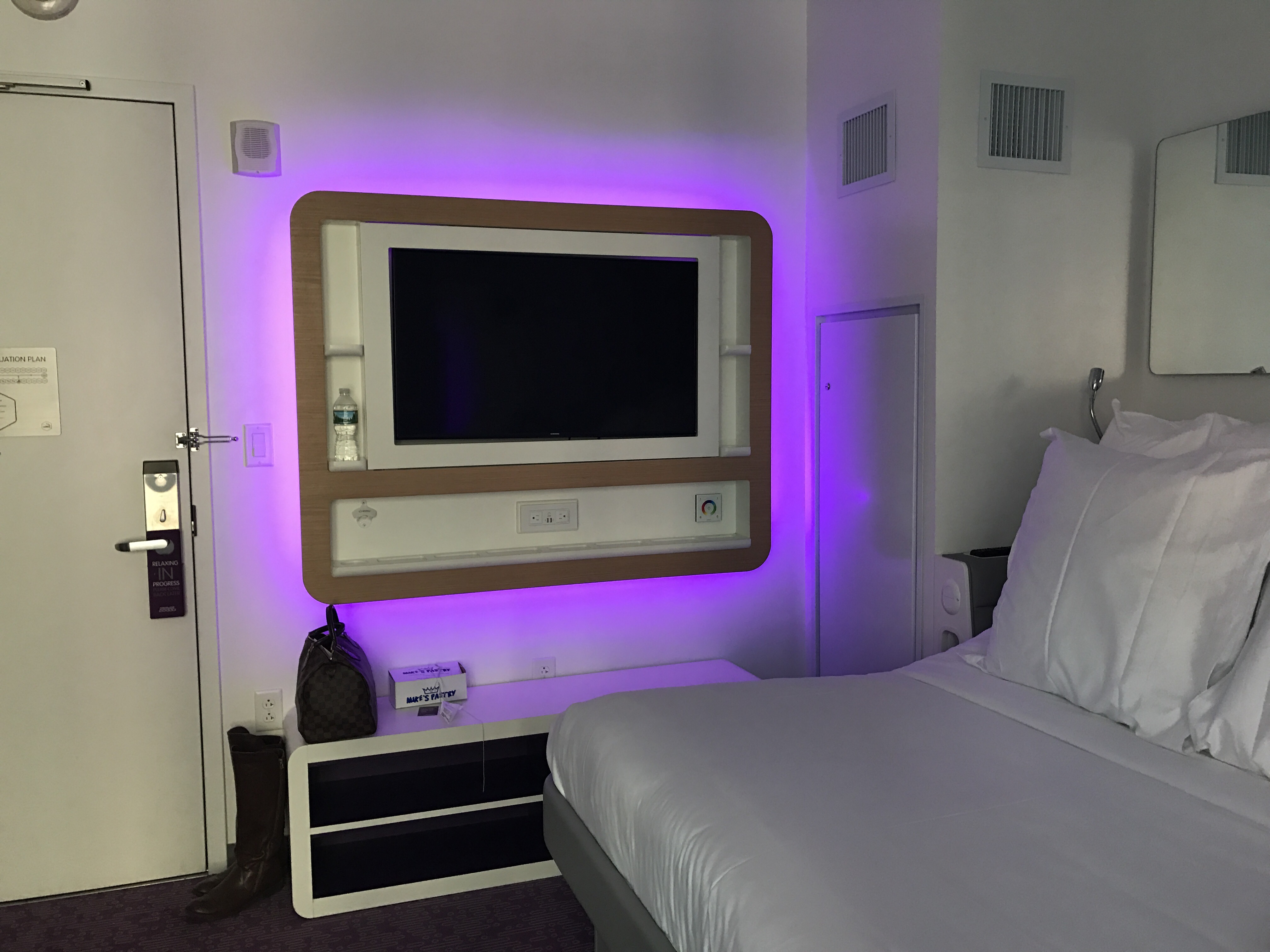 The backlit TV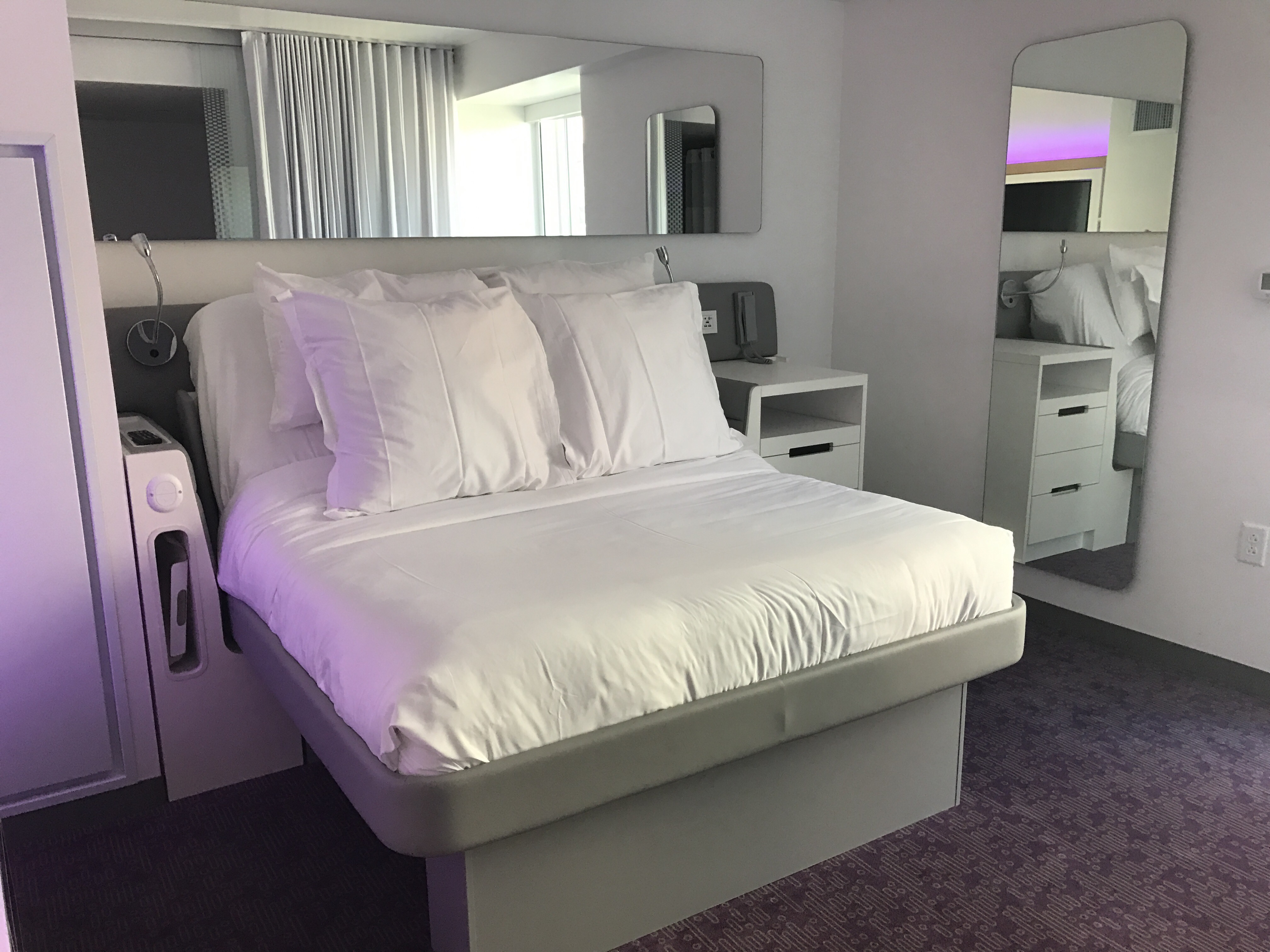 This bed reclines!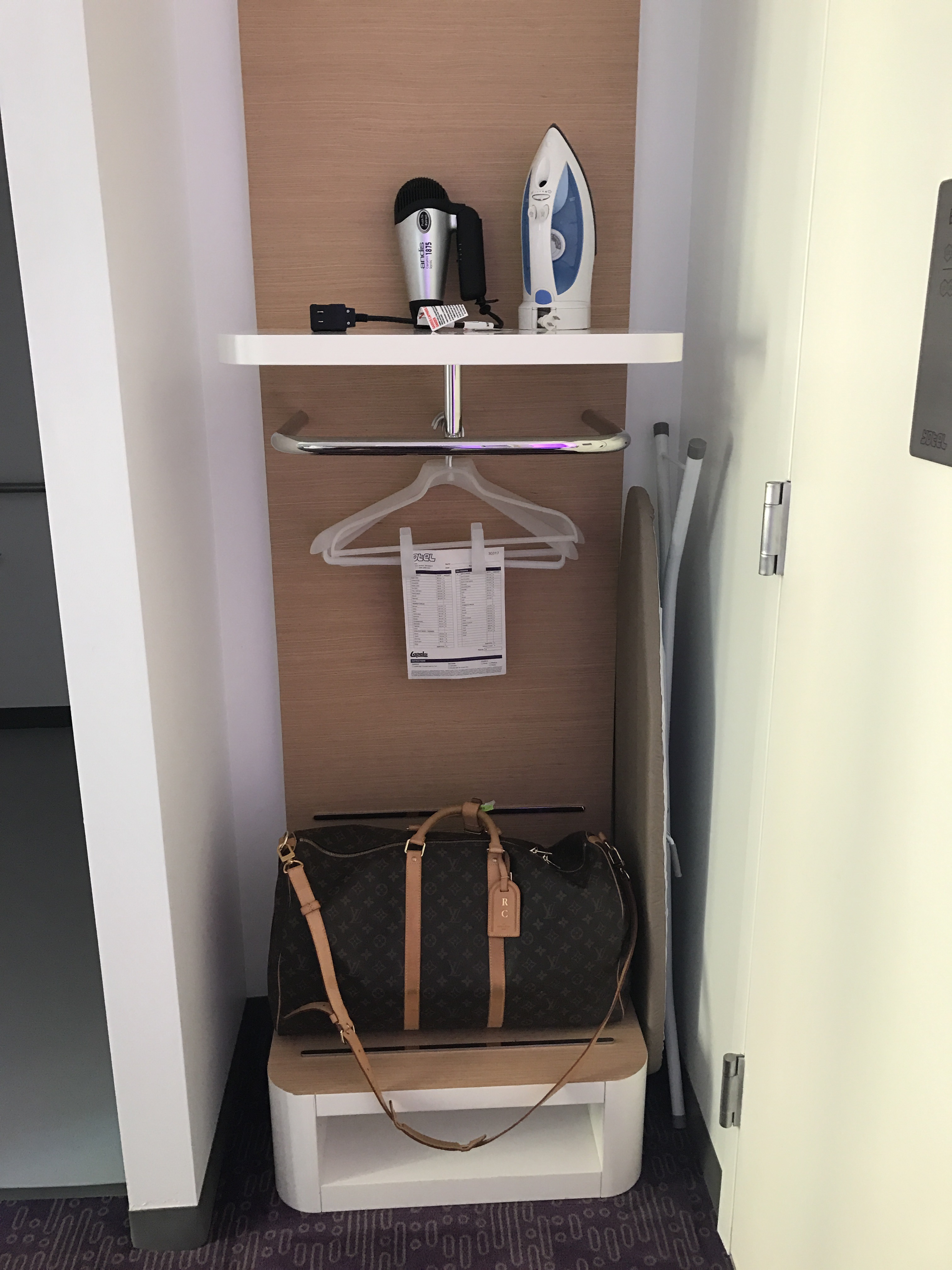 Instead of a closet, there's a little rack area equipped with an iron, ironing board, and a hair dryer.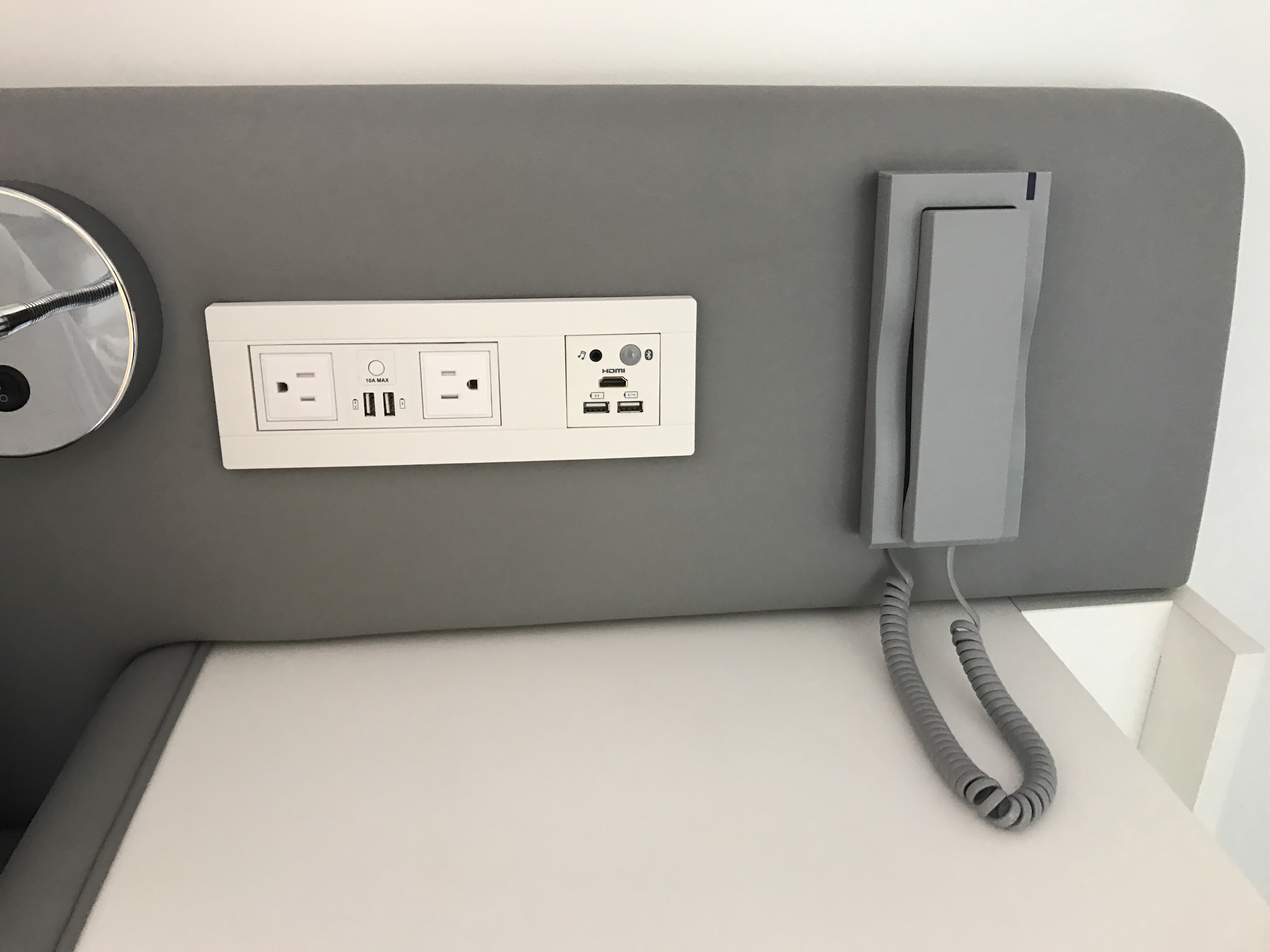 The plugs are over the nightstand next to the bed, but they all connect to the TV.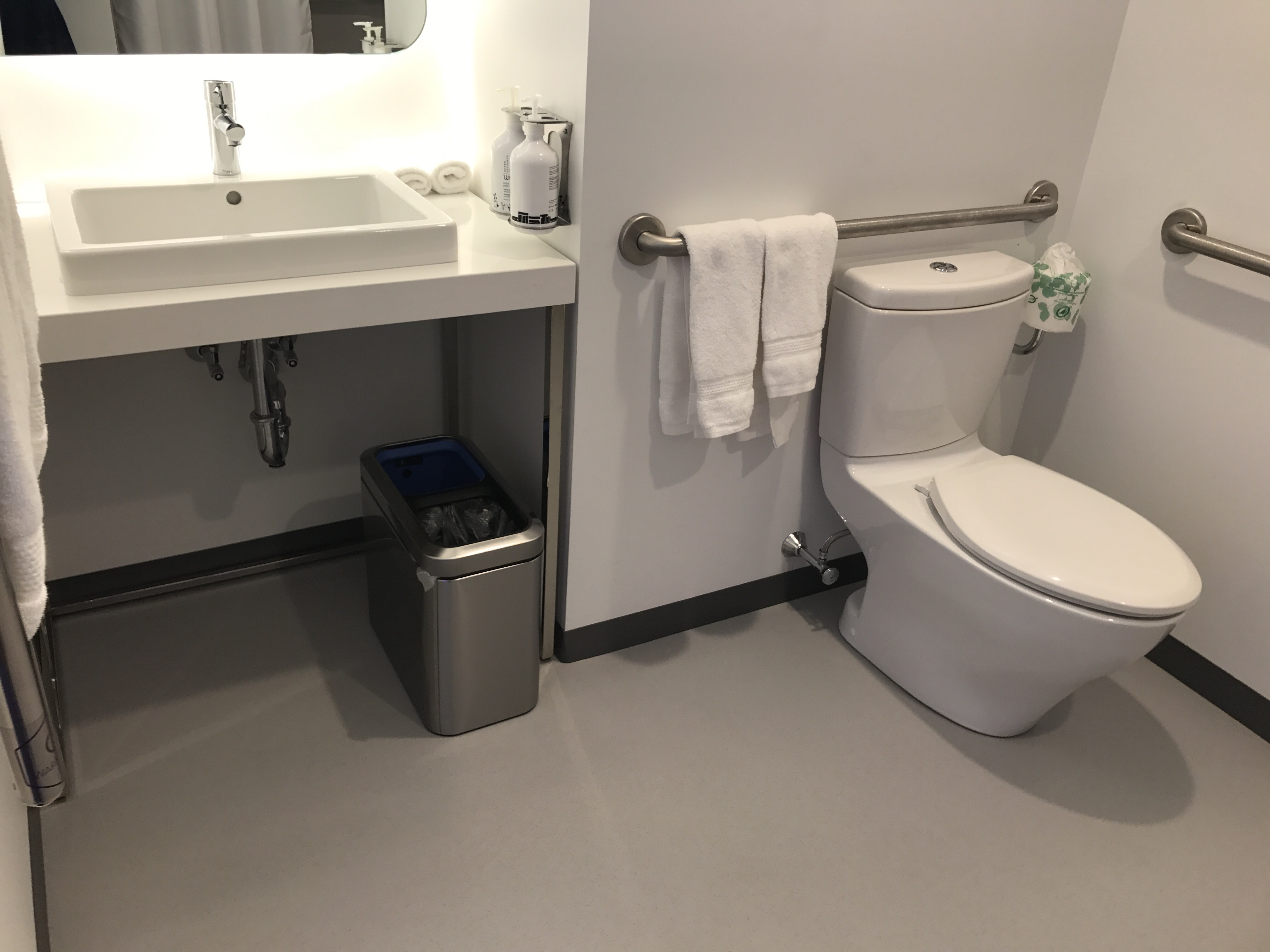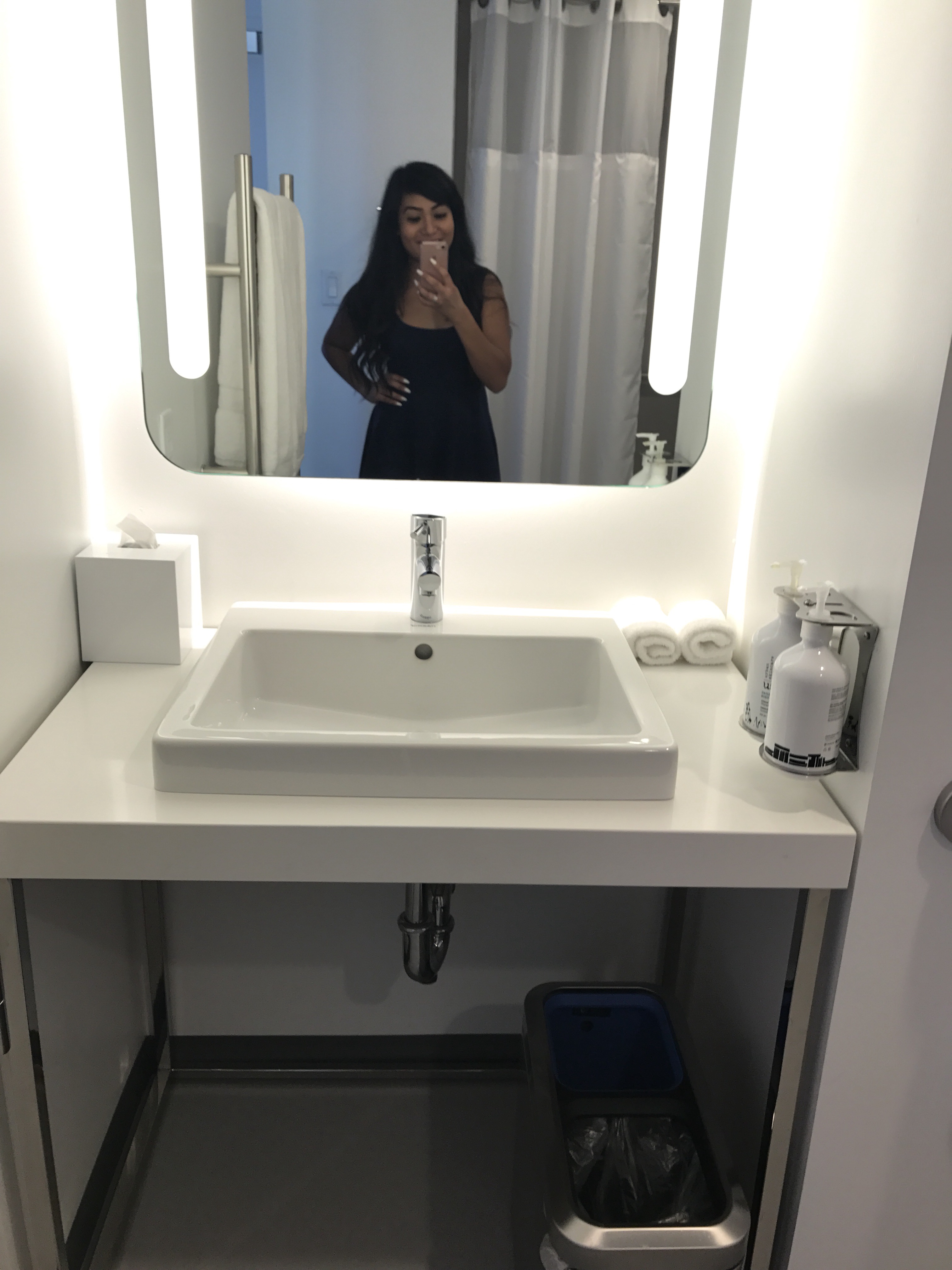 The heated towel rack is to the left of me and you can see the full sized hand lotion and soap to the right.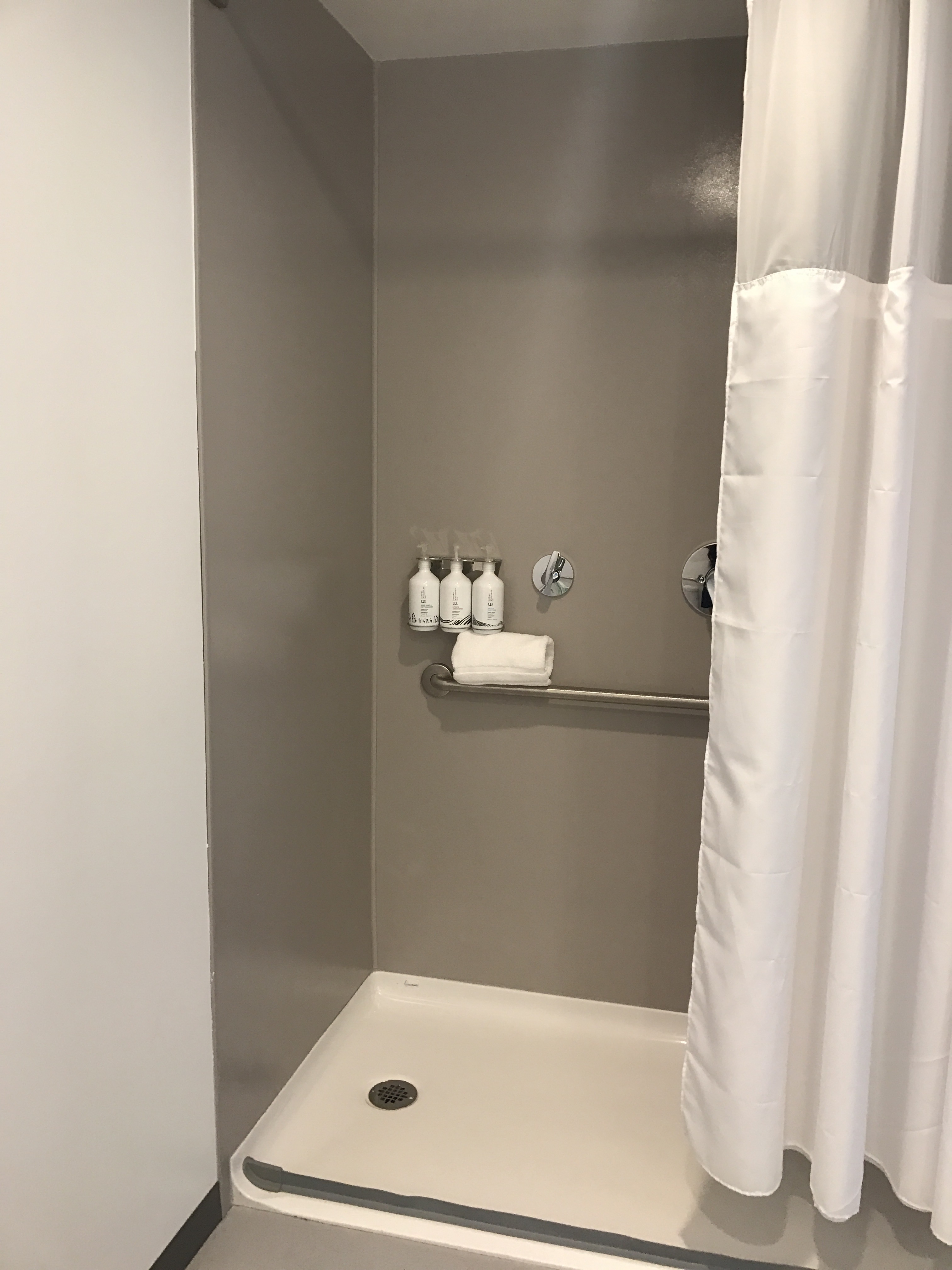 The accessible shower.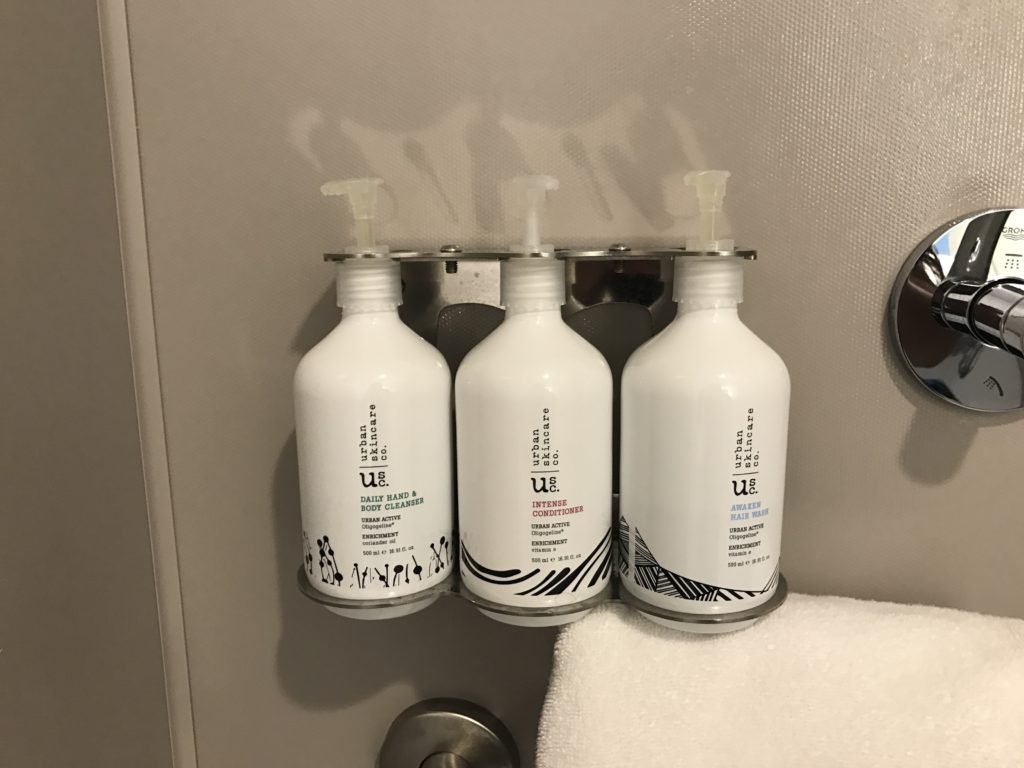 Full sized everything!
There's a bar with a kitchen in the lobby and on the roof. The rooftop bar is super cute because it has a view of the city – although I completely forgot to take a picture of it. 🙁 I did, however, get this picture of the entrance to the rooftop area: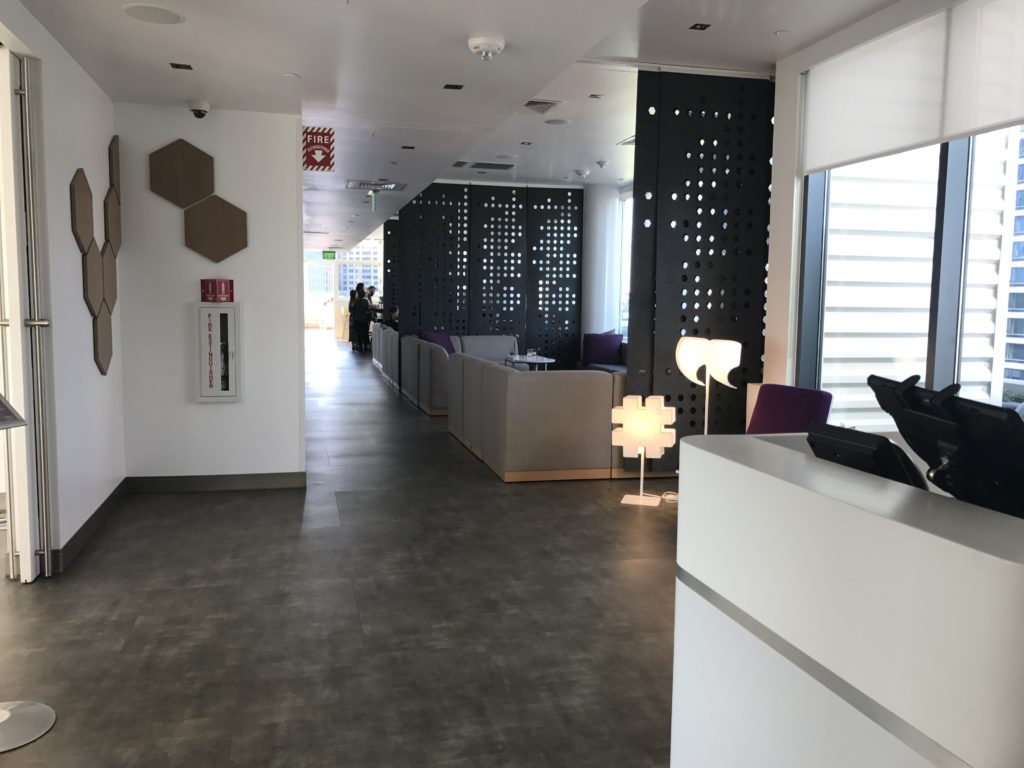 I did a lot of price comparisons before finally settling on YOTEL. Boston is pretty expensive in general, but for a brand new hotel in that location, it was pretty reasonable. I ended up booking the hotel through Orbitz and the weekend I stayed it averaged out to $187 a night, but I found a coupon that gave me 15% off so my total after taxes and fees came out to $349. Seriously, I google coupons before pulling the trigger on anything online! I don't think I would've booked it if I didn't have the coupon, but I'm so glad that I did.
Overall, I loved staying here and I would definitely stay here again and consider staying at another YOTEL. The amenities are great, it's clean, walking distance from a lot of things, and all the staff I encountered were super nice and helpful.
YOTEL Boston
65 Seaport Blvd
Boston, MA 02210
www.yotel.com/en/hotels/yotel-boston
@yotel_boston