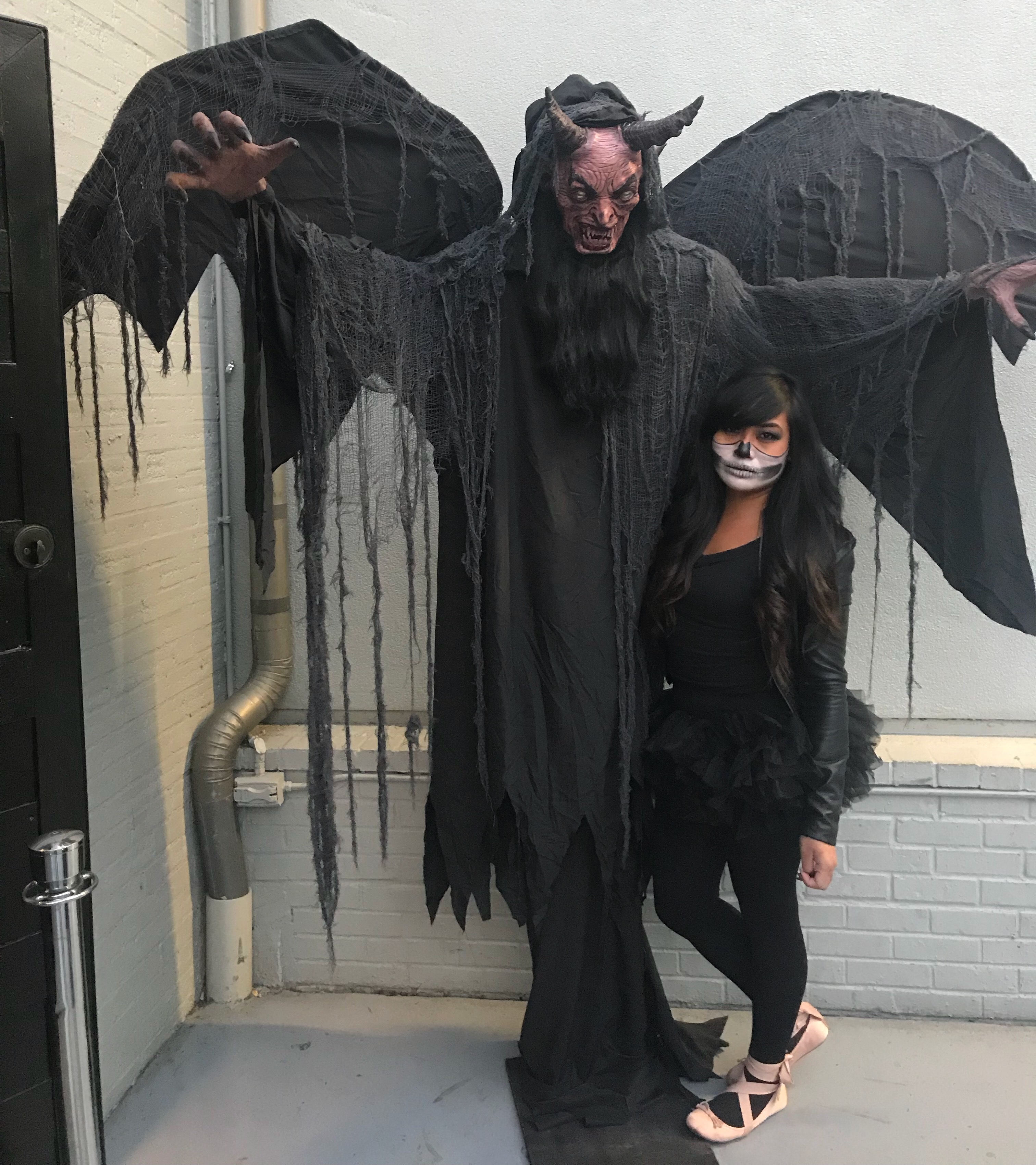 This Halloween was the first year I actually got brave enough to go out with my face painted! I always get way too perfectionist about it so I end up being something cute and just do an extra glammed up face, but I was kind of addicted watching all those cool Halloween makeup tutorials on YouTube and decided to attempt a half skull. It was actually way easier than I thought it'd be – especially considering that I have no artistic drawing ability. It worked out, though, and I ended up being a dead ballerina.
I drew inspiration from a few YouTubers, but the tutorial that was probably the easiest for me to follow was this one from Roxxsaurus:
I mean, she has the same name as me so it must be good, right?! I practiced a few times before Saturday before I felt comfortable with doing it and even then, I was still a little nervous. The teeth were definitely the hardest part and figuring out how to work with the grease paint was a challenge since I have an oily t-zone, but I think I'll be better prepared for next Halloween. I'm already thinking about doing some gory SFX makeup for next year! But here's a list of products I used:

And an outline of how I did it:
I started off by priming my face with Benefit POREfessional Matte Primer, making sure I covered that t-zone area and priming my lips with vaseline – that grease makeup dried out my lips!
I filled my brows as usual, then went onto doing a really heavy smokey eye using MAC's Carbon (matte black) and MAC's Gesso (matte white). I finished it off with the Eylure Faux Mink Lashes in Opulent. (I seriously LOVE those lashes).


before & after of the smokey eye


Next, I drew the outline of the top of the skull and the nose part with a nude colored lip liner then started coloring in the white portion of the skull. I actually just ended up using cheap grease makeup from Spirit Halloween so I had to layer it twice. I'd let the first layer dry before putting on the next and set it with MAKEUPFOREVER's HD Powder.
I outlined the top line of the skull and nose portion with gel liner and used the black grease makeup to fill it in. I tried the look using just the black grease makeup, but it was so greasy and constantly smudged. I noticed the liner stayed a lot better for the detailed parts so I used it for the outlines and teeth but used the grease makeup to fill in larger parts.
The teeth/mouth area was the hardest part, I honestly just really tried my best to imitate a picture of a skull I found on google. For the teeth, I tried to keep the lines as thin as possible and I TRIED my best to blend it nicely. I also went back in after blending with the white grease paint and set it with the white eyeshadow.
The hollows of the cheek were also a hard one for me. I outlined the shape with the gel liner, filled it in with grease makeup about 3/4 the way to the teeth, set the grease makeup with black eyeshadow and used a blender blush to blend it towards the teeth.
The last step, I attempted to add some depth to the skull by shading under the cheekbones. The good thing about Halloween makeup is, it's almost better when it's messier. Plus, I figured no one would really notice in the dark!
Here's some dupes of the outfit I wore!
The finished makeup look!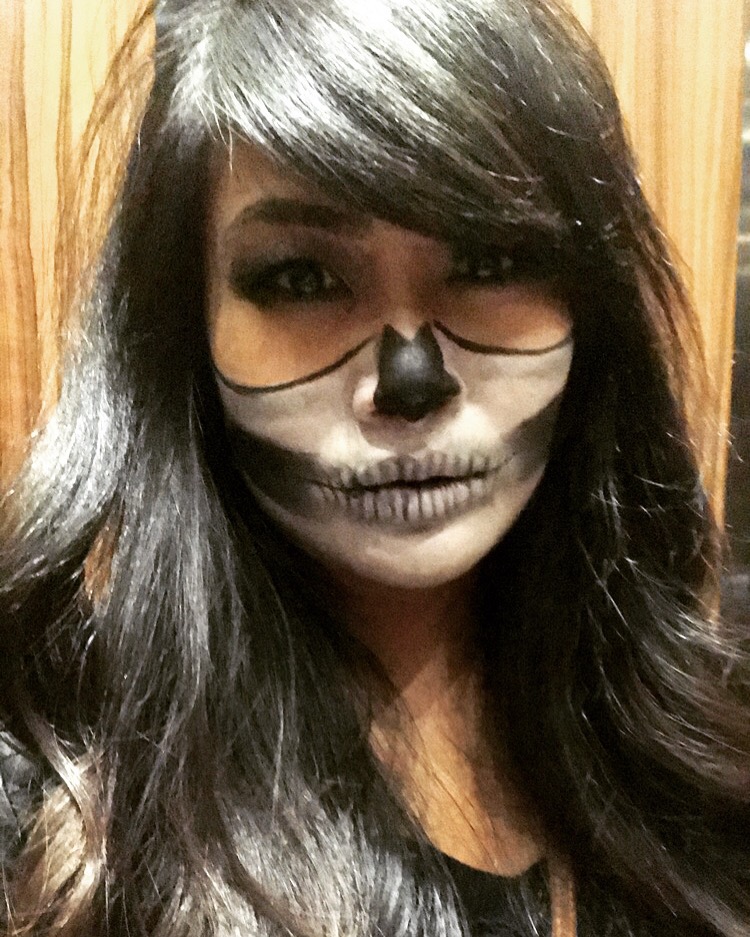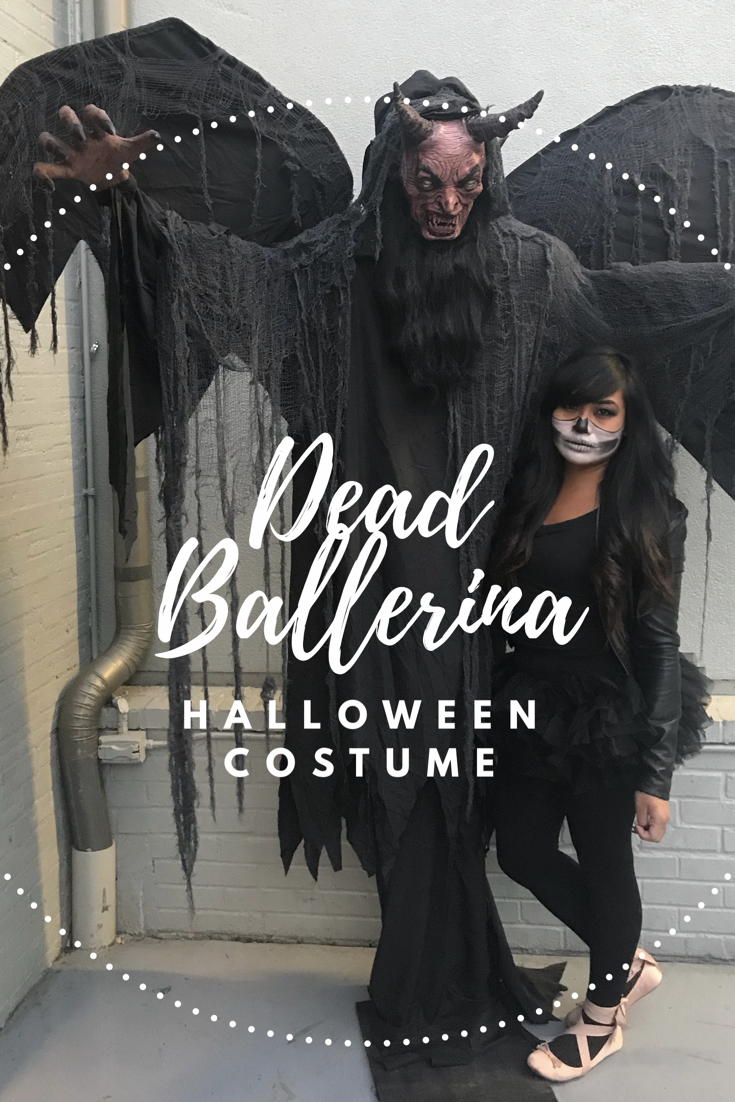 What did you dress up as for Halloween? Did you do any fun makeup looks?